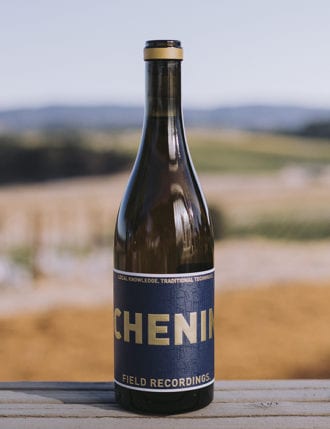 Chenin Blanc is a bit of a chameleon, known for its ability to reflect terroir, mimic other grapes and play well within any style, still or sparkling, dry or sweet. Its naturally high acidity has long made it a favorite for blending, but on its own Chenin Blanc is remarkably complex—bright and fresh, but with a structured body that lends well to aging. Some of the best bottles come from the Loire Valley, but excellent examples can also be found in California and South Africa, where it's become the most widely planted varietal. Here are six bottles that showcase Chenin's star power.
Brézé "Clos de Midi" | Arnaud Lambert | Saumur, 2017
In 2009, Arnaud Lambert took over the vineyards of famed Loire Valley estate Brézé—where notable Chenin Blancs have been produced for more than four centuries—and immediately implemented organic viticulture practices. The Saumur appellation is known for its chalky limestone, resulting in mineral-driven wines, and the "Clos de Midi" is layered with notes of citrus and vanilla, capped by a slightly savory finish. $24, vervewine.com
Domaine du Clos Naudin, Foreau | Vouvray Sec, 2014
Winemaker Philippe Foreau has been called a Jedi Master of Chenin Blanc, farming the domaine in Vouvray (first purchased by his grandfather in 1923) since taking over from his father in 1983. The domaine's vines are solely Chenin Blanc with an average age of around 45 years, and Foreau's wines have a propensity to age well, making them prized by collectors. The Vouvray Sec balances a bright acidity with a velvety texture and clean, dry finish. $42.99, crushwineco.com
Field Recordings | Chenin, 2017
Sourcing from vineyards throughout California's central coast, Field Recordings is the passion project of Andrew Jones, a vine nursery fieldman who's helped plant vineyards across California. His Chenin is an "old vines" blend—with fruit coming from three separate plantings intended to represent the state's viticultural history—and it has a pronounced mineral character with notes of tart, juicy apple. $20, fieldrecordingswine.com
François Chidaine | "Les Argiles," 2017
After taking over the business from his father in 1989, François Chidaine began acquiring more land in the Loire Valley and implementing organic and biodynamic practices. Today, he's considered one of the region's star players and draws praise in natural-wine circles. The "Les Argiles" Chenin comes from vines up to 80 years old, and it smells like a meadow after a spring rainstorm, with flavors of apricot and wet stone. $36.96, astorwines.com
Secateurs Badenhorst Family Wines | Chenin Blanc, 2018
Cousins Adi and Hein Badenhorst bought a farm and neglected cellar in South Africa's western coastal Swartland appellation in 2008, and today harvest fruit from 28 hectares of unirrigated bush vines planted in the '60s and '70s, along with a few neighboring vineyards. The Chenin Blanc from their Secateurs label is bright, with an herbaceous quality and notes of honey that hint at a lingering sweetness. $11.95, empirewine.com
Le Rocher des Violettes | "Touche-Mitaine," 2017
Winemaker Xavier Weisskopf relocated from Rhône to the Loire Valley because of his love for Chenin Blanc. Since 2005, Le Rocher des Violettes has grown to nearly 40 acres of mostly Chenin, the majority planted before WWII. However, the "Touche-Mitaine" ("touch of the mitten," for the cold weather in pruning season) is from some of his youngest vines, and is vibrant with flavors of green apple and sweet citrus. $18.99, klwines.com
---
Did you enjoy this article? Get more of the best of liquid culture when you sign up for a print or digital subscription to Imbibe Magazine. Click here for special savings!