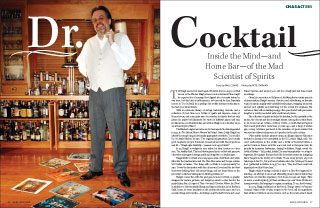 Ted Haigh has lost his heart again. His latest love is a 1930s cocktail known as the Blinker. Haigh evinces more excitement than might be expected for a beverage that slipped into obscurity before he was born, but this kind of enthusiasm is not unusual for him. Popularly known as "Dr. Cocktail," he is perhaps the world's foremost authority on the history of mixed drinks.
With an extensive library of vintage bartending manuals and a collection of more than 1,000 bottles of spirits and liqueurs—many of them obscure, and some quite rare—he searches for drinks that not only please his palate but illuminate the tastes of different places and eras. Acclaimed as a cocktail historian and author, Haigh is, in a broader sense, an archaeologist of flavor.
The Blinker's origins are unknown, but a recipe for the drink appeared in 1934 in The Official Mixer's Manual by Patrick Gavin Duffy. Haigh has altered the recipe using a historically appropriate substitute. "I now call it Dr. Cocktail's Blinker," he says. "The original had grenadine; I put a really good raspberry syrup in it instead, messed around with the proportions, and it's—" Haigh sighs blissfully—"juuuust such a good drink!"
Haigh's nostalgia for eras before his time borders on obsession. The healthy kind. The kind that inspires him to collect and preserve otherwise endangered vintage spirits and forgotten cocktail recipes. Haigh fell for cocktails at a young age as a fan of old black-and-white films like the martini-drenched The Thin Man series and the gin-sodden W.C. Fields comedies. "The thing with cocktails is a synchronicity," he says. "It was the fascination with the old movies I loved and the fact that they were drinking these old arcane things, and you heard them on the [records] I collected, talking about drinking influences."
Haigh's connection with the past goes beyond cocktails. A graphic designer for motion pictures, he's helped re-create a retro feel for the period films Ray, A League of Their Own and O Brother, Where Art Thou? In addition to the formidable library and liquor collection in his Burbank, Calif., home, he owns hundreds of silk neckties from the 1940s and '50s, several vintage automobiles—including a 1948 Packard Deluxe and a 1947 Kaiser Special—and around 3,000 old 78s of early jazz and dance-band recordings.
Given his connection to Hollywood, it's fitting that a certain amount of drama infuses Haigh's manner. Gracious and self-effacing, on favorite topics he speaks rapidly with unbridled enthusiasm, wrapping his mouth around each syllable and stretching out his vowels for emphasis. His sentences flow with escalating energy, often punctuated with percussive laughter or neatly concluded with a well-turned phrase.
His collection of spirits includes the familiar, but his specialty is the arcane, the obscure and the downright bizarre. Among the notable items in his home bar are bottles of Crème Yvette—a violet-flavored liqueur that ceased production more than 30 years ago—and a lump of ambergris, a waxy substance produced in the intestines of sperm whales that was used as a flavor enhancer in hot punches in the 19th century.
Other rarities include pimento dram, an allspice liqueur still manufactured in Jamaica but unavailable in the U.S., which Haigh calls "the most useful liqueur in the world," and a bottle of Secrestat bitters, a product made in France until the 1940s and used in European bars, frequently by American bartenders, during Prohibition. Haigh scored the bottle of bitters—"full, sealed, labeled," he says triumphantly—on a trip to Argentina. He explains that products like Secrestat created an intriguing flavor tangent in the history of cocktails. "It was never put into any cocktail recipe in the U.S., but you'd see it referenced in the Café Royal Cocktail Book [published in Britain in 1937]," he says. "They had these weird old ingredients we didn't have here."
Haigh's study of vintage cocktails is akin to a Slow Food approach to drinking—an attempt to savor and ultimately preserve flavors before they fade from our collective experience. Such losses, he says, are tragic. "Here we are in a world of plenty, yet there are flavors you can't have. It's like not having a word in the language to explain something. To me, that's vexing."
In 2004, Haigh published his first book, Vintage Spirits & Forgotten Cocktails. Many of the 70-plus recipes in the book call for ingredients that, while not defunct, are uncommon, such as the smoky arrack-based Swedish Punsch or the bitter orange Torani Amer. That same year, he and a partner, Martin Doudoroff, relaunched CocktailDB.com, an expansive online database of drinks and ingredients, both familiar and forgotten. Haigh sees a growing public interest in obscure spirits and cocktails, and he hopes for a renaissance. "Look at what used to be one of the most arcane ingredients out there: absinthe. Well," he says. "Look on the Internet today and anyone who wants to try it, can. It went from being arcane to being somewhat obscure, yet ubiquitous."
Few of the bottles in Haigh's collection are sequestered in glass cases. As an advocate of resurrecting forgotten flavors, he believes in using the rare ingredients, and in exposing other people to their intriguing tastes. "The first time I was at his house, we just started running through spirits and making cocktails," says Robert Hess,  founder of drinkboy.com. "He'd say, 'Let me show you what you can make with this!' or, 'Oh, it'd taste better with a little touch of this!' He's like a mad scientist."
In 2005, Haigh and Hess helped found the New Orleans-based Museum of the American Cocktail. Through its displays of bartending memorabilia, temporary exhibits in New York and Las Vegas and a series of seminars and events nationwide, the museum educates visitors about the 200-year history of cocktails. Haigh serves as curator, and he also utilized his graphic design skills to create the museum's logo and materials, along with the cover to its scholarly journal, Mixologist: The Journal of the American Cocktail.
Drink historian and author David Wondrich credits Haigh's design sense, fanatical attention to detail and extensive knowledge of cocktail history as factors that made the museum possible. "He's got this area of expertise in old booze that's really unique," Wondrich says. "He's the institutional memory of the cocktail geeks."
While the drinking public gradually rediscovers neglected cocktails like the Sazerac and the French 75, Haigh continues his mission to explore flavors of different eras. It's an endeavor he can enjoy on a couple of different levels. "If you get the recipe the way they made it back then, you can be tasting something no one has tasted in 50 years," he says. "You can open an American whiskey bottled in 1916, and it's almost as though you're drinking time. That, to me, is the fascination—that, and it tastes good."