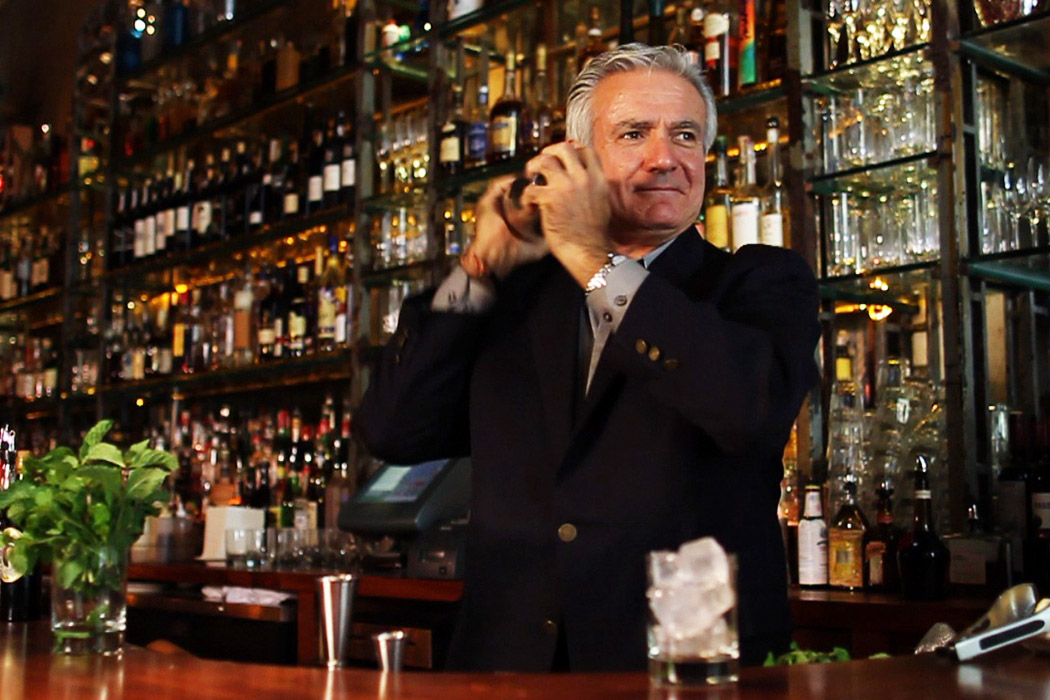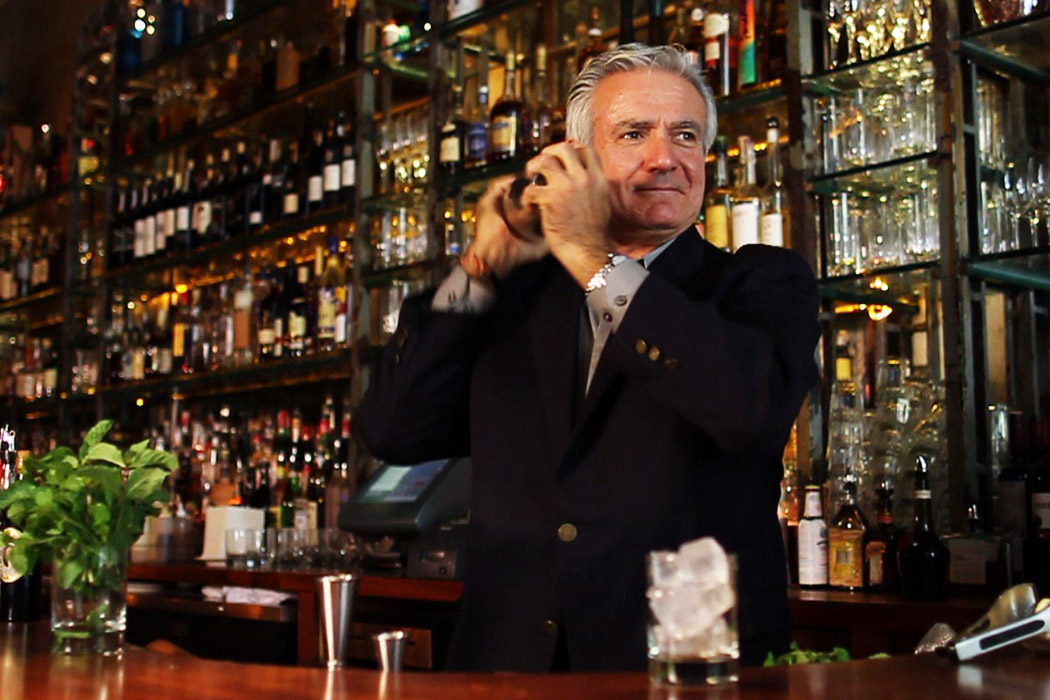 The spotlight is a fickle thing, faithful only to a select few. For more than 40 years, Dale DeGroff has been the spotlight's steady date. This is fitting, in a way. DeGroff, like so many others, first came to New York to be an actor—and with a mix of talent, luck and an abundance of charm and determination, turned a one-night-only walk-on gig into the starring role of a lifetime.
Dale DeGroff is the silver-tongued father of the cocktail renaissance. Handsome and engaging, with the easy manner of someone accustomed to converting a roomful of strangers into close friends, DeGroff is the embodiment of effervescent New York City nightlife, evincing a class and style once commonplace in the city's finest saloons. As head barman and bar manager at the legendary Rainbow Room at Rockefeller Center during the 1980s and '90s, DeGroff took the craft of bartending from its disco-era low and burnished it back to glory, inspiring and influencing waves of aspiring bartenders along the way. More recently, DeGroff has literally returned to center stage, both as a partner in the Beverage Alcohol Resource bartender training program, and as a singing, story-spieling raconteur in "On the Town," a traveling show covering the glittering world of the New York bar.
It's a world DeGroff first encountered in 1969, after he dropped out of the University of Rhode Island and moved to New York with aspirations for the stage—not that his big-city debut was all champagne and cigars. "I wound up living at the YMCA, packing Gideons bibles into boxes," DeGroff says. "That was my introduction to New York."
DeGroff's arrival in New York came at a time of transition for the city's bars and restaurants, as the coat-and-tie, mahogany-and-mirrors vibe of Rat Pack-era New York ceded territory to the discotheques and fern bars of the 1970s. As DeGroff paid his bills with an entry-level job in advertising, he increasingly found himself in bars that were products of this earlier age, places that attracted politicians and financiers, gangsters and celebrities. "The New York bar was iconic, and I caught the end of an era," DeGroff says. "People would travel from around the world to come to P.J. Clarke's or Downey's on the West Side, or the original Charley O's, or McSorley's. It was unbelievably exciting to me, and sexy as hell."
DeGroff's big break came in the early '70s, in a role and on a stage that changed his career trajectory. One afternoon, DeGroff was relaxing at Charley O's when a panicked manager put out a call for help. The restaurant was catering a party at Gracie Mansion, New York City's mayoral residence, and the bartender hadn't shown up; with no bartending experience whatsoever, DeGroff talked his way into the job and within minutes was pouring drinks for some of New York's most prominent and powerful. "It was a moment for me of feeling very much at home," DeGroff says. "I was just delighted to be behind the bar, facing this group of people."
For the man who eventually adopted the sobriquet "King Cocktail," the drink wasn't the point. DeGroff says in the early '70s, the art of the cocktail was in a slump, the mighty Manhattan and Martini swamped by a tsunami of Cape Codders, Salty Dogs and Greyhounds; as added insult, artificial sour mix and other shortcut ingredients were mainstays behind every bar. At the time, this wasn't a big deal, DeGroff says. "This kind of stuff wiped the cocktail off the map, but what you did have was an incredible life in the bars—there was such an assortment of characters."
Soaking up New York's nightlife became DeGroff's education. A longtime friend, Gerry Holland, had a jazz-musician brother named Charlie, and through this connection, DeGroff became a regular at clubs such as the Half Note on Hudson Street, catching nightly performances of Roy Eldridge. Through these nocturnal explorations of Manhattan, DeGroff steeped himself in the atmosphere of nightclubs and saloons, picking up wisdom that would later serve him well behind the bar. "I learned about New York nightlife, and how you walk into a joint—and if you're looking for a good time, you better bring some of it in with you," DeGroff says.
Gerry had a second brother, J. Ron, who proved essential to DeGroff's education in another way: J. Ron was a principal in the ad agency where DeGroff worked, and among the agency's clients was Restaurant Associates, a company helmed by a towering figure in New York's restaurant world (and frequent dining companion for J. Ron and DeGroff), Joe Baum. Baum's restaurants defined high-profile dining in midcentury New York; he opened the Four Seasons and the Forum of the Twelve Caesars (at the time, the most expensive restaurant in the world), Charley O's and La Fonda del Sol, a Latin-themed restaurant that opened in the Time-Life Building in 1959. "This was a time when we were a meat-and-potatoes kind of country, and La Fonda del Sol celebrated the food of Central and South America," DeGroff says. "They served pisco sours and mezcal and margaritas; he had to import tequila, mezcal and pisco to the U.S. just for this restaurant—and this was the '50s! He was just crazy ahead of his time."
In 1978, DeGroff took one more shot at an acting career, moving to Los Angeles and talking his way into a job as bartender at the Hotel Bel-Air, then one of the world's most prestigious hotels. Even the quiet of the day shift proved useful for DeGroff's growing interest in the bar. "Nobody was around, and the head bartender insisted I polish every single bottle, so I read the labels and tasted my way through the library; they had a lot of stuff I'd never seen before, and it was a massive education," he says.
This education proved useful starting in 1985, when DeGroff—now with a wife, Jill, and two small sons—returned to New York, drawn by a job offer from Baum to head the bar at a new restaurant, Aurora. There was a catch, however: Baum knew DeGroff was well versed in stories of classic New York bars and the characters who drank there, and he wanted his bartender to share these stories with guests. And one other thing: "Joe said, 'I want a real bar—nothing artificial, no soda guns—a 19th-century bar room with classic recipes. People figured it out for 150 years before this crap was invented—can you do it?' "
Neither DeGroff nor his bartenders understood the way bars operated prior to the 1960s—"They were trained just like I was: on bullshit," DeGroff says. For guidance, Baum encouraged DeGroff to read what's now the gospel tract of the craft-cocktail bar: Jerry Thomas' pioneering 19th-century work, How to Mix Drinks. "He didn't tell me it was published in 1862. I found that out as I went looking for it."
DeGroff didn't realize that Baum was grooming him for a much bigger project: the 1987 debut of the Rainbow Room, in the GE Building at Rockefeller Center. Baum's goal was to restore the sophisticated aura of mid-century New York supper clubs, such as the Stork Club, with a big-band orchestra, a revolving dance floor and Art Moderne-influenced décor. Using his growing collection of vintage bar manuals, DeGroff put together an extensive menu of more than 30 then-obscure classic cocktails, giving New Yorkers their first tastes in decades of well-balanced, fresh-ingredient drinks, such as the Ramos Fizz, the Singapore Sling and the Sazerac.
DeGroff says once word got out—the Rainbow Room's classy charm proved irresistible to reporters—the bi-level lounge was packed, and other bars were soon trying to ride the Rainbow Room's coattails. "Nobody was doing what we were doing—there wasn't a cocktail menu in town," he says. "Then I'd be in the Village and see a restaurant with a couple of drinks on the menu, and see a Between the Sheets—nobody'd made that drink in New York in 45 years except for us!"
DeGroff remained true to Baum's desire to operate a classic-style bar. Stocking only fresh, quality ingredients and painstakingly teaching himself and his team of 37 bartenders how to use the basic tools and techniques that had once been common knowledge among New York barmen, DeGroff turned his role as star of the bar into a mission to restore bartending as a respectable profession. "Under Joe's guidance, Dale started a renaissance," says Colin Davis, a longtime Rainbow Room bartender who now works as a distillery consultant. Davis says DeGroff had high expectations of his staff, but that even on the busiest nights, DeGroff remembered that as the bartender, he was at center stage. "He really was a showman, but he was also very good at seeing what a person would respond to," Davis says. "He developed a reputation as a bon vivant."
Before long, this focus on quality and freshness found other adherents around town, and DeGroff picked up notable disciples. "Dale's the father of modern cocktail mixology," says Julie Reiner, co-owner and bar mastermind behind several New York cocktail institutions, including Flatiron Lounge, Clover Club and Lani Kai. Reiner says she first met DeGroff in 1998, when she was managing a bar in the West Village and had attracted the attention of The New York Times for a cocktail menu that featured fresh-ingredient drinks, such as her Big Apple Martini—"Which is funny now, but that's what I was doing at the time," Reiner says. "He became a mentor to me, and he really started it all. He inspired people who inspired other people; he's at the top of that food chain."
DeGroff's work in bars is now mostly in the form of his traveling "On the Town" shows, in which he's joined by a jazz guitarist as he regales audiences with his easy-flowing stories of New York nightlife from another era. Drinks are served as well, of course, made with fresh ingredients and measured proportions in the manner that this cocktail regent has instructed thousands of today's bartenders. He's also recently introduced his own brand of pimento cocktail bitters.
But don't get too caught up in what's in the glass; Reiner says DeGroff's biggest contribution to today's bars may be his emphasis on using the bartender's role at center stage to make sure everyone has a good time. "A lot of people have got a little bit lost, so worried about the minutiae of the cocktail that they forget you're there to entertain people," she says. "Dale's one of those guys, you walk into his bar and you leave happier than when you went in. He's a true star."