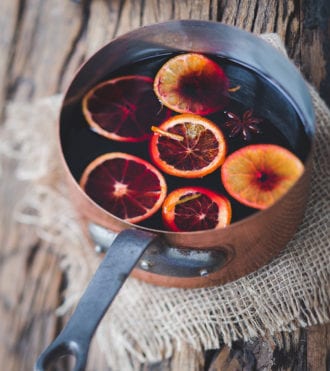 For some, the best part of Thanksgiving is the day after, when leftover slices of apple pie become breakfast and extra turkey, cranberry sauce and stuffing get piled recklessly high on lunch sandwiches. But what about those bottles of wine that went unfinished? Is there really such a thing? Sometimes it happens, and if it does, don't let any of that extra red, white or sparkling go to waste. Instead, think about repurposing them as a cocktail ingredient. "Just about every wine that has bold enough flavor can be used to make a great syrup, which both stabilizes the wine for a long time and provides you with a variety of new cocktail options," says H. Joseph Ehrmann of Elixir in San Francisco. "Once made, they can be used throughout the holidays and into the new year."
Butter Me Up
At his San Francisco whiskey shrine Elixir—the second oldest continually operating bar in the city—Ehrmann makes wine-based syrups and fortified wines, experimenting with sweeteners for different wine styles. His Butter Me Up cocktail employs Chardonnay and agave nectar alongside bright citrus, smoky Scotch and herbal tea. To make the syrup, combine leftover Chardonnay with an equal amount of agave syrup in a pot over medium heat. Let the mixture simmer until combined, then remove from heat and allow to cool. To make the cocktail, add ½ oz. of the syrup, ¼ oz. of fresh lemon juice, ¼ oz. of blended Scotch and 5 oz. of brewed, hot chamomile tea to a warmed mug. Stir gently and serve. Store the syrup in the refrigerator for up to 4 weeks.
Savior Faire
Tucked away in New York City's Public Theater is The Library, a bar named to honor the building, which once housed the United States' first public library. There, bartender Shannon Beck creates syrups with leftover wine from the bar, selecting herbs and citrus to enhance a wine's natural flavors. Beck makes a Pinot Noir syrup and serves it on the rocks, over ice cream, added to bubbles or in cocktails like the Savior Faire. For the syrup, add equal parts Pinot Noir and cane sugar in a pot over medium-high heat, adding two 1-inch pieces of rosemary, 4 sage leaves and 3 strips of orange peel. Bring the mixture to a simmer, making sure not to let it boil. Let it simmer for 15 minutes, then remove from the heat, strain and allow to cool. To make the cocktail, add 2 oz. of bourbon, ¾ oz. of fresh lemon juice, ¾ oz. of Pinot Noir syrup and 1 fresh egg white to a shaker and dry shake (no ice) to aerate. Add ice to the shaker and shake again, then strain into a chilled coupe. Garnish drink with a rosemary sprig and freshly grated cinnamon.
Dark Star
Already a bustling coffee shop in Southeast Portland, Ro Tam's Either/Or added a coffee-meets-cocktail space in North Portland earlier this year. With a menu full of creative drinks, bartender Erica Ramirez's Dark Star, a winterized Kalimotxo combining mulled wine and Coke, has quickly become a fan favorite. To make the Spiced Red Wine, in a pot bring 2 liters of red wine and ¼ cup of mulling spices (a variety of wintery spices typically including cinnamon, cloves, allspice, nutmeg, star anise and cardamom) to a boil. Once boiling, remove the mixture from the heat and allow the spices to stand in the wine until it has cooled. Strain out the spices, preserving the mulled wine. To assemble the drink, in a large snifter filled with pebble ice, add 6 oz. of the Spiced Red Wine, then open and turn a glass bottle of Coca-Cola upside down in the drink, allowing the soda to mix with the wine. Garnish with a cinnamon-dusted orange slice and two metal straws for sharing. Serves 2.
Champagne Daiquiri
During her time at Cold Storage in Chicago, bartender Marissa Barlow repurposed an abundance of leftover Champagne into a sweet syrup she used to mimic a nostalgic treat—Baskin-Robbins' Daiquiri Ice sorbet. To make the syrup, combine 1 cup of flat Champagne (any brand, a very dry Champagne is what Barlow usually uses) with 1 cup of granulated sugar. Heat and stir until the sugar is completely dissolved, then refrigerate until ready for use. To make the Daiquiri riff, in an ice-filled shaker add 2 oz. of white rum, ¾ oz. of fresh lime juice and ¾ oz. of Champagne syrup and shake until chilled. Strain into a chilled coupe and garnish with a lime peel.
---
Did you enjoy this article? Get more of the best of liquid culture when you sign up for a print or digital subscription to Imbibe Magazine. Click here for special savings!