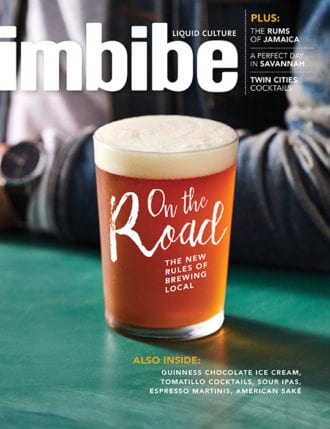 I love my suitcase. Even after years of traveling across the country and around the world in search of fascinating drinks and the cultures around them, I still get a thrill every time I take it from the closet and get ready to head someplace new. And even at a time when the globe is seeming smaller, we find plenty in the world of drinks to explore in the pages of Imbibe.
In this issue, that exploration starts right here in the U.S., with Josh Bernstein following breweries that are expanding their footprints outside of their local communities. Also close to home, Robert Simonson travels to the Twin Cities to find out what's happening in the drinks scene of Minneapolis and St. Paul.
Down south, Nora McGunnigle brings us the story of how Kuan Lim traveled from his native Malaysia to the U.S., eventually settling in Bossier City, Louisiana, to transform a run-of-the-mill Chinese restaurant into a renowned wine destination. And if you've acquired a taste for good saké, you'll want to read Sarah Karnasiewicz's take on how American brewers are trying their hand at Japan's signature beverage. Then venture halfway around the world to Hong Kong with Max Falkowitz, who explores the fading art of tea roasting.
I grabbed my own suitcase for this issue—earlier this year, I headed to Jamaica to visit distilleries that make some of the world's most distinctive rums, many of which are now appearing in American bars; I share the details. Associate editor Penelope Bass also logged a few air miles, traveling to Vietnam and learning to love bia hơi, or "fresh beer." We've also got cocktails made with one of France's favorite aperitifs, Wayne Curtis' history of the ice cube tray, and the backstory of the Boulevardier, a classic cocktail born in Paris and now at home on cocktail menus worldwide.
Get your digital travels kickstarted with the web extras we've assembled for you below, and pick up a copy of the print edition to get the full scoop.