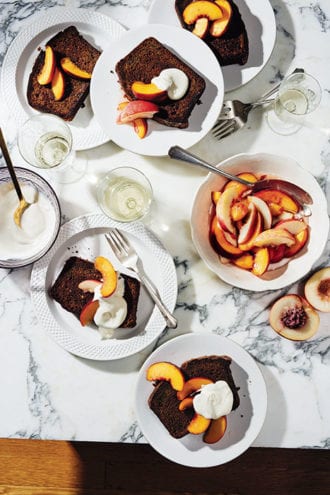 Brunch doesn't get better than warm zucchini bread topped with peaches, Moscato syrup and crème fraîche.
Zucchini Bread
⅔ cup extra-virgin oil, plus more for greasing the pan
12 ounces zucchini, shredded (about 3 cups)
1⅔ cups sugar
4 large eggs
2 tsp. pure vanilla extract
2 tsp. baking soda
1 tsp. baking powder
1 tsp. kosher salt
1 tsp. ground cinnamon
1 tsp. ground cardamom
3 cups all-purpose flour
To make the Zucchini Bread: Preheat the oven to 325° F with a rack positioned in the lower third. Grease an 8 by 4-inch loaf pan with oil. Whisk the oil, zucchini, sugar, eggs, vanilla, baking soda, baking powder, salt, cinnamon, and cardamom in a large bowl. Add the flour and stir just until combined. Pour the batter into the prepared pan. Bake until a toothpick inserted in the center comes out clean, about 1 ½ hours. Set the pan on a wire rack to cool for about 5 minutes, then run a knife along the edges of the bread and invert to unmold it. Return the bread to the rack to cool completely before slicing, 3 to 4 hours. After cooling, it can be wrapped tightly and stored at room temperature for up to 3 days, or refrigerated for up to 1 week.
Moscato Peaches
1½ lbs. peaches, or a mix of peaches, nectarines, and/or apricots
½ cup Moscato d'Asti
2 Tbsp. sugar, plus more as needed
About ¼ cup unsalted butter
Crème fraîche, for serving
To make the Moscato Peaches: Pit the peaches and cut them into thin wedges. Put them in a large bowl, pour in the Moscato, and sprinkle with the sugar. Toss to combine. Taste and add more sugar, if needed. Set the bowl aside until the peaches soften and give up some of their juices, at least 30 minutes and up to 8 hours.
Preheat the oven to 200°F. Line a large rimmed baking sheet with a wire rack and place it near the stove. Trim the crust from each end of the zucchini bread. Cut the loaf into 8 slices, each about 1 inch thick. Heat a large cast-iron griddle pan or skillet over medium heat. Add 2 tablespoons of the butter and swirl it around to coat the griddle. Once melted, add as many slices of the zucchini bread as will fit comfortably in the pan. Cook, turning once, until both sides are nicely browned and crisp, 2 to 3 minutes per side. Decrease the heat if they seem to darken too quickly. Add another pat of butter if the griddle becomes dry after the first sides are cooked. Place the griddled slices on the prepared baking sheet and keep them warm in the oven while the rest are cooked. Repeat to cook the remaining slices, adding more butter to the pan as needed.
Serve one slice of hot griddled bread per person, each drizzled with crème fraîche and topped with a big spoonful of the peaches and Moscato syrup. Makes 6 to 8 servings.
Reprinted with permission from Wine Food: New Adventures in Drinking and Cooking by Dana Frank and Andrea Slonecker. Lorena Jones Books.
---
Did you enjoy this recipe? Sign up for our newsletter and get our favorite drink recipes of the moment in your inbox every month.