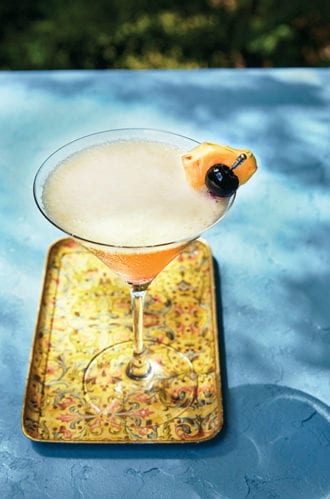 The recipe for this cocktail from Don the Beachcomber was only recently revealed by tiki historian Jeff "Beachbum" Berry in the newest edition of Sippin' Safari. The original Jamaican rum used in this circa 1937 recipe no longer exists; Berry suggests using Rum-Bar Gold or Hamilton Jamaican Gold as a replacement.
1 oz. gold Jamaican rum
½ oz. fresh lime juice
¼ oz. passion fruit syrup
¼ oz. honey syrup (1:1)
2 Tbsp. diced fresh pineapple
½ cup crushed ice
Tools: blender, medium-mesh strainer
Glass: cocktail
Combine all ingredients in a blender and blend at high speed for 20 seconds, or until pineapple has liquified. Strain through a medium-mesh strainer into a chilled glass, agitating as you strain to force as much liquid as possible into the glass.
Donn Beach, circa 1937, adapted by Jeff "Beachbum" Berry, Latitude 29, New Orleans
---
Did you enjoy this recipe? Sign up for our newsletter and get our favorite drink recipes of the moment in your inbox every month.