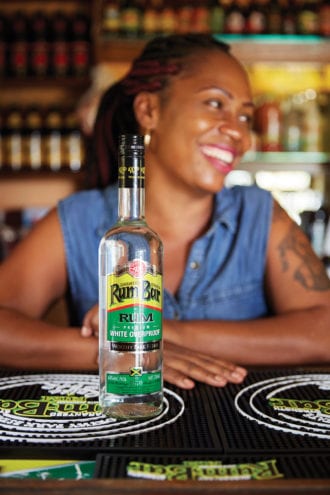 Every region has its own approach to producing rum, but of all these interpretations of the spirit, Jamaica is perhaps the most distinctive. In the September/October 2018 issue we explore the range and character of Jamaican rums, but here's a look at some of the labels currently available in the U.S. (or coming to shelves soon), offering a variety of directions for further exploration.
Appleton Estate
J. Wray & Nephew is the largest rum producer in Jamaica, operating two of the island's six distilleries: New Yarmouth Estate, which produces Wray & Nephew (see below); and Appleton Estate, which makes the rums sold under that label. Aged rum is where Appleton really shines, with some of the largest and deepest stocks of aged rum in the Caribbean. Appleton Estate Signature Blend is crisp and lean, its savory structure laced with orange peel and nutmeg, and perfectly dry for cocktail use. Appleton Estate Reserve Blend is deeper and rounder, with touches of toffee, honey and toasted hazelnuts, and the richness escalates even further with Appleton Estate Rare Blend 12-year-old, with bold bottom notes of coffee and cacao. The gloves come off with Appleton Estate 21-Year-Old Jamaica Rum, with a lusciousness of crème caramel, candied citrus and dried herbs.
Doctor Bird
Detroit distillers and importers Two James Spirits import high-ester rums from Worthy Park in Jamaica, then blend the rums and age the blend in a Moscatel barrique. The result is a fragrant mix of tropical fruit and minerals, with a lively pop of citrus peel and a lingering finish.
The Funk
Imported by Proof and Wood Ventures, this high-ester rum from Worthy Park was intended to be blended, but Proof and Wood founder and president Dave Schmier found plenty of appeal in the untouched, unaged spirit. Assertively aromatic of bananas, citrus and fresh sugarcane, the rum delivers an aggressive yet nuanced definition of the whole idea of "hogo."
Habitation Velier
New to the U.S. market this fall, Forsythes WP 502 is the result of a collaboration between Worthy Park and Italian spirits specialist Velier, and is available in two calibers: a 114-proof version with a character interlaced with pineapple skin and fresh mango, with a savory depth and a wisp of smoke on the finish; and a clock-cleaning 151-proof expression that's surprisingly delicate and bright, ethereal with the fragrance of flower petals and candied fruit. The rum was specially commissioned by Velier and is the result of a three-week fermentation, resulting in a spirit that wears its ester count right in its name: 502 grams of esters per hectoliter of pure alcohol, among the highest of bottled Jamaican rums. Another venture between Velier and Worthy Park, Habitation Velier Forsyths WP 2005, is from the same mark that Worthy Park uses for its own Rum-Bar brand (below), and is a vintage selection from 2005, the first year that Worthy Park resumed operation since its closure in the 1960s; aged in ex-bourbon barrels, this rum is lean and crisp, with flowing, gentle touches of dried orange, caramel, grass and hay. You may need to scan the menus of top rum bars to find a taste, but keep an eye out for the 2007 vintage, coming soon.
Hamilton
Longtime rum expert and importer Ed Hamilton launched his own line of select rums several years back, and Hamilton Jamaican Pot Still Gold Rum and Hamilton Jamaican Pot Still Black Rum quickly became bartender favorites. The two rums are essentially the same: several Worthy Park marks that Hamilton selected and imported, then blended to his own specifications, with a small amount of caramel coloring added to the black version for customers seeking the type of dark, heavy Jamaican rum utilized in some cocktail recipes. The spirit is rich and round, with a heavy fragrance of overripe banana and savory tropical fruit, and the palate is full-bodied and funky, with a complex balance of fruit and spice. A new expression, Hamilton Jamaican Pot Still Blond Rum—similar to the gold and black, but with a younger Jamaican rum added to the mix, for a lighter style—is scheduled to be released this year.
Hampden Estate Pure Single Jamaican Overproof Rum
The first aged rum to appear in the U.S. under the Hampden Estate label, this spirit will make its American debut in November. A demonstration of the art of high-ester rum, this 7-year-old spirit is divinely fragrant with dried flower petals, pineapple husk, and touches of spice, and is expressive and nuanced in the glass, with grapefruit peel, dried mango and nutmeg lacing the palate.
Plantation Xaymaca Special Dry Rum
When France-based Maison Ferrand (the company behind Pierre Ferrand Cognac and Plantation rums) purchased a partnership in two Jamaican rum distilleries in 2016, it marked new possibilities for the Plantation brand. Jamaican rums already appeared in blends including Plantation Original Dark and Plantation O.F.T.D., and with the introduction of Plantation Xaymaca this fall ("Xaymaca" is the indigenous Arawak name for the island), the company added a Jamaican expression to its permanent lineup. Made from a blend of five marks—two from the Clarendon distillery, three from Long Pond—the rum is made entirely by pot still, and is bottled with no sugar dosage, resulting in a very dry spirit with a balanced headiness of ripe-fruit esters, and a gentle character of ripe banana, roasted pineapple and toasted nuts.
Rum-Bar
The flagship line from Worthy Park Estate is ubiquitous in Jamaica, and began showing up in U.S. bars earlier this year. The rums are made entirely from molasses derived from sugarcane grown on the estate (and pumped directly to the distillery from the estate's sugar factory), and are a blend of marks from the distillery's separate low-ester and high-ester processes. Rum-Bar Silver is an unaged version with a mild ester funk, and touches of coconut, banana and vanilla make it an excellent choice for cocktails. Rum-Bar Gold is aged four years in American whiskey barrels, giving the rum touches of toffee and caramel, also a great choice for tropical drinks. Rum-Bar White Overproof is big and bold with tropical fruit, the touches of pineapple, ripe banana and papaya countered by the vegetal tones of fresh sugarcane. This rum's character is bouncy and playful, like Tigger in a bottle.
Rum Fire
The highest-ester rum available in the U.S., Rum Fire is an overproof white rum made at the Hampden Estate distillery and found at rum bars throughout Jamaica's Trelawny parish. Rum Fire offers a neutron bomb of funk and flavor, but it's also surprisingly nuanced and graceful, with a rich, oily aroma of guava and ripe banana, and a deep vegetal character rounding out to a musky finish.
Smith & Cross Jamaica Rum
Smith & Cross started the hogo revolution in American bars with its 2010 debut, with good reason—this blend of marks from Hampden Estate was designed to fill the role of higher-proof, higher-ester Jamaican rums called for in classic cocktail recipes. The rum offers a bombast of fruit and spice aromas, and at 114 proof, it contributes a muscular punch of fragrance and flavor to punches and cocktails.
Worthy Park Single Estate Reserve
An exceptional aged rum from Worthy Park, this blend of 6, 8 and 10-year-old lower-ester marks was introduced to the U.S. earlier this year. The rum is luscious and rich, with touches of cocoa, tropical fruit and baking spice.
Wray & Nephew White Overproof Rum
This burly overproof rum is iconic for a reason: at 126 proof, this blend of pot- and column-distilled spirits delivers a solid punch of high-ester flavor. The aroma is rangy with ripe papaya, guava and pineapple skin, and in the glass it counters the fruit tones with a mineral earthiness and savory complexity.
---
Like what you see? Get more of the best of liquid culture when you sign up for our bi-monthly magazine. Subscribe now and save up to 59%—it's just $21.95 for one year or $32.95 for two years. Click here for details.