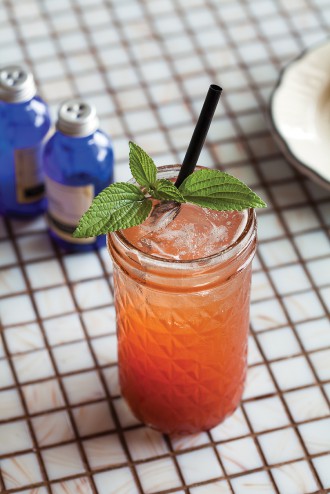 Planning a picnic in the park or day trip to the beach? Doesn't mean you can't have a cocktail or homemade soda in hand. Here are some of our favorite pre-batched drinks perfect for outdoor excursions.
Buck Hunter
This ginger-spiked version of the classic Whiskey Sour might be the perfect pitcher cocktail.
Champagne Whiskey Punch
The Champagne Whiskey Punch presents a blend of tart raspberries and bright lemon that helps temper the oak and vanilla flavors of the whiskey. Champagne brings a snappy punch of bubbles to the mix. Batch one up.
Ginger Beer
Homemade ginger beer? So easy. Just whip up its gingery base, add some water and charge in a siphon for soda success.
High Noon
What would happen if the components of a Margarita met with Campari and grapefruit? Crunch a few numbers and mix up a batch of this simple, four-ingredient refresher to find out.
Homemade Pimm's
Based on its namesake spirit's flavors of gin, fruit and spice, this DIY version is mixed with sparkling lemonade for the perfect punch.
Kingston Negroni
Jamaica or bust! This rum-soaked riff on the classic Negroni sticks with the traditional equal-parts formula, making it super simple to pre-batch into a repurposed wine or bomber bottle ahead of time—just multiply it's proportions by the number of cocktails you're planning to pour and serve over ice. Click here for the recipe.
Pickpocket Soda (pictured)
Flat of strawberries from a roadside stand? Check! Fresh basil from the garden? Yep! A refreshingly summery soda made from a syrup you can prep ahead of time? You bet. Bottle up a batch of this fresh strawberry, basil and balsamic soda syrup to pack along for your picnic and simply let everyone add seltzer to suit their own tastes.
Pitcher of Mojitos
Summer gatherings are ideal for the cooling power of mint-laced Mojitos, and this version uses mint syrup to make the drink a little easier.
Salted Watermelon and Tequila Smash
Fresh watermelon is a summer requisite, but instead of sinking your teeth into the fruit, try drinking it in with this blanco tequila- and blanc vermouth-spiked smash. Multiply the proportions by number of servings, funnel into a clean bottle and serve over ice. Click here for the recipe.
White Tea Sangria
This recipe combines white wine with delicate white tea and fruit for a refreshing twist on sangria.