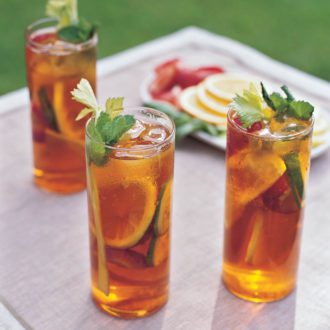 Based on its namesake spirit's flavors of gin, fruit and spice, this DIY version is mixed with sparkling lemonade for the perfect punch.
3 ½ oz. sweet sherry or port
7 oz. sweet vermouth
10 oz. gin
3 ½ oz. Cointreau
2 ½ quarts sparkling lemonade (see below)
10 mint sprigs
½ cucumber, thinly sliced
Handful of strawberries, quartered
½ orange, thinly sliced
½ lemon, thinly sliced
Combine all ingredients in a large punch bowl. When ready to serve, ladle into ice-filled glasses and garnish with fruit and cucumber slices from the punch bowl.
For the Lemonade
2 cups simple syrup (1:1)
Juice and zest of 10-12 lemons
8 cups chilled, sparkling mineral water
Combine all ingredients and stir.
Adapted from Recipes for Parties (Rizzoli, 2010)