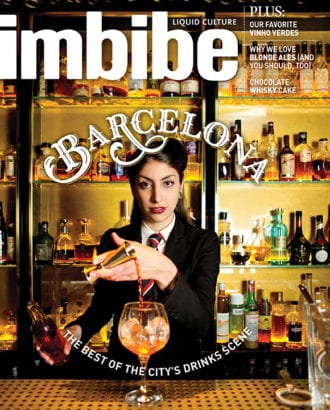 Unlike big-budget Hollywood films or baseball season on opening day, most things don't debut with an eager audience already waiting—instead, they take their own sweet time to catch on. But whether it's a food or fashion trend or a whole new way of looking at the world, such things often benefit from the time it takes to work through the kinks—the time to grow and mature.
This issue of Imbibe is filled with examples from the drinks world of things that have taken their time to catch on, but have often benefitted as a result. Even within the last few years, alcohol-free mixed drinks have been ignored (at best) by the cocktail world, and at worst, openly mocked. But as Robert Simonson details, today's bar-born class of alcohol-free drinks are no laughing matter. Blonde ales, too, were long lumped in with lackluster macrobrews by beer drinkers seasoned on stouts and IPAs, but Joshua Bernstein shares how these lighter, brighter and oh-so-drinkable beers are enjoying a fresh turn in the glass. Progress, though, can come at a price: as Carrie Allan discovers, the drive for cocktail innovation sometimes moves in dangerous directions.
Maturity can also come full circle, drawing heavily on past accomplishments and dusting them off for new generations. Natural wine, for instance, has long shown promise, though it had its share of early drawbacks. But the category has greatly developed in recent years, and Jennifer Fiedler looks at how wine professionals are clarifying the category.
François Monti tours Barcelona's booming wine, vermouth and cocktail scenes, and in his latest column, Wayne Curtis explores the past of the bar measure known as the "pony" and lobbies for its return to the bar vernacular. And for the ultimate long-term revival, Pennsylvania archeologist Dr. Patrick McGovern researches drinks from millennia past and brings some of them back to life for 21st-century imbibers.
We also taste through cocktails made with banana liqueur, which may finally be having its moment in the sun, and tag along with Scott Hocker to Aunt Charlie's, a dive bar that's long filled a role in the gay community of an evolving San Francisco.
As I said, good things take time. Thanks for waiting. Pick up a copy of the new issue to check out these great features, and in the meantime, we've got a juicy lineup of web extras for you. Dig in!
---
Like what you see? Get more of the best of liquid culture when you sign up for our bi-monthly magazine. Subscribe now and save up to 59%—it's just $21.95 for one year or $32.95 for two years. Click here for details.