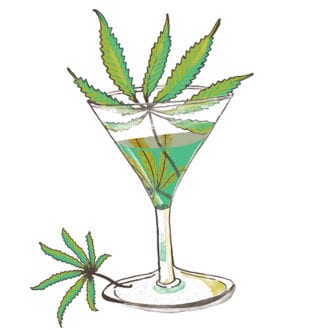 Experimentation is often rewarded in the cocktail world, but what happens when the drive to create introduces possible hazards? In our May/June 2017 issue we explore the impact of ingredients that can tread into potentially dangerous territory, including cannabis. A basic online query would lead one to believe that cannabis cocktails belong in the back pocket of any bartender, with buzz-positive titles like "You Should Be Drinking Your Weed" and "Cocktails with Chronic," but cannabis infusions can have consequences that aren't always widely discussed.
Generally speaking, even in states where recreational use of cannabis has been legalized, mixing marijuana with booze in a bar still isn't permitted, and bartenders and bar owners who choose to cross that line may be gambling with their liquor licenses. And while there may be some legal exceptions for the use of cannabis derivatives in bars (more on that in a minute), most additions of cannabis to cocktails are taking place at home. Depending on where you live, this may legally be okay (at the state or local level, that is), but it's worth thinking through the pros and cons before diving in.
First, it's important to know what you're working with. The cannabis plant produces more than 80 different cannabinoids, or cannabis compounds. Tetrahydrocannabinol (THC) and cannabidiol (CBD) are the two compounds with the highest natural concentrations—THC gets you high, while CBD has been lauded for its anti-inflammatory and analgesic properties. The latter is widely available in oil or tincture form and is legal in some states, though the DEA still considers it illegal at the federal level. CBD oil or tincture is also what some bartenders use to bring cannabis to the cocktail glass. At Gracias Madre in Los Angeles, for example, beverage director Jason Eisner serves a limited menu of cannabidiol-containing cocktails with a disclaimer: "CBD is non-psychoactive and is used in our cocktails for its health benefits and unique flavor profile."
But sipping a cocktail made with CBD or THC extracts (or simple infusions of the bud) isn't the same as smoking a bowl or taking a carefully measured dose; it poses a similar challenge that's plagued cannabis edibles, in that the dosage can be unpredictable or difficult to calculate. "Extrapolating from the form most people have been using—medicinal cannabis—ingestion is a very different experience than inhalation, whether vaporized or smoked. People who are not used to ingesting run the risk of overdosing," says pain management specialist and UC San Diego Health associate professor of anesthesiology Timothy Furnish.
There is no known lethal dose of marijuana, but even marijuana's biggest fans can find themselves in unexpected territory with cannabis-infused alcohols. Furnish says users could experience substantially more sedation, maybe even paranoia. "When you're combining two different drugs that are both central nervous system depressants—like alcohol and cannabis, which both have sedating properties—then I would assume that you would have at least an additive effect, if not even possibly a synergistic one," he says.
If THC is present—for example, if you've made a simple infusion by adding a few grams of marijuana to a bottle of vodka—the consequences could amplify. "If they're getting this from actual marijuana that's just been bred for high CBD content, there probably is some THC in there as well," Furnish says. Unannounced THC can lead to unanticipated and unpleasant sedation and impairment, especially in combination with alcohol. Alcohol is also a highly efficient solvent, and cannabis strength can vary widely, so even an innocent infusion can deliver a dose several orders of magnitude stronger than anticipated. "[T]here is a risk, especially in patients who have some pre-existing psychiatric illness, like schizophrenia, that you're going to worsen," Furnish says. "There have been cases with paranoia or delusions that resulted in emergency room visits."
Even in marijuana-forward states like Oregon, where it's legal for adults to purchase recreational marijuana, such infusions are not commercially allowed. "Oregon intends to stay within the boundaries of federal law, and not allow the manufacture, distribution or consumption of THC- or CBD-infused alcohol," says Mark Pettinger, a spokesperson at the Oregon Liquor Control Commission.
With more states legalizing marijuana for medicinal or recreational use, it's natural to expect both professional and home bartenders to start crossing the booze-bud boundary. But bartenders and bar owners need to have a detailed talk with an attorney before tinkering (and be prepared in almost every situation for the lawyer's answer to be "no"). And drinkers working with infusions at home should approach the project with caution—do the dosage math, measure carefully and be especially sure to not overdo it.
---
Like what you see? Get more of the best of liquid culture when you sign up for our bi-monthly magazine. Subscribe now and save up to 59%—it's just $21.95 for one year or $32.95 for two years. Click here for details.