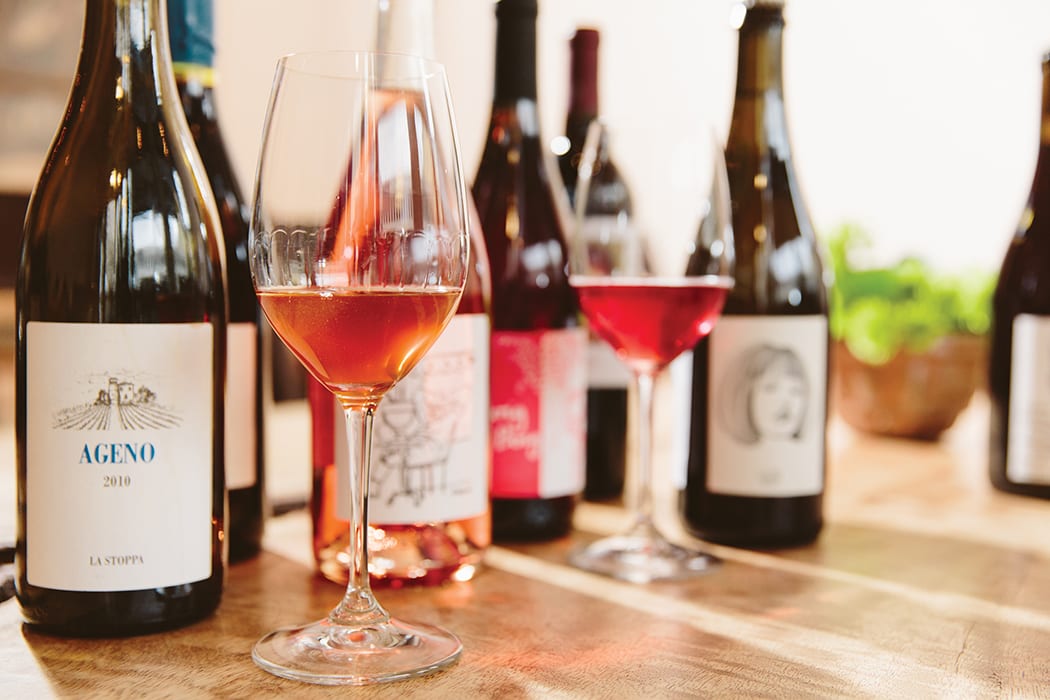 Five years ago, natural wines were a part of a fringe movement in the wine world, but today they're part of the mainstream wine conversation. In 2016, the Institut National de l'Origine et de la Qualité (INAO), a French governing body that regulates food labeling, initiated the lengthy process of creating a legal definition for the term "natural," and ever-more restaurants, wine bars and bottle shops are stocking quality, diverse selections, especially in hubs like New York, where The Four Horsemen and June, both in Brooklyn, and Racines NY in Manhattan were early adopters of the trend. Jennifer Fieldler explores the state of natural wine for our May/June 2017 issue, and as New York-based importer Zev Rovine told her in, only 10 or so years ago "there was one place, 360, in [Brooklyn] that sold exclusively natural wine and that was it. Now you can go to Burlington and Atlanta and have natural wine…If we were to sum up the places that sold natural wine just in New York City, we're talking hundreds."
In Chicago, Bad Hunter recently hosted Third Coast Soif, the first natural wine festival to be held in the region. It featured two dozen natural wine producers and many importers, each pouring multiple wines. "It was held in our herbarium space, which is rated for 140 people, but we probably had over 250. It was unbelievable, " says beverage director Michael McAvena. From his vantage point, a sea change is underway. "The cocktail movement was enormous and is still going; the craft beer movement is the same way. Now I see a bunch of young people geeked out over natural wine," he says. "It's kind of more down and dirty and accessible—everybody wants to try something new."
Houston wine bar 13 Celsius has been operating for a decade, but co-owner Michael Sammons clearly recalls a recent shift in favor of natural styles. "There was a moment, about two years ago, when our guests suddenly began asking specifically about the natural wine movement and orange wines," says Sammons. "Now, in Houston, natural wines have become something that any wine program worth its salt is aware of and will, at the very least, bring in one or two to add to its arsenal."
A driving factor in the movement has been food. Natural wines work especially well with seafood- and vegetable-driven menus, so many restaurants are building lists that spotlight, or exclusively feature, natural wines—places like Dame in Portland, Oregon, L'Oursin in Seattle, N7 in New Orleans and Drifters Wife in Portland, Maine. Kate Jacoby, co-owner of Vedge in Philadelphia, offers a two-tiered approach to natural wine offerings, with clean, easy-drinking selections by Arianna Occhipinti, as well as the wild, funky options like Les Vins Contés. Meanwhile, L'Oursin offers a small, curated selection alongside fresh seafood, enticing drinkers with playful, approachable wine descriptions.
At the retail level, wine shops, like Domaine LA and The Wine Bottega in Boston, have also become champions for these wines, helping customers figure out what natural wine is. D.C. Looney, co-owner of The Punchdown in Oakland, is a huge natural wine advocate but remains skeptical about the process of certification. "A lot of people are trying to jump on the natural wine bandwagon; I can see it easily being used in a 'greenwashing' way,"  he says. He keeps a working definition on the shop's website—no chemicals in the vineyards, sustainable farming practices, nothing added or taken away from the wine itself—and then stocks wines they've personally researched. "We're only selling what we love and believe in," he says.
---
Like what you see? Get more of the best of liquid culture when you sign up for our bi-monthly magazine. Subscribe now and save up to 59%—it's just $21.95 for one year or $32.95 for two years. Click here for details.