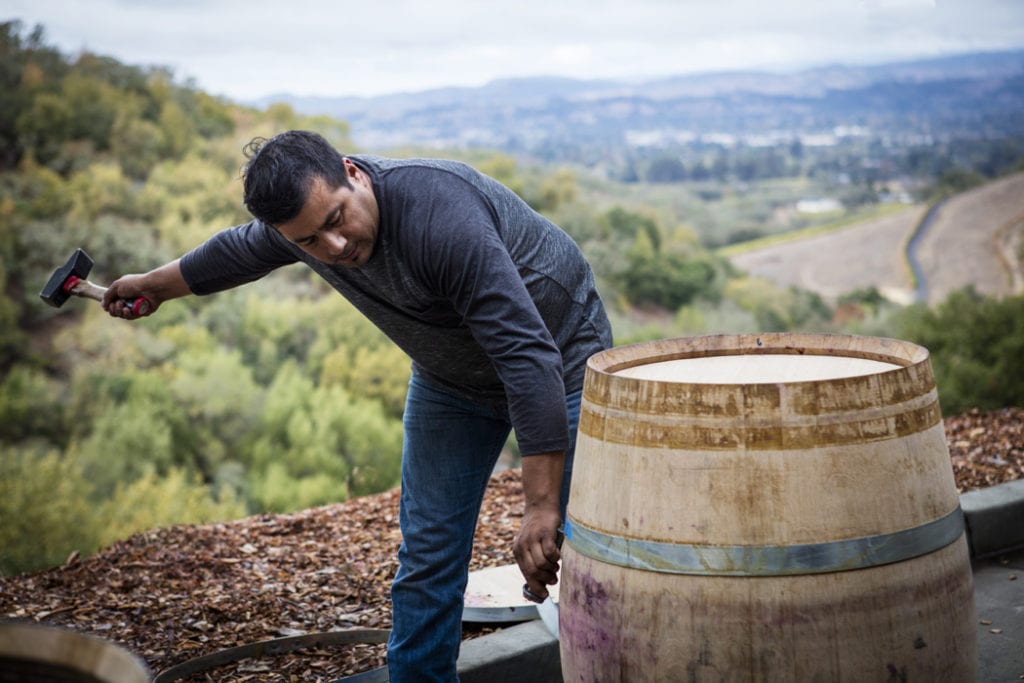 Coopering—the craft of barrel building—is a trade dating back at least to Roman times, and little has changed in the methodology since. Many modern coopers can trace a lengthy family history within the profession: Ger Buckley, master cooper for the Jameson Distillery in Ireland, is a fifth-generation cooper, and Douglas Rennie, master cooper for Seguin Moreau in Napa Valley, is a fourth-generation cooper.
But at Caldwell Vineyard in Napa, California, Ramiro Herrera has no ancestral lineage for coopering—it began with a passion for woodworking. "I was very young, and I was working for a pallet company and I wasn't very happy; I wanted a better job," says Herrera. "I saw an ad in the newspaper, hiring people who knew how to work with wood, so I applied. They asked me if I knew how to build barrels and I said that I didn't even know what a barrel looked like."
The company that hired him anyway was Seguin Moreau, which has been producing barrels since the 1800s. Herrera took to the craft immediately.
"The minute I started working with barrels, I knew that was the job I wanted," he says.
At the age of 20, Herrera traveled to France to begin his training as a master cooper—a program that takes four years. "There are no power tools allowed. You use an axe and hammers and drivers, handsaws, hand planers—everything by hand," says Herrera, who estimates that it takes him about 11 hours to build a barrel. "They want you to learn the artisan way. It's very hard work."
Of the 40 people that began the program, Herrera was one of only two to complete it. That was more than two decades ago, and today he is still one of only a few dozen master coopers in the world. He worked for Seguin Moreau for 19 years before a serendipitous meeting with John Caldwell, owner of Caldwell Vineyard in Napa Valley, allowed him to start his own cooperage. "He told me it had been his dream since 1982 to have a master cooper working for him, and building his barrels the same way the winery Château Margaux in France is doing it," says Herrera.
He consulted with Caldwell on the 2013 harvest and then spent three weeks in Cognac, hand building 60 barrels for the 2014 fermentations. Today, he remains the sole builder of the Caldwell Cooperage, making about 300 barrels a year in France and shipping them over.
Having an in-house cooperage lends consistency in both the quality of the barrel and the resulting wine, which will spend more time in contact with Herrera's work than any other vessel in the winemaking process. By building each barrel himself, Herrera is able to precisely control the toast levels when ring the barrels, and the flavors that will come from the wood itself.
For this, Herrera's job begins not in the woodshop but in the forest. Just as a winemaker will espouse the influence of terroir on the vines, a cooper understands that the concept extends beyond the vineyard to the oak forest where the wood for barrels is sourced.
"French oak is French oak anywhere in France, but there are certain forests where the soil is so rich, and the flavors are just there; it makes such a big difference," Herrera says. "We buy our French oak from one particular forest in France where the soil is great and the flavors are truly unique."
After sourcing the wood, it must be aged outside for at least two to three years to season it and allow the tannins to leach out. Before Herrera begins to build the barrel, significant investment in the product has already been made, just like the wine that will fill it. Though much of the process can be done with machinery and power tools for efficiency, Herrera says he still has—and often uses—his original hand tools from his training.
"I really love what I do, and I'd love to see some other young guys start in it and have that same passion for it," says Herrera. "I've been building barrels since I was 20, and I don't see myself doing anything else."
Click here to get a behind the scenes perspective on the work of a Master Cooper with Ramiro Herrera.