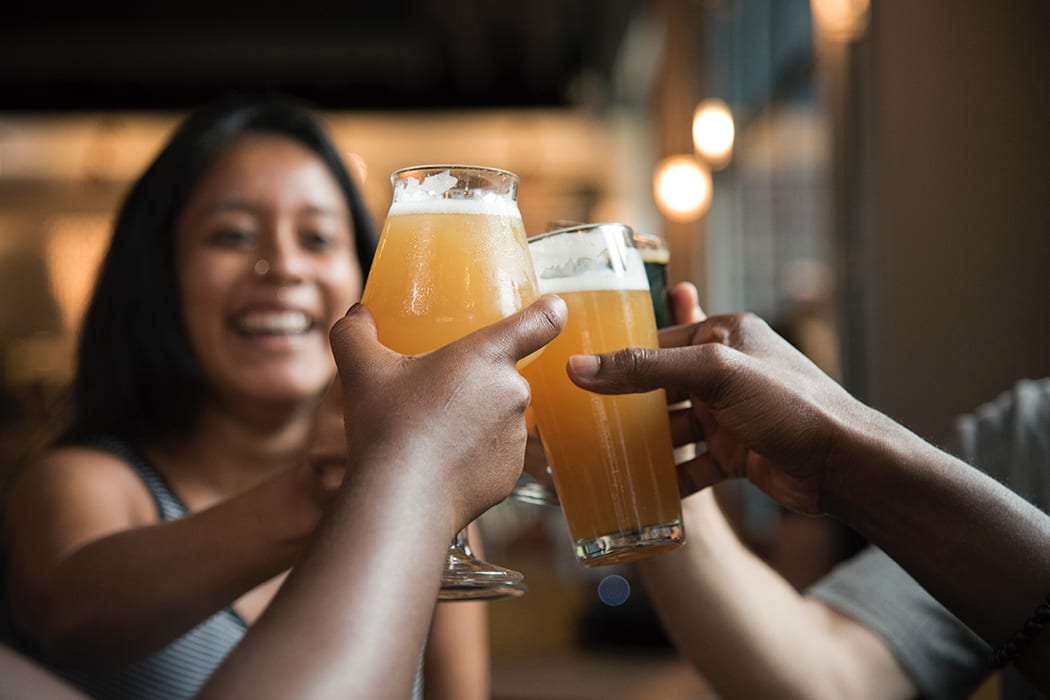 When Chicago-based beer blogger Chalonda White tweeted about a racist message sent to her last September, she didn't realize it would spark a social media movement. But the conversation took on a life of its own when Dr. J. Nikol Jackson-Beckham, the diversity ambassador for the Brewers Association (and Imbibe's 2020 Beer Person of the Year), saw White's comment and decided to take action. Jackson-Beckham was having a beer at an airport bar, whiling away time on social media while waiting for a flight to Denver, when she read White's messages. "There's a very visceral feeling that comes first—an expansive range of emotions. You're angry and then you're sad and feel despair about the world. It's like a flash, a raw and heady moment when you see things like that," Jackson-Beckham says. "Chalonda is so great that it hit me on this odd level, like, I know someone who's doing cool, exciting and positive work in this industry and how can I be most productive and helpful in being an anti-racist and address these kinds of moments?"
Jackson-Beckham chimed into the conversation on Twitter with a rally cry. "I want to channel this feeling into something positive. I want to demonstrate what an inclusive #craftbeer community looks like," she tweeted, instructing followers to take the following steps: "1. Take selfie. 2. Tell us something about your wonderful, complex, individual self. 3. Tag your post with #IAmCraftBeer. Let's create huge enduring reminder of the incredible diversity in our community!"
She kicked off the chain with her own example. "I am an educator, a scholar, and student. I am a wife, a sister, a stepmother, and a ride or die friend. I am a homebrewer, a saison lover, and a weekend day drinker. I get too excited about sports and pictures of otters. I am a queer, black, introverted book geek and #IAmCraftBeer."
By the time she landed in Denver four hours later, the hashtag #IAmCraftBeer had drawn hundreds of replies from beer enthusiasts, brewers and other people around the world. Mari Rodela, chief community and culture officer from DC Brau Brewing Company, was one of the many who joined the conversation, tweeting, "I am a proud Mexican-American woman who co-owns and operates a brewery in beautiful Washington, DC. I am a wife, sister, daughter, friend, god-mother & advocate and ally for my community and loved ones. Apparently, I'm also excellent @ writing run-on sentences. ;)"  When asked why she joined the conversation, Rodela said it was a show of solidarity. "I think that there is strength in numbers and I felt it was important for all of us to show how much more positivity and camaraderie there is in the industry compared to the hostile and racist rant of one person," she says.
For Jackson-Beckham, the hashtag was also meant to be a show of support for White and her experience, but it was about a much larger message. "Even if a lot of people who enjoy craft beer look the same, they're also really different from each other, right? We're all really unique, and I wanted that point to be out there," Jackson-Beckham says. "A lot of people shared that it brought them to tears; that they were overwhelmed by emotion. People shared some really profoundly personal things—photos of their deceased loved ones, diagnoses and struggles with mental illness—and that's not something to think lightly about. When you look at that kind of thing collectively, there is something deeply human about that collective statement." 
Shortly after the hashtag took fire within the beer community, White and twitter friend Liz Garibay, the founder of the Chicago Brewseum and History on Tap, hosted an in-person meetup at a local brewery so people could chat about diversity issues and representation. "I thought, this is an opportunity for us to get together and have that beer we've been talking about having, and to include other people in this conversation," Garibay says, adding that people got so excited about it that they're already talking about hosting another one. "I want people to start embracing the idea that beer shouldn't be a divider, it should be a unifier, and I hope that #IAmCraftBeer stays this thing that people keep talking about and meeting up about."
Jackson-Beckham intends to make that happen. She's been working on archiving all the replies to the #IAmCraftBeer hashtag at iamcraft.beer so they're all in one place that's easy to sort through. She's talked to half a dozen breweries around the country about a collaborative brewing project that will "take this conversation and translate it into something hyper-local on the ground for breweries that want to address these issues," she says. So far, Revolution Brewing in Chicago made a beer that supports the LGBTQA community, Love City Brewing in Philadelphia brewed a beer as part of the effort, and Jackson-Beckham is working with Trillium on a collaboration for later this winter. At least three more breweries—one in the Seattle, one in the Bay Area, and one in Portland, ME—have some things on deck, too. "I'm delighted with the 'slow burn' that is being developed here," she says. "The hashtag was a beautiful burst, but I am hoping these collaborative projects bring some longevity to the effort."
Those who participate in the collaborative brewing project have the choice to donate a fixed amount or portion of the proceeds from the project to the #IAmCraftBeer Innovation Fund, which Jackson-Beckham established earlier this fall via her nonprofit Craft x EDU. "The funds will support individuals and organizations who are using innovative tools, strategies, and tactics to make lasting positive change. We're just getting started, but our hope is to support those who are thinking broadly and creatively about our mission to champion inclusion, equity, and justice in craft beer."
"It's about saying, 'This is me and this is my complexity, and I am represented in this community,' " she adds. "Craft beer is a unique space, and I think we're going to do a lot of good with this."
For White, watching a personal attack turn into a positive movement that celebrates diversity within her community has been inspiring. She hopes that as it continues to spread, it will bring perspective to everyone's unique experiences within the beer world. "We all know things pop up on social media and then die. I want change to happen. I want to see the beer community get more diverse. We know it's geared towards bearded white dudes, but after the hashtag #IAmCraftBeer, you can clearly see that is not the case," she says. "The only color we should be focusing on is the color of the beer we're drinking. Not the people who drink it. I'm happy to see it's bringing people of different religions, sexual orientations and more, together. There's going to be so much more positive love coming from this."
---
Did you enjoy this article? Get more of the best of liquid culture when you sign up for a print or digital subscription to Imbibe Magazine. Click here for special savings!