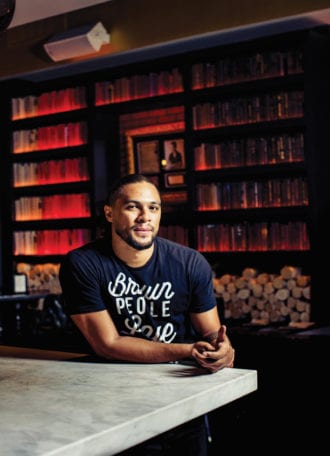 Tiki bars can trace their origins to the 1930s, when Don the Beachcomber first opened in Los Angeles, introducing the nautical, island-inflected theme into cocktail culture. But as tiki has undergone its own revival amid the current cocktail renaissance, some voices are encouraging enthusiasts on both sides of the bar to do a little exploration of the history and culture of Pacific Islanders before diving headlong into escapist fantasies. "There's a lot of symbolism, imagery, and language that I grew up with and that I'd seen within the context of my Polynesian upbringing, that's being used in a very different way," says Samuel Jimenez, a veteran Bay Area bartender now working at Novela in San Francisco.
While growing up in the East Bay, with a Mexican father and a Samoan mother, Jimenez was part of California's substantial population of residents with roots in the Pacific islands. Now working in the bar world, he says he saw elements of this culture reflected in the tiki experience, but not always in a respectful manner. "Coming from a culture where respect for elders is so ingrained, and respect for your culture, traditions, and values—to some degree it felt like these things were being played around with, and if not necessarily made fun of, but not treated as respectfully as I had experience with growing up."
To share his perspectives on the interrelationship between Polynesian culture and tiki, last year Jimenez brought a talk on the topic to bartender conferences in Toronto, Portland, and Boston. And at a time when tiki is both enjoying a resurgence, but also facing sharp criticism in some circles, Jimenez says it's best to not oversimplify things in either direction. "As I say in my talk, I don't look at this situation as if it's screwed up—I give people the benefit of the doubt," he says. "Most people don't have the context to understand what these images and language really mean."
While his home state of California, along with Oregon and Washington, have sizable communities of Pacific Islanders, Jimenez says the culture is largely unrepresented in bars and restaurants overall, and that's part of the problem. "Because there's a very small representation in the food and beverage world, these voices get drowned out," he says. "So for me it's about providing historical context about the problematic history of Oceanic islands and colonizing countries, and the U.S. is one of those countries that has a stronghold in the Pacific."
Such a nuanced approach may seem out of place in today's charged political times. But tropical bars and tiki culture have long idealized the island lifestyle, and since the true history of the Pacific and its cultures is much more complicated, finding a solution to tiki's sometimes questionable history requires more than just knee-jerk solutions. "With people I've talked to in the tiki world, who've been involved in the subculture for a long time, they've been receptive and understanding of the problematic issues that tiki's had," he says. "I don't like talking about 'cultural appropriation' because that's such a buzzword—people can be inspired by other cultures in a very rich and authentic way. A lot of people who've been involved in the subculture for a long time understand that—but this tiki boom of the last five or 10 years, there are people who aren't as rooted in the history of tiki, and they're not doing the due diligence of understanding the full cultural context of it all."
In his talks at bar conferences, Jimenez neither condemns nor forgives tiki, and he acknowledges there are bars and bar owners who approach the culture respectfully. He also acknowledges that the debate over tiki culture is itself complicated and that the opinions he shares are his own, and that others from Oceanic communities may see things very differently, from either side of the debate. "There are people from Oceanic cultures, people of color, who've been involved in tiki for a long time. These things aren't mutually exclusive," he says. "As Polynesians and Oceanic people, we love sharing our culture—it's something we're very proud of. But when people see that historical context, they look at it a little bit differently—what they decide to do is up to them, but the first step to me is seeing that context, and people make changes because it's the right thing to do."
---
Did you enjoy this article? Get more of the best of liquid culture when you sign up for a print or digital subscription to Imbibe Magazine. Click here for special savings!