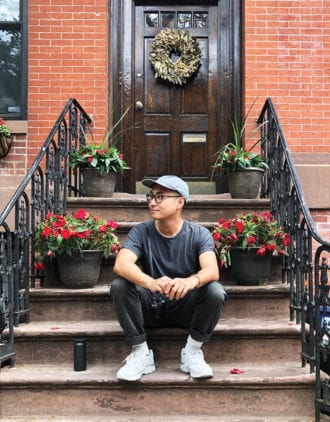 With a large, extended family, Richard La grew up with the smell of traditionally brewed Vietnamese coffee in the morning. But his first foray into the industry was as a barista for Stumptown, where he broke many cups, achieved a gradient of steam burns, and vastly expanded his knowledge of coffee. Five years later, La is the manager at the Arts District café in downtown L.A., where a typical day includes dialing in the perfect extraction for the daily roast, slinging a bevy of drinks, and curating a captivatingly eclectic playlist. Hit play on the Spotify player below to listen along as you read!
7:15 a.m.
On the road, kicking off the chilly morning with Come Live with Me by Dorothy Ashby.
8:00 a.m.
The fun begins. The person working the espresso machine gets to decide what music plays in the café. Right now, she's playing the sweet Aaliyah, At Your Best. I take a sip of today's drip coffee, Ethiopia Duromina, to ensure quality. Juicy peach Jolly Rancher meets black iced tea—that's amore! After checking in with my team for the day, I begin replenishing the condiment bar (sugar, lids, creamer, etc.), washing dishes, helping construct drinks, and making pour-overs—just a few of the many tasks to be done.
9:00 a.m.
A daily flowchart helps designate our rotation at any given time, and it's my turn to play on the espresso machine. I hop on and immediately pull a shot of the Hairbender, our beloved five-coffee espresso blend. The recipe for today: 19.6 grams of coffee goes in with an extraction time of 25 seconds to yield 25.4 total grams in weight. Flavors of rich milk chocolate with an orange sweetness all wrapped in caramel. Yum. Two seconds too early can make an espresso taste overwhelmingly tart, and 1 gram too heavy can make a shot taste like a watery ashtray. Every gram and second counts! Music helps me groove through my bar shifts during our busier times, making between 35 and 55 drinks in a stretch. My pick for the stereo: Rhymes Like Dimes by MF DOOM and Tezeta (Nostalgia) by Mulatu Astatke.
11:30 a.m.
Food! I head over to Guerrilla Tacos around the corner here in the Arts District for their legendary sweet potato and roasted cauliflower tacos. I selfishly indulge with zero regrets.
12:00 p.m.
Register duty. I'm here to help guests sift through the options, take orders, set up drinks, share knowledge about the coffee beans, and be the all-around liaison for their hospitable experience, like an Airbnb host meets coffee wizard. Honestly, it's probably my favorite part about the job—conversing with people! My Cherie Amour by Stevie Wonder and Real Love Baby by Father John Misty warm the café.
1:00 p.m.
I head back into the office for the necessary daily tasks: counting cash deposits, making bank runs, logging tips and hours, ordering coffee to be used and sold, and restocking the warehouse. I definitely will not forget to order the 15 cases of oat milk and 20 cases of almond milk that we go through weekly! I periodically pop my head out to support the closers if needed, but more often just to talk about music, art, and, well … life!
4:00 p.m.
Ending the day, I head home to the sweet sounds of Chicano Batman singing La Manzanita. Aside from coffee, music is what fuels us at Stumptown. It's where we share interests and differences alike. Finally, I wind down the day by throwing some ceramics at The Pottery Studio. Whatever conversation my hands and the clay have, that will be the outcome of my pieces. Some days are cups, some are vases, some are bowls, and some days it doesn't go the way you intend, but that's just the beauty of wabi-sabi.
---
Did you enjoy this article? Get more of the best of liquid culture when you sign up for a print or digital subscription to Imbibe Magazine. Click here for special savings!