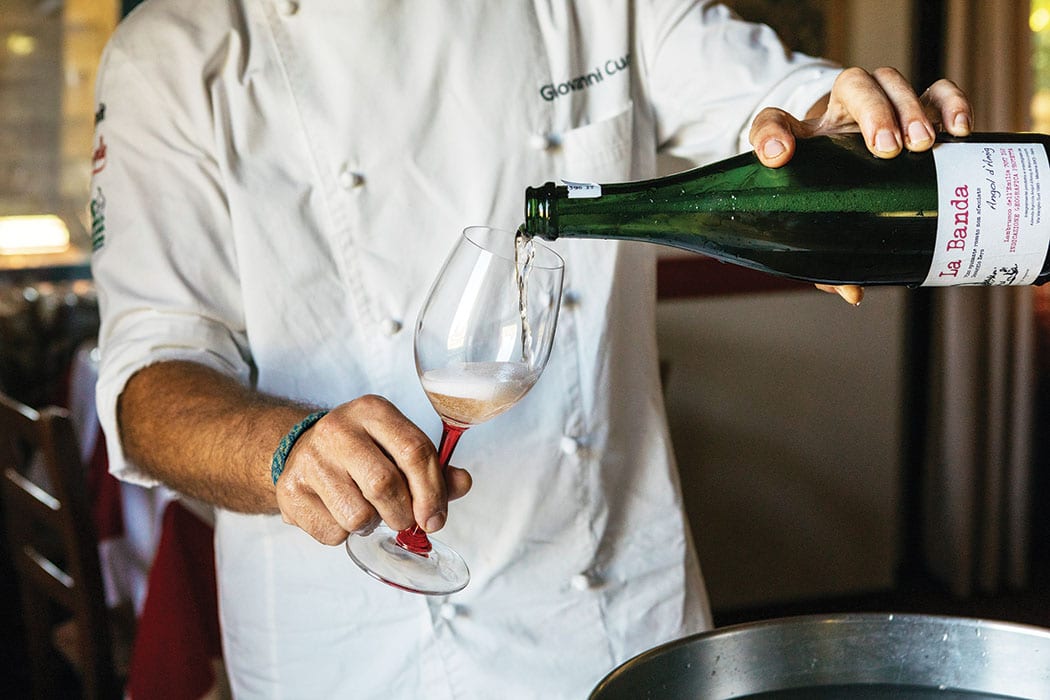 "In Italy's Emilia-Romagna region, often called the 'culinary capital of Italy', they know a thing or two about food and wine," says Bruce Bauer, owner of Vino in Portland, Oregon. "This region is where the finest Lambrusco comes from and a place where they drink gallons of it."
Sparkling Lambrusco is the hallmark wine of this northern region and is known for its deep fruity flavors and vivace, or "lively" character. It's a carryover from the days when winemakers fermented their juice naturally in the bottle. Today, most producers use the Charmat Method that relies on a second fermentation in a pressure tank for their frizzante Lambrusco, though a small percentage of winemakers continue to use the Ancestral Method.
The name Lambrusco refers to both the grape varietal used primarily in the wine—believed to be one of Italy's oldest, of which there are nearly 60 clones—as well as the name of the wine itself. "Some of [the grapes] are named after the village where they can be found, and some of them are given a name based on their appearance," says Michael Reale, Italian wine sales associate at Eataly's wine shop in New York City. "For instance, 'Lambrusco Salamino' is named as so because its grape bunch is very long, resembling a salami!"
With red, rosé and even white offerings making their way stateside, Lambrusco's comeback of late means quality bottles are gaining more shelf space at wine shops and restaurants. To find the best value bottles, we tapped experts around the country to share their favorites. Bookmark them for the upcoming holiday season, and read more about the wine in the November/December 2018 issue.
Vigneto Saetti
At TERZO in Minneapolis, wine director Charlie Broder's menu showcases his affinity for Italian wines, including Lambrusco. Broder recommends the organic wines of Luciano Saetti, specifically Vigneto Saetti's Lambrusco Salamino di Santa Croce. "We've always been a big fan of the Saetti wines," he says. "Luciano Saetti crafts unique and specific Lambruscos based on the Salamino varietal local to his area. The wines are made in meticulous fashion, focused on quality and without the use of any additions."$17.99, flatiron-wines.com
Cleto Chiarli
When it comes to bottles Bruce Bauer keeps stocked at Vino, he recommends producer Cleto Chiarli and says the Lambrusco del Fondatore is "as good as it gets." Made through traditional vinification, with a second fermentation in-bottle, this wine from 100 percent Sorbara grapes is "pale ruby in color, totally dry yet popping with dried cherry, wild herb, and bitter orange aromas and flavors." $18, blackwellswines.com
Lini 910
Since 1910, the Lini family has turned out first-rate Lambrusco from their vineyards in Corregio. Bauer recommends their rare and fabulously bright Lambrusco Bianco "Lambrusca Lini 910", produced without contact with the skins during fermentation. Charlie Broder also serves Lini's Lambrusco at TERZO, noting, "Lini 910 has been making clean and pretty Lambrusco that showcase the true potential of the Lambrusco region which has quite the bastardized reputation." $16, parkavenuewines.com or contact domenicovalentino.com for distribution. 
La Collina
At Eataly in Manhattan, the city's culinary go-to for all things Italian, Michael Reale says Lambrusco is a natural match for hearty dishes, such as lasagna, and one of his favorites is La Collina's Quaresimo, made from a blend of Lambrusco Salamino, Grasparossa and Maestri grapes. "This Lambrusco combines the grace and aroma of Sorbara using the Salamino, with the body of Grasparossa. The Maestri variety is the darkest in color and most complex," he says. "It's a must-try and one of my personal favorites."  Contact indiewineries.com for distribution.
Cantina Paltrinieri
Wine writer and educator Jeremy Parzen not only advocates for the flavor of the traditionally made Lambruscos finding their way stateside, but also the cultural heritage surrounding the wine in its native Emilia-Romagna. One of his favorites is Radice, a 100 percent Lambrusco di Sorbara re-fermented in-bottle with native yeasts, from Modena's three-generation family winery Paltinieri. Salmon pink in color, the frizzante wine is full of bright acidity and pithy notes of grapefruit. $19, fpwm.com
---
Like what you see? Get more of the best of liquid culture when you sign up for our bi-monthly magazine. Subscribe now and save up to 59%—it's just $21.95 for one year or $32.95 for two years. Click here for details.