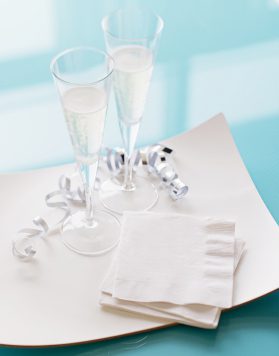 New Year's Eve means it's time to break out the bubbly, and while Champagne is the old-school standby, why not get creative this year with some unique sparkling alternatives? From a Belgian beer made in the Champagne method to sparkling sake and an elegant sans-alcohol option, these bottles of bubbly will impress your friends and save you some dough——the perfect way to ring in the new year.
Avinyó Cava Brut Reserve NV
Produced just north of Barcelona by a family-run estate from vines planted about 50 years ago, this lively Cava shows bright flavors of fleshy white pears and nectarines with a touch of toast on the finish. Zero dosage means this bubbly is bone dry, making it a perfect wine to mix with crème de cassis for a Kir Royale.
$19, astorwines.com
Deus Brut des Flanders
It's no surprise that this Belgian strong ale is named after the Latin term for god—to deem it heavenly would be an understatement. With its wire cage enclosure, creamy bubbles and tangy acidity, it's perfect for those beer-only guests on your invite list (although don't be surprised if Champagne-lovers come back for a second glass too).
$30/750 ml., kahnsfinewines.com
Scaldis Prestige
This barrel-aged beer is double-fermented and bottle-conditioned, making it superbly elegant and complex. Creamy and nutty with toasty malt flavors, Champagne-like bubbles and vanilla on the finish, it's a delicious way for Belgian beer fans and sparkling wine enthusiasts to ring in the new year.
$39, boozebros.com
Poochi-Poochi "Sound of Bubbles Popping" Sparkling Sake
If you're looking for something a little more offbeat to pour at your New Year's fête, try this sparkling sake. Lightly filtered and off-dry, the effervescent Poochi-Poochi is rich and velvety with creamy notes of tapioca and melons.
$13, astorwines.com
Antech "Cuvee Eugenie" Cremant de Limoux 2007
The area surrounding the city of Limoux in southwestern France has been producing deliciously inexpensive bubbly for generations. This bottle is no exception—made in the traditional methode champenoise, and kept on its lees for 12 months before bottling, the Cuvee Eugenie is pleasantly yeasty with bright citrus notes and a kiss of honey on the finish. Sip it solo or add gin and fresh lemon juice for a classic French 75 cocktail.
$14, klwines.com
Belvoir Elderflower Pressè
Nuanced, yet alcohol-free, this subtle sparkler is a mix of fresh-pressed elderflower juice, squeezed lemons and sparkling water. Light and floral with a trace of sweet citrus, it's a great sans-alcohol option for adults and kids alike.
$4, worldmarket.com
Dry Soda Juniper Berry
This grown-up soda is about as close as you'll ever get to an alcohol-free gin and tonic. It's floral and herbal with a touch of sweetness and vibrant carbonation, making it a perfectly festive alcohol-free bubbly.
$19 for 12 pack, drysoda.com