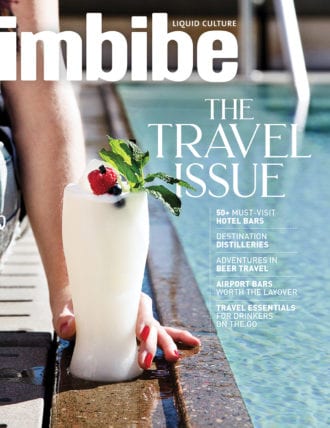 Early-morning nonstop to San Francisco, seat 6A—that's where I'm writing this issue's editor's note. While my seat number and destination frequently change (though every journey seems to start with getting out of bed before dawn), my enthusiasm for travel never does. Here at Imbibe, I'm not alone in my thirst for hitting the road, and that's why we're inviting you along for this, our special Travel Issue.
First stop? How about a distillery, where we can catch one of the tours and tastings that spirits producers have introduced as part of their business plans, and their identities—Kathleen Purvis brings us some insight into distillery tours. If you're lucky, you'll have a tour guide like Freddie Johnson, the legendary guide at Buffalo Trace in Kentucky, whose love for the whiskey world earned him a spot in the Bourbon Hall of Fame; Wayne Curtis tells his story. And if you're really into these kinds of visits, check out Josh Bernstein's feature, about the beer enthusiasts who make traveling to breweries part of their life plan.
You can also rack up some frequent-flyer miles by heading to Italy's Friuli region with Katie Parla, who takes us into one of those "gotta be there" experiences at the pop-up farm taverns known as osmize. Or, book a ticket for Taiwan, where Max Falkowitz explores a mountaintop tea village just a gondola-ride away from Taipei. And when you're traveling, be sure to stop for a drink at the hotel bar. Hotels are home to some of the world's most stunning and storied bars, and we've got more than 50 spots that you should make a part of your future itineraries. And if you've ever wondered if a nonstop traveler can have a local bar, join Angus Winchester for a cocktail as he shares his perspective as a globetrotting regular.
Put a well-traveled spirit in your cocktail shaker with Swedish punsch, grab an instant coffee for mornings spent away from home, pack some road-ready drink gear in your bag for your own travels, and join spirits ambassador Charlotte Voisey for a drink at one of her favorite airport bars.
We've begun our initial descent, and in a few hours I'll be visiting a couple of new-to-me bars in a favorite city, enjoying every stop on my journey. Life as a drinks traveler has its benefits—consider this your invitation to come along for the ride. Read the web extras we've lined up below, and grab a copy of the print edition to continue the journey.