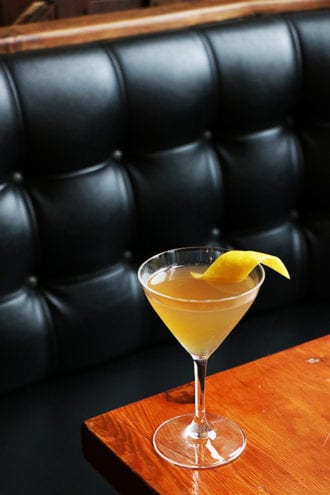 Named for a historic hotel in midtown Manhattan, the classic Algonquin cocktail combines rye whiskey, vermouth and pineapple. At Clyde Common in Portland, Oregon, bartender Banjo Amberg uses Bianco vermouth instead of dry and pineapple gomme syrup instead of fresh juice for a more elegant version of the original. "Nobody likes the Algonquin. It was one of those drinks that was so unpopular that nobody that I know even tried to make it work, like you can do with so many of those forgotten 'classics,' " says Amberg. "With a few adjustments we stumbled upon something truly delicious."
1½ oz. rye whiskey
¾ oz. Bianco vermouth
½ oz. pineapple gomme syrup
Tools: mixing glass, barspoon, strainer
Glass: cocktail
Garnish: lemon twist
Combine all ingredients in a mixing glass with cracked ice, stir until well chilled and diluted. Strain into a chilled cocktail glass, garnish with a lemon twist.
Pineapple Gomme Syrup:
1 medium pineapple, peeled, cored, and roughly diced into 1 inch cubes
3½ cups white sugar
2 cups hot water
1½ oz. overproof rum (Clyde Common uses Hamilton 151)
Combine pineapple cubes, water and sugar in a blender and turn on high to emulsify. Strain through a fine mesh strainer. Add rum to make the syrup shelf stable. Bottle and store in the fridge for up to a month.
Recipe adapted by Clyde Common, Portland, Oregon