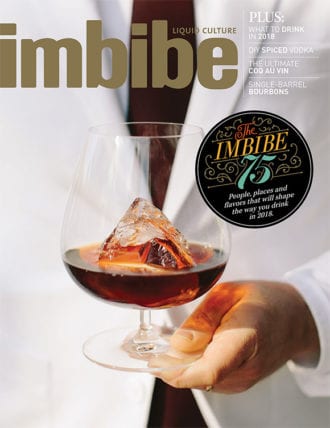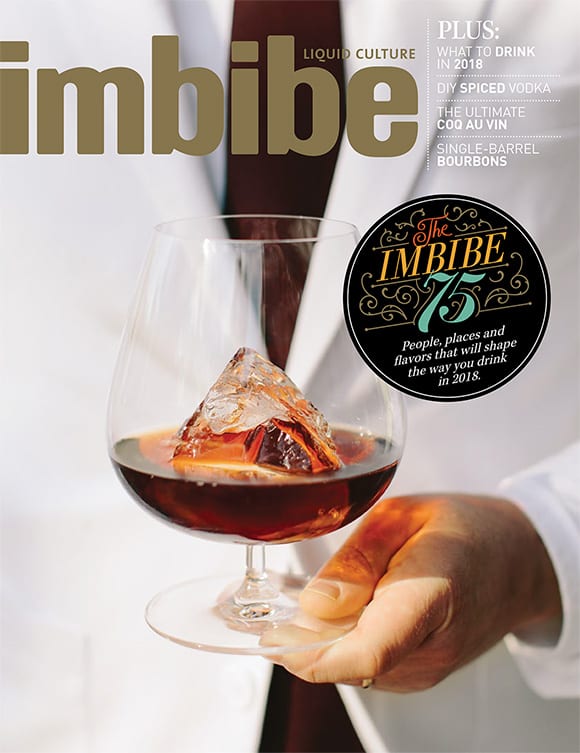 I've never been a fan of January. Holiday festivities are all wrapped up, December's vacations are over, and the calendar offers nothing but school days, deadlines and winter weather for months to come. But instead of being consumed by winter's gloom, I make plans for better days. There are new bars and cafés to visit, brewers and winemakers whose work merits discovery and cities where drinks scenes are coming to life, great for exploring during a weekend getaway.
We've got plenty of options to keep you busy all year long. This issue features the Imbibe 75, our 6th annual compilation of people, places, destinations and directions that we think will influence the way you drink in the year ahead. In search of awesome cocktails? Then head to Houston and say hello to Alex Negranza, our Bartender of the Year, or set your sights on the Living Room Bar at The Dewberry Hotel in Charleston, South Carolina, our Cocktail Bar of the Year. Charleston's also home to several of our People to Watch for 2018—publicist and event organizer Angel Postell, and bloggers and speakers Johnny Caldwell and Taneka Reaves, aka the Cocktail Bandits.
Great coffee is an essential part of any voyage of discovery, and a great place to start is in St. Louis at our Coffee Bar of the Year, Blueprint Coffee, and get to know our Coffee Person of the Year, Jeff Duggan. Contributing editor Joshua Bernstein brings on the beer plans for 2018—check out his coverage of Goed Zuur in Denver, our Beer Bar of the Year, and meet Teo Hunter and Beny Ashburn of Dope & Dank in Los Angeles, our Beer People of the Year. On the wine front, head to Vermont to learn about Deirdre Heekin, our Wine Person of the Year, and settle in for a glass of something interesting at L'Oursin in Seattle, our Wine Bar of the Year.
Other spots to pinpoint for your upcoming travel plans? Explore the burgeoning cocktail scene in Buffalo or the beer flowing from Miami's Wynwood District. Need something new in your glass? Tap a Vienna lager or a wine from the Canary Islands, or break out the cocktail shaker and give St. Lucia rum or California brandy a spin—all part of our Directions coverage, starting.
Don't let winter get you down. There's plenty to look forward to, so open up your calendar and start making plans to experience the best of what 2018's drinks scene has to offer. In the meantime, check out our lineup of Imbibe 75 extras to start the new year off on the right foot, and stay tuned as we continue the celebration here at imbibemagazine.com through January and February.