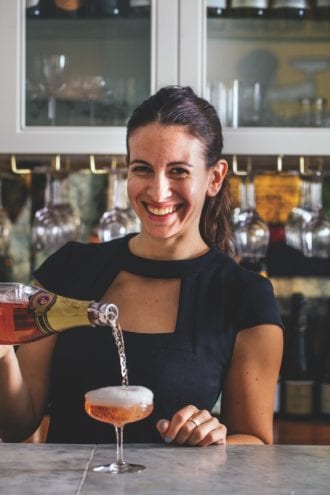 Ariel Arce thinks sparkling wines have gotten a bad rap—pretentious, overpriced, inaccessible. Not helping the situation is the stubborn mindset that bubbles are strictly for celebrating, not for any-day drinking. So she set out to change that mindset, overseeing sparkling lists at New York spots like (the now closed) Birds and Bubbles and Riddling Widow. And now, she has her own bar, Air's Champagne Parlor, which we highlight in our 2018 Imbibe 75 Issue. Air's opened last summer with a wide-ranging and comprehensive list that breaks down by-the-glass selections by flavor and organizes bottles by region, varietal and vintage. "I wanted to find value-focused sparkling wines and Champagnes that would push the limits of people's understanding of what Champagne was," she says.
Arce curates her list with less-frequently seen bottles, many from growers and producers that she knows personally from her travels. "I think oftentimes you see a lot of the same names over and over again," she says. "I definitely could not be happier that there is as much Champagne as there is on the market right now, but you see a lot of repetition. We really do our homework to try to find what we consider to be the best quality sparkling wines that you might not see that often."
To that end, we asked Arce to recommend some of her current favorite bottles that fly below the radar and are perfect for celebrations or any night of the week.
Dhondt-Grellet Brut Champagne Dans un Premier Temps
This winery in Avize was established in 1986 by Eric Dhondt and Edith Grellet, with their son Adrien now at the helm. This non-vintage Champagne is his ode to the three villages he works with and is a blend of Chardonnay, Pinot Noir and Pinot Meunier. "He's more interested in making wine than bubbles, so the Champagnes are sophisticated and powerful," says Arce. $39, vervewine.com.
Doyard Cuvée Vendémiaire Champagne Premier Cru Brut Blanc de Blancs
This 100-percent Chardonnay is a non-vintage bottling and delivers flavors of apples, pears and lightly of butter cookies. "The late winemaker Charles Doyard was a good friend, and he made what I consider to be kind wine," says Arce. "This one is such a good value and a bit of history being drank." $39, pluckywines.com.
Henriet Bazin Blanc de Noirs Brut Champagne
Marie-Noelle Henriet took over from her father to become the fifth-generation vigneronne at Henriet Bazin, and she's making what Arce describes as "super-pure Pinot," such as this bottling of 100 percent Pinot Meunier. "It has always been one of my favorites because it expresses the terroir from which is comes with flavors of Fuji apples and clay," Arce says. $50, binnys.com.
Moissenet-Bonnard Crémant de Bourgogne Brut
Crémant wines are made in the same style as Champagne but are produced outside of the designated region, such as this non-vintage brut Crémant de Bourgogne from Moissenet-Bonnard in Pommard made with 100 percent Pinot Noir. "It's special because often sparkling from Burgundy is a blend of multiple terroirs," says Arce. "The extended aging makes for a more complex and dynamic sparkling with bright flavors of green apple and sugar cookie." $27.50, gnarlyvines.com.
Didier Grappe "Clash" NV
Winemaker Didier Grappe is devoted to farming organically and creating wine with little-to-no intervention. The "Clash" is 50 percent Chardonnay and 50 percent Savagnin, made with naturally occurring yeast on first fermentation and added yeast and sugar for the second, like a crémant. "He is making natural sparkling but then disgorging it," Arce explains. "This is a non-funky version from the Jura with a total rock star label." $29, winetherapynyc.com.
---
Like what you see? Get more of the best of liquid culture when you sign up for our bi-monthly magazine. Subscribe now and save up to 59%—it's just $21.95 for one year or $32.95 for two years. Click here for details.