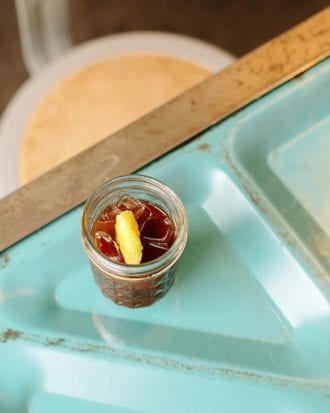 The tried-and-true combo of orange and cardamom shines in this Coffee Old Fashioned from Blueprint Coffee.
Double shot of espresso
2 dashes Angostura bitters
½ oz. orange-cardamom syrup
Tools: mixing glass, barspoon
Glass: Old Fashioned or small jar
Garnish: lemon peel
Fill a mixing glass with ice and set aside. Combine the bitters and syrup in a separate glass and pull the espresso into the mixture. After the shot has pulled, skim the crema from the top and discard. Add the bitters, syrup and espresso mixture into the prepared mixing glass and stir until combined. Strain into a glass over fresh ice. Garnish.
Orange-Cardamom Syrup
2 oranges, zested
2 Tbs cardamom seeds, chopped
2 c. white sugar
10 oz. boiling water
6 oz. fresh orange juice
Combine the orange zest, cardamom seeds and 2 cups of sugar. Mix well, then allow to sit in a sealed container at room temperature for 3 days. After 3 days, strain the sugar from the zest and solids. Boil the liquids and stir vigorously. Cool, strain into a bottle and refrigerate for up to 2 weeks.
Alex Werth, Blueprint Coffee, St. Louis
---
Did you enjoy this recipe? Sign up for our newsletter and get our favorite drink recipes of the moment in your inbox every month.