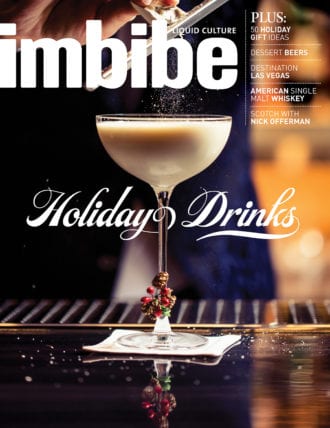 Did you remember to buy extra cocktail napkins? What about ice? And do you have a backup corkscrew for when your go-to bottle opener gets misplaced during the party?
Double-check those entertaining to-do lists, because the holiday season is upon us.
Whatever your favorite winter holiday, there's bound to be a bottle and a toast that goes along with it. Beer drinkers venture to the dark side as cold weather sets in, and the season invites indulgence—as Josh Bernstein shares in his feature, brewers are satisfying this need with dessert-inspired "pastry stouts." For decades, Thanksgiving feasts have been accompanied by bottles of Beaujolais Nouveau, so much so that the wine became an overhyped cliché—but as Jennifer Fiedler finds, there's a side to the wine's story that's unsullied by marketing glitz. And what to serve those guests who want to partake in a toast but are skipping alcohol? Jessica Voelker explores the burgeoning world of alcohol-free spirits.
The holidays are made for traditions, both fresh and familiar. For our annual holiday drinks feature, we're bringing you a selection of cocktails that draw inspiration from Italy. Meanwhile, Wayne Curtis looks at a distinctly American way to celebrate the season: the Tom and Jerry, with its once-ubiquitous cup-and-bowl set.
Have you finished your holiday shopping? If not, our annual gift guide will provide plenty of ideas for your list. And if the lights and sparkle of the holidays are your thing, may we suggest the nonstop celebration going on in Las Vegas? Senior editor Penelope Bass brings back a fresh look at the city's inimitable cocktail culture, just in time for your holiday travel. We've also got winter-ready ginger cocktails, a visit with Mount Vernon's historically inclined distiller Steve Bashore, a chat with comedian (and whisky lover) Nick Offerman, and Max Falkowitz's story about Canelazo, the South American take on a winter warmer.
Bookmark our online Holiday Guide and web gift guide to revisit throughout the season, and kickstart the rest of your holiday needs with these recipes and stories related to the print issue, below. Happy holidays!