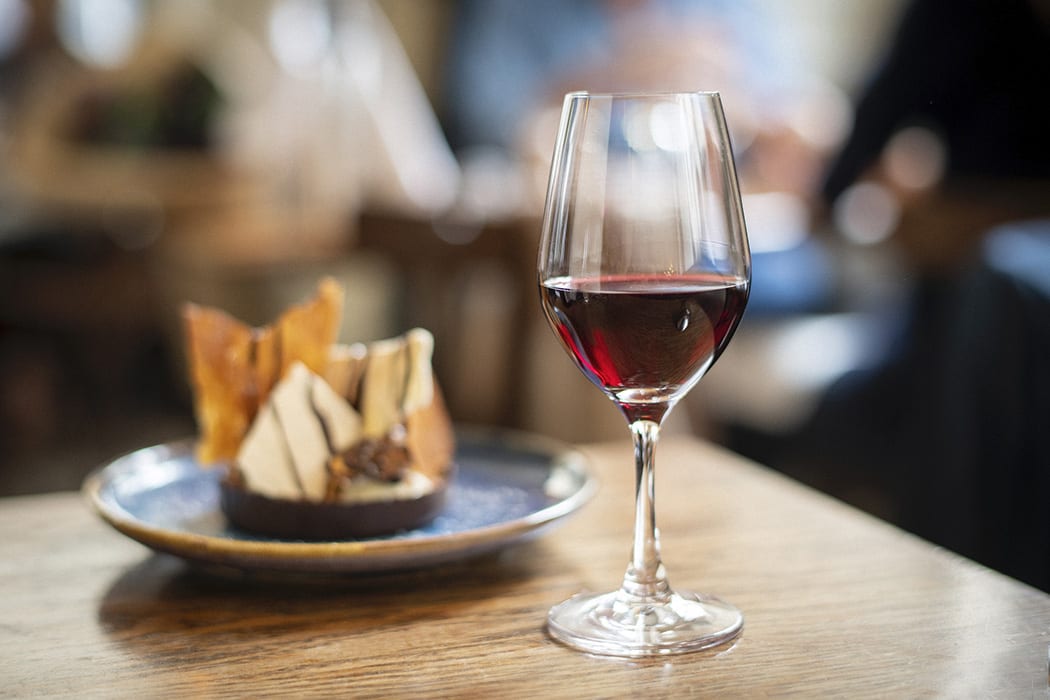 In the November/December 2019 issue, Jennifer Fiedler explores how Beaujolais Nouveau—long considered a marketing gimmick—has earned a new respectable seat at the international wine table. It's also garnering increased attention from American wine producers in California, Oregon and New York. Much like in France, the goal is to bottle the first wine of harvest while it's fresh, just a few short weeks after fermentation. To find out who's creating this stateside thirst for Nouveau-style wines, we reached out to Ordinaire Wine Shop & Bar in Oakland, California, a natural wine shop that hosts a nouveau party every November featuring limited amounts of nouveau-style wine from West Coast winemakers. "Each year these producers all make a different nouveau wine (different grape, style, etc,), and we don't really know what it's going to be until they show up at the party," says Ordinaire manager Diego Perez.
From sparkling wines to whites, reds, oranges and rosés, the wines featured at the event run the gamut of flavor. "The idea is to effectively act as an end-of-harvest party for our local winemaking community who are regulars at our bar and very rarely get together to chat and hang out," Perez says. "Most will later end up as fully realized wines or blended into other wines—most aren't bottled to be sold as a nouveau outside of the two cases they bring to the shop that day. This improvisational style of wine is exciting as everyone is just happy to be done with a majority of their work for the year, and the energy in the room is incredible."
Here, Perez shares intel on some of the producers who bring nouveau-style wine to the Ordinaire party every year.
ZUMO Wine
When Perez isn't working at Ordinaire, he and wife Georgia Staples make a small amount of wine under the Zumo label (the name means "juice" in Spanish). With names like Flower Face (a blend of Tempranillo and Muscat) and Phew (verdelho), the couple's wines are all fermented naturally and made without additives. "We will definitely have a brand-new wine to contribute to this year's nouveau party," says Staples. "We're still making up our minds about which of our 2019 wines we want to bottle for this occasion. Maybe the pinot gris? Maybe the grenache? You'll just have to wait and see!"
Stagiaire Wine
One of the winemakers making waves in California's Santa Cruz area, Brent Mayeaux started producing his own wine last year after making natural wines in Australia, New Zealand and France. Since he started the Stagiaire label, his approach to winemaking has been no-intervention, and he plans for this to be the standard moving forward. "I like the idea of limiting my tools and options in the cellar. It makes it easier to make decisions and forces my focus to good vineyards and meticulous cellar work," he says of the practice also known as zero-zero. "It's an aesthetic pursuit for purity, but it also seems disrespectful to the vineyard and farmer to add things to their fruit that they worked so hard to grow."
Gearhead Wines
Craig West discovered his love for wine a few years ago after treading on grapes at California winery Puritywine. The West Coast native grew up in Orange County and worked as a fisherman in San Diego before landing his current job working for an artisan bakery in the Bay Area 16 years ago; he now manages a small group of artisan bread delivery drivers by day and pursues his passion of winemaking as a side gig just north of Oakland in Point Richmond, California. "I am a zero-zero winemaker—just grapes and lots of love. It's important for me to let the fruit be what it is, so it can have full expression of flavor," he says.
Sonoma Mountain Winery
Coturri Winery in Glen Ellen, Sonoma, was one of California's first organic and natural wine producers in the state, and Tony Coturri's son Niccolo started the Sonoma Mountain Winery label at the well-known winery as a side project in 2009. Today, "Nic" and winemaker Dan Marioni (a former Tesla engineer) make a range of no-intervention bottlings with grapes grown on their 7 acres of Merlot and Pinot Noir vines, and source other grapes, including syrah, cabernet, chardonnay, carignan and barbera and others, from nearby vineyards in Sonoma and Mendocino counties.
En Cavale
A collaboration between Chad Hinds of Method Sauvage and Wolfgang Weber of Spume, En Cavale focuses on two varieties of grape for their natural wines: Sauvignon Blanc and Zinfandel. Harvested from organic soils in the Sacramento delta, the grapes are naturally fermented and bottled in the natural wine co-op in the Richmond marina where Gearhead and Zumo also make their wine. "En Cavale roughly translates to 'on the run from the law,' and in that spirit I think the wines capture the fun and fresh side of natural California wine—juicy, fresh, and a little wild," Hinds says of the ethos behind the collaboration. The En Cavale nouveau this year will be a case of Sav Blanc from the 2019 vintage (just for the Ordinaire party), and Hinds will also release a small amount of Grenache/Pinot Gris nouveau under his 'Bloom Phase' series from Method Sauvage. "I find the low tannin, fresh strawberry and floral nature of Grenache to be delicious out of the gate, and with the creamy texture imparted by carbonic maceration, perfect for drinking in its youth. I add some skin contact Pinot Gris because it reminds me of the fresh lighter style reds in Jura like Poulsard, and adds an interesting savory and citrusy foil to the fruity Grenache," he says. The wine will be available for sale later this month via Method Sauvage.
---
Did you enjoy this article? Get more of the best of liquid culture when you sign up for a print or digital subscription to Imbibe Magazine. Click here for special savings!