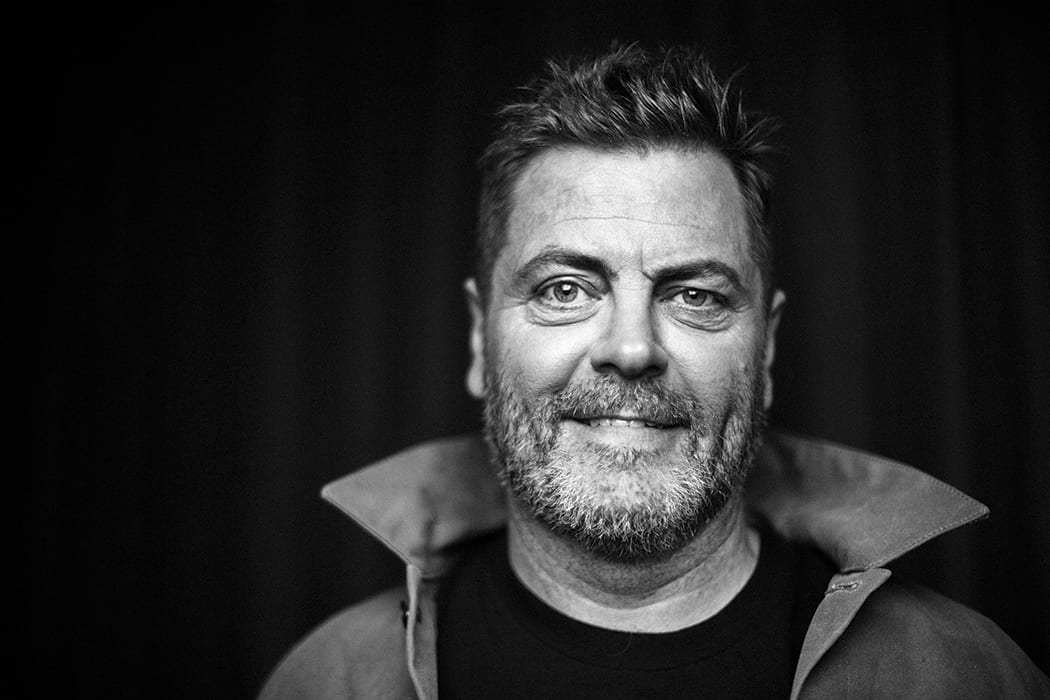 Nick Offerman rose to fame in his role as the meat-and-scotch-loving Libertarian Ron Swanson on the sitcom Parks and Recreation. And while the comedian, writer and passionate woodworker shouldn't be mistaken for his character, the two do have a couple of things in common, including a stoic demeanor and a passion for Scotch whisky. So much so that in 2014, Offerman became a spokesperson for Lagavulin with a series of videos titled "My Tales of Whisky," in which he plays the bagpipes, recites Robert Burns, or silently sips scotch in front of a burning yule log for 45 minutes straight. This November even brings the special release of Lagavulin's "Offerman Edition" whisky, made in collaboration with the man himself. We caught up with Offerman amid his new comedy tour, All Rise, to talk about the legend of Ron Swanson, unexpected new roles, and how a spirit from Islay captured his heart.
Imbibe: You're in the midst of your newest tour; what can we expect from All Rise?
Nick Offerman: It's my third show after American Ham and Full Bush. Those were sort of evolving out of Parks and Recreation. I feel like this is the first time I'm doing a good job at trying to write stand-up. There's much less pontificating and much more gut-busting laughter and effervescent dancing, which the audience may find surprising. I'm a theater actor, so stand-up is a new thing for me. I was naturally insecure, so I went to my safe place, which is talking about meat and woodworking and carrying a handkerchief. It was very effective, but now I'm trying to graduate from that. The state of the world is so dire, that I'm really enjoying just examining the foibles of humanity, and poking fun at both sides of the aisle for the human nature that makes us behave so poorly towards one another.
You're covering a lot of ground on this tour. What do you like to do when you're in a new city?
I've been touring enough and working on location for films that I now have woodworking friends all over, so quite frequently I'll go visit someone's shop or a woodworking school. Or, if there's an incredible park or woods or a river, I'll go there. I also love to see a man-made edifice—if there's some sort of ziggurat to inspect, I love to see the ingenuity of what we funny monkeys with our opposable thumbs have put together. Back when I started, I was 30 or 40 pounds heavier, and it was easier then. I would just Google "Best Cheeseburger in Des Moines" and my day would be set. But I'm actually doing some research for a new book I'm writing about humankind and our relationship to nature. So now when I have time to spare, I'll be looking for good trees.
You became so closely associated with the persona of Ron Swanson, your character on Parks and Recreation. How much of Ron's character came from your own personality?
I suppose the foundational blocks to the character—my demeanor, my stoicism, my love of meat and scotch, and my animalistic attraction to women who look like my wife, Megan Mullally. But a group of incredibly brilliant comedy writers took those ingredients and embroidered this character, that I really have to give them the lion's share of the credit. It was like Christmas every week when we'd receive a new script, and I'd be handed lines like, "When I eat, it's the food that is scared." All of these huge hit lines—and you just think, "You're going to make me look like a genius. Can I make you a sandwich?"
You do have a real-life affinity for scotch. How did that become your drink of choice?
When I was 29, I was at a film festival in Chicago, and my friend and filmmaker Scott King bought me my first glass of good scotch, and it happened to be Lagavulin neat. And I said, "Holy cow, it's like drinking a campfire." This is what all the fuss was about. But I was never a persnickety drinker. I grew up with the adage that if we have something brown in our glass, then we're sitting pretty. But when we did Parks and Recreation, it was in the script that Ron pulled a bottle of scotch out of his desk drawer, and I opened the drawer and there was a bottle of Lagavulin 16 and two glasses. We eventually got in touch with them, and ended up shooting a story line with Ron Swanson at the Lagavulin distillery. In terms of getting paid to do things that you yourself would pay handsomely to do, that was high on my list. I pretty much walked around in tears for that entire shoot.

How did the collaboration with Lagavulin for the Offerman Edition come together?
I'm still absolutely gobsmacked that this is happening. They came up with the idea. I'm sure in our time with the administration of Lagavulin at the distillery, we've dropped hints like, "Boy, this label would look awfully handsome with a woodcut of a rugged lumberjack face." But these are proper businesspeople. I can usually talk someone into something in the realm of showbiz, but the fact that this is flying is crazy. They had me actually come and formulate the blend with a cask master. It was so exciting that from the 36 or so different formulas we put together, we found one that made us sit up and say howdy. They sent me a finished bottle of it recently and I was pretty nervous, but I was tickled that it was just as charismatic as I remembered.
What do you drink when you aren't drinking scotch?
I'm very simple. I really am a bacon and eggs and steak person. Or if I'm watching my arteries, a salmon person. But I don't like to dress things up that much, and the same is true of beverages. I generally drink black coffee, and I'm crazy about beer. I come from a beer family, and my brother is a craft brewer in Illinois for a brewery called Tribes. I'm absolutely devoted to beer, but since my early 30s it's really started sticking to me, so I have to be pretty careful how much I have it.
Post-tour, do you have any upcoming projects in the works?
I do have a new show that will be premiering in early 2020 on FX called Devs. It's a sci-fi thriller from Alex Garland, who made the films Ex Machina and Annihilation. It's one of the greatest things I've gotten to work on, and it's a bit of a departure for what people know me for, so I'm terribly excited for that. And then I believe we'll be seeing season two of NBC's Making It with Amy Poehler. I'm really grateful that I get to keep working on projects like this, and I'll keep my head down and behave myself so that hopefully I get invited back.
---
Did you enjoy this article? Get more of the best of liquid culture when you sign up for a print or digital subscription to Imbibe Magazine. Click here for special savings!