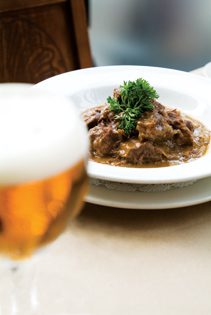 Beer has long been an integral part of Belgian culture, so it's no surprise that many brews make their way into the country's cuisine. This traditional Belgian beef stew recipe will warm you from the inside out. Robust brown ale enhances the flavor of the meat and gives the dish an extra-delicious kick. Serve another brown ale on the side, and those icy winds won't stand a chance.
3 lbs. lean beef stew meat, cut into 1 ¼-inch cubes
3 Tbsp. oil
1 large onion, sliced
6 whole cloves garlic, trimmed
1-1 ½ oz. brown ale (Stoddart uses Leffe Brune)
2 cups beef broth
2 whole dry bay leaves
2 sprigs each fresh thyme, rosemary and parsley
⅓ cup red currant jelly
Salt and pepper to taste
Heat oil in a large, heavy pot, add the meat and sear over high heat until all sides are browned. Remove meat from pot and set aside, reserving any oil in the pot. Reduce the heat to medium, add garlic and onions to oil and sauté until light brown. Return meat to pot and add beer, broth, herbs and bay leaves. Cover the pot and bring to a boil, reduce heat and simmer, covered, on low heat for 45 minutes to an hour, or until meat is fork-tender. Add red currant jelly, salt and pepper and continue to simmer, uncovered, for 5 to 10 minutes.
For a thicker stew, make a roux: Melt half a stick of butter in a pan with a half cup of flour, sauté until golden brown and whisk this mixture into boiling stew one tablespoon at a time until stew is the desired consistency.
Neville Stoddart, Markt, New York City