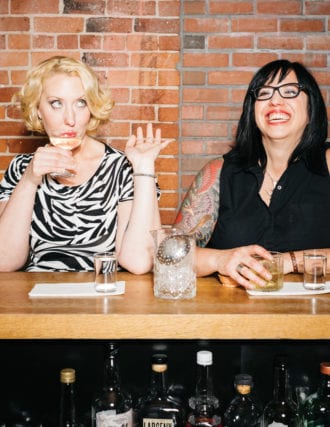 Despite the fact that Misty Kalkofen and Kirsten Amann first pitched the concept for Drinking Like Ladies over a decade ago, the duo's excitement about sharing their book (out June 19) with the world has never waned. Both Bostonians, bartenders and writers, Kalkofen and Amann first joined forces in 2007 to form the Boston chapter of Ladies United for the Preservation of Endangered Cocktails (LUPEC). The group, which became the Toast Club in 2017, met monthly to dust off vintage cocktail recipes, nerd out on their blog, discuss women's history, and plan events like a Jazz Age-themed cocktail party, which raised $15,000 for Jane Doe, Inc.
Built on a foundation of "strong cocktails from strong-minded women who would never pigeonhole you into a 'skinny girl' cocktail" Drinking Like Ladies spotlights 75 often unsung female pioneers, such as musician Melba Liston, Supreme Court Justice Ruth Bader Ginsburg and Colombian activist Policarpa Salavarrieta; each woman's bio and illustration is paired with a cocktail recipe from one of today's top female bartenders. Imbibe's July/August 2018 issue features a profile of Kalkofen and Amann, and here they discuss inspiring women in the industry, past and present.
Favorite historic bartender:
Kirsten Amann:  I had the pleasure of learning about Alice Guest, though I don't know too much about her because she owned a bar pre-Revolution. At that time, women weren't allowed to enter into contracts, so if you were married, you and your husband were considered one entity. She moved to Philadelphia with her husband and they started a guest house and bar. The bar was situated in a cave on the river, I think that's so cool! Eventually the city of Philadelphia decided to evict everybody who was living in the caves, but she was allowed to stay, specifically because she served a mean punch and because her dwelling was an interesting place to go for a drink. Misty and I, and Lynnette Marrero and Meaghan Dorman, have a seminar we do on the history of women behind the bar, and I do all the really early people. She's one of my favorites that I get to talk about.
Misty Kalkofen: Definitely Ada Coleman, so much so that my LUPEC name was Hanky Panky! Although I don't know much about her original creations beyond the Hanky Panky, it's a cocktail that shows she understood her ingredients, and that a simple recipe can have complex results. And the stories that were shared about her demonstrate that she was dedicated to the most important act of hospitality: reading your guest in order to provide appropriate care and attention.
Favorite person you learned about putting the book together:
KA: The big one for me was Tsuyako Kitashima, whose nickname was "Sox" (pg. 24-25). She was born in California, her family were Japanese immigrants and they owned a small strawberry farm. During 1942, she was one of thousands of people relocated and put into Japanese internment camps. She got out in 1945 and moved to San Francisco, where she worked for the San Francisco Veterans Administration. When she retired in 1981, she started devoting her energy to social justice. She's one of the main people involved in the National Coalition for Redress and Reparations, which championed the Civil Liberties Act of 1988 and ended up granting reparations to all of the people who were still alive and had been interned during the war. It's incredible to me to live through that, have an entire career and then be like, 'I'm a retiree and I'd like to make serious change.' I feel like I really learned a lot because, not only did I not know a lot about her, I also didn't know a ton about that moment in our history.
MK: It's so hard to pick just one! But if I have to, I would say Irena Sendler (pg. 30-31). She set aside all concern for her personal safety to save thousands of children from the hands of the Nazis. Learning about her story reminded me that the act of giving for and to others is what makes our own lives all the richer.
Inspirational contemporary bartender:
KA: I've always been a fan of Audrey Saunders. When I started going to Tales of the Cocktail in 2009, seeing her was one of the great pleasures of my early life as I started getting into cocktails. She actually sat with us on the first presentation we did of historical female bartenders and I just loved listening to her talk. I was so taken with her stories, she's done so much for the bar industry, just being so fearless. I think about her being iconic and someone I really like a lot.
MK: Julie Reiner. From her delicious cocktails (find her Pink Lava on pg. 81) to her bars to her support of women in the hospitality community, to me she exemplifies what young women in the industry should model in their careers.
Bartender to watch:
KA: Obviously we worked with so many for the book, which is probably one of my favorite things about it—that we got to meet so many women from all over the world. We were connected through the magic of social media and friends. One of the women we reached out to was based in Australia. She wanted to honor one of her own mentors, Paige Aubort (pg. 70-71), a bartender and community organizer. She was on the Forbes 30 under 30 list in 2017 in Asia and the school that she founded in 2017, Coleman's Academy, is named after the great Ada Coleman, which I absolutely love. Her focus is on mentorship and connecting women from the bar community; educating women about the history of bartending and creating a collaborative environment. It was such a treat to learn about her.
MK: Every woman featured in our book! I was so impressed by the creativity and thoughtfulness that went into each of the toasts that we created. The bartenders themselves were as inspiring as the women we profiled!
---
Like what you see? Get more of the best of liquid culture when you sign up for our bi-monthly magazine. Subscribe now and save up to 59%—it's just $21.95 for one year or $32.95 for two years. Click here for details.