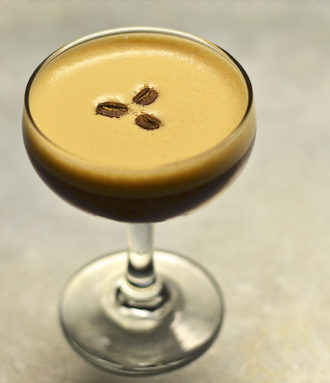 Everything changes—but even in this impermanent world, some things still endure. Today's cocktail movement has resulted in countless memorable mixtures—but generations from now, which ones will still be around? For the May/June 2014 issue, we took a long look at some of our favorite drinks from recent decades and settled on 10 that seem to shine with the luster of longevity. And here we extend that list a bit with five more of our top candidates. These new classics share some common characteristics—they're delicious, relatively easy to make and, of course, built to last. And for our full list of new classics, check out the May/June 2014 issue.
Vodka Espresso
First mixed in the 1980s by London bartender Dick Bradsell, the Vodka Espresso (aka Espresso Martini) has a simplicity of preparation and an uncomplicated (but always appealing) flavor that make the drink a wild-card favorite for a contemporary classic. The drink's quality has sometimes suffered from sloppy preparation or poorly chosen ingredients; here's the basic recipe, which is always worth revisiting, especially when equipped with good-quality espresso and a decent coffee liqueur.
Oaxaca Old Fashioned
The New York bar Mayahuel has introduced countless drinkers to the joys of agave spirits, and this Mexican-accented riff on the classic Old Fashioned, created by Phil Ward, mixes reposado tequila with mezcal and the chocolate-spice notes of mole bitters to create a magnificent riff on the familiar classic.

Eastside
The bright and lively Southside cocktail has been a classic for much of the past century. By muddling cucumber into the mixture of gin, lemon and fresh mint to create the Eastside, contemporary bartenders have given the old standard an additional cooling quality.

Gin Gin Mule
Our short list of 10 new classics includes the Old Cuban, an original drink by Pegu Club owner Audrey Saunders that's a major contender for long-term fame. The Gin Gin Mule—made with gin, fresh mint and ginger beer, and which in 2010 we selected as one of the most influential drinks of the past century—is another favorite and a likely candidate for longevity.
Trinidad Sour
Offbeat drinks have a steeper hill to climb when it comes to attaining classic status. This cocktail from New York bartender Giuseppe Gonzalez is a paradigm shifter with its base of Angostura bitters, but the drink has a richness of flavor and such an alluring quality that it carries an outside chance of beating the odds.