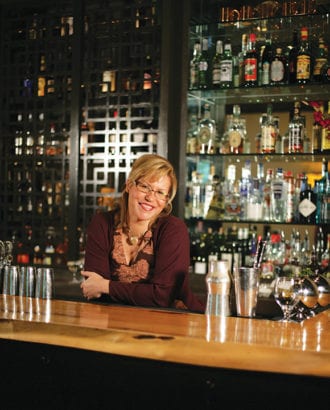 The brass dragon card holder, the bamboo floors, the quirky building—Pegu Club seemed an anomaly on West Houston Street, and those esoteric aspects were always a part of its appeal. From the time it first opened its doors in 2005, the bar occupied the top tier of cocktail culture, a position it never ceded for nearly 15 years. (As testament to the bar's role in cocktail culture, Pegu Club was featured in the Scene Scout section of Imbibe's inaugural issue in 2006.)
Last night, the email went out. "Dear Friends," wrote Audrey Saunders, Pegu Club's founding partner and the bartender synonymous with Pegu Club. "It is with a heavy heart that we have to ring the bell for last call. Pegu Club will not be reopening. We knew the day would eventually come when we would have to say goodbye to her, but never did we ever dream that it would be under these conditions."
Pegu Club's challenges were many—a lease set to expire in October, the likelihood of a rent hike, an expensive plumbing issue that's plagued the bar (and its downstairs neighbors) from day one, along with the innumerable obstacles great and small that accompany running a bar in New York City. "But Covid-19 has taken every bit of the life we had out of us, and a soft reopening following NYC guidelines would not be enough to sustain us entering into the summer months," Saunders wrote.
Audrey Saunders personified Pegu Club, and she built a bar for the ages. I remember back in 2005, as a West Coast–based cocktail fanatic, looking online in envy as news reports and blog posts in those pre-Facebook days detailed the bar's opening nights. Offbeat classics like the Jimmie Roosevelt and immaculately rendered Manhattans were put at center stage, alongside Saunders originals like the Old Cuban and the Gin Gin Mule that became classics in their own right. And drinks mixed with ingredients like bonded rye whiskey, Laird's apple brandy, and maraschino liqueur sent ripples through the cocktail world, making these spirits essentials at any self-respecting bar. (Spirits importer Henry Preiss credits Saunders and Pegu Club for reintroducing Luxardo maraschino cherries into the U.S., the bar setting a new standard for cocktail garnishes as well as drinks.) Cocktails were royalty at Pegu Club, and Saunders and her team had perfected them.
And what a team! Just as bars like Angel's Share and Milk & Honey set the stage for Pegu Club's ascent, Pegu Club had a roster of talent that went on to change contemporary cocktail culture. "I couldn't be any prouder of what we were able to accomplish over the many years, along with nurturing the most incredible generations of alumni of whom we are so deeply proud," Saunders wrote. In addition to Saunders and another founding partner, Julie Reiner (who at the time also owned Flatiron Lounge, and later expanded to Clover Club in Brooklyn), Pegu Club's roster over the years included bartenders like Jim Meehan, Phil Ward, Toby Maloney, Brian Miller, Chad Solomon, St. John Frizell, and Kenta Goto. When it opened in 2005, Pegu Club was one bar setting a new standard—but as these alumni ventured out on their own, they created a diaspora of groundbreaking bars and cocktail mini-empires that shared similar threads of Pegu Club DNA—PDT, Death & Co., Mayahuel, Fort Defiance, Violet Hour, Bar Goto, The Polynesian, and many more. "We changed the entire cocktail landscape going into the 21st century and improved the way the world drinks," Saunders wrote. "It's something that every single Pegu alumnus can and should be proud of as well."
The loss of Pegu Club is a heavy blow to the cocktail world, which simply wouldn't be what it is today without the bar's influence. Just as Saunders and her team helped build the current cocktail renaissance, they also came to remind others in the industry that in a great bar, the cocktail is largely an accessory. "A bar is nothing without its friends, and you all have been some of the very best," Saunders wrote in her email. "Mixing it altogether in one room makes for the best recipe out there, and my hope is that the future will allow for exactly that…sans masks. Forget the drinks—bars are at their very best when their spaces allow for both lively camaraderie and intimate conversation. Sometimes even, a little dash of both."
---
Did you enjoy this article? Get more of the best of liquid culture when you sign up for a print or digital subscription to Imbibe Magazine. Click here for special savings!