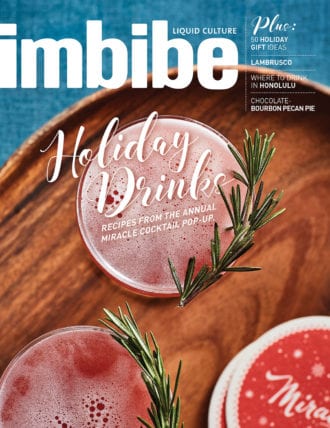 We like to embrace familiar holiday traditions at this time of year, but let's be honest: Some seasonal rituals could use a little freshening up. Kitschy ornaments are retired along with the time-worn tinsel—but what happens when your holiday cheer needs a touchup?
We've got you covered. For this year's holiday cocktail recipes, we turned to Miracle, a global network of around 100 holiday-themed pop-up bars that take a novel approach to seasonal drinks, with clever creations like the cranberry-bright Christmopolitan and the brown butter–laced Jingle Balls Nog.
A familiar fizz from the '70s and '80s could use a fresh treatment, too—Katie Parla travels to northeastern Italy to explore how makers of Lambrusco are returning to the wine's historic roots in order to reclaim its original glory. Meanwhile, crème de menthe has long needed its own reboot, and Jake Emen brings us a few new ideas for using the mint liqueur. And on the beer front, Joshua Bernstein digs into the latest version of the India Pale Ale to start pouring from taps and bottles: the bone-dry brut IPA.
New chapters are happening elsewhere in this issue. We check in with LeNell Camacho Santa Ana, who made a name for herself in the early days of the cocktail renaissance with her eponymous Brooklyn liquor store; now, she's back with a store in Alabama, and Robert Simonson has the story. And while it's faced its own sets of challenges over the decades, Oakland, California, is undergoing a renaissance, a change in fortune that extends to its cocktail culture; I visited recently and found out which bars and restaurants are changing the way the city drinks.
There's much more in this issue, including our annual gift guide, a fascinating story from Jeff Koehler about the rise of cascara, and an essay from Max Falkowitz about how drinking tea taught him about drinking everything else. And while new things come into our drinking lives each year, some things depart—Wayne Curtis explores the rise and fall of the plastic drinking straw.
Nothing against tradition, but every holiday season can benefit from the infusion of something new.
Suit up and grab a copy of the print edition to find all these goodies. Then check out the web extras below and keep your eyes peeled on our Twitter, Instagram and Facebook pages as we continue to roll out holiday content through the end of the year. Happy holidays!