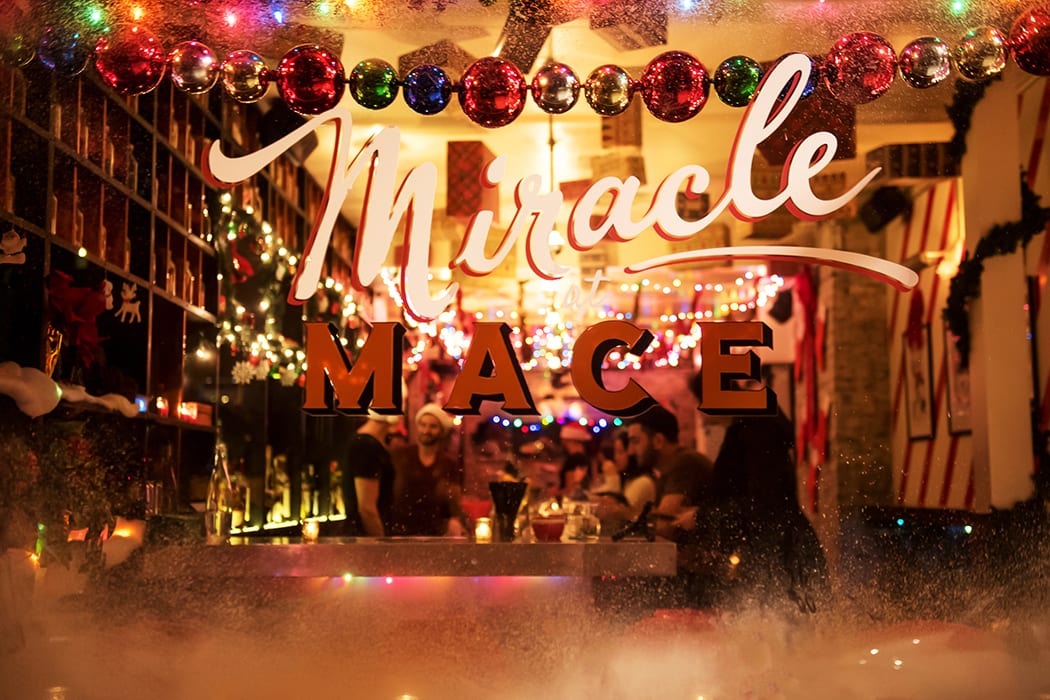 Cocktail drinkers can look forward to some seriously fun sipping this holiday season as Mace and Boilermaker take their beloved holiday pop-ups global. From November 25 through December 24, the New York–based bars are transforming into Miracle and Sippin' Santa's Surf Shack with sister locations in Chicago, Los Angeles, Paris, Athens and beyond.
Originally housed at Mace (and called Miracle on 9th street back when it started in 2014), this year's Miracle pop-up—complete with holiday decorations and music—will launch in 15 bars around the world, including Rob Roy in Seattle, Westbound in Los Angeles and Rye in Louisville. Mace bartender Nico de Soto modified the bar's original cocktail menu to suit a broader audience, removing obscure ingredients and upping the holiday kitsch factor. Drinks will be served in special Cocktail Kingdom glassware ("because sipping a cocktail out of Santa's head does make it taste better," says Boehm) and the same menu will be available at every participating bar. Look for cocktails like the Christmopolitan with vodka, elderflower liqueur, spiced cranberry sauce, lime juice and fig bitters, and the Snowball Old Fashioned, with bourbon, Becherovka, spiced syrup and Angostura bitters. "The Becherovka and spiced syrup kisses the drink with flavors that remind me of Christmas," says De Soto. "And did I mention it's served on an ice snowball in a drunken Santa rocks glass?"
Meanwhile, Boilermaker's tiki-style Sippin' Santa's Surf Shack will be popping up at Chicago's Lost Lake and Beachbum Berry's Latitude 29 in New Orleans. Boehm says tiki is a natural match for the holidays because, "it takes you away to a magical place. Tiki already offers escapism, and combining that with Christmas is the ultimate retreat." The Sippin' Santa's Surf Shack menu will be a collaboration between all three bars. Lost Lake's Parrot in a Palm Tree (a combo of tequila, mezcal, curaçao, spiced coconut syrup and lime) will share menu space with Jeff Berry's Nantucket Sleigh-Ride (Demerara rum, dark Jamaican rum, apricot brandy, allspice dram, lime juice, simple syrup and grapefruit juice), as well as Boilermaker's I Saw Mommy… and Holiday Lei (sparkling wine, gin, ginger, cranberry and lemon juice).
Check out the list of participating bars below, and keep an eye out here for updates as more bars are confirmed—they anticipate up to 30 venues.
Miracle Pop-Up Locations
Mace, New York City
The Trap, Athens, Greece
Danico, Paris, France
Nexus Bar / Ecole du Bar, Montreal, Canada
Fortina Armonk, Armonk, New York
Fortina Stamford, Stamford, Connecticut
Planter's House, St. Louis, Missouri
The Gin Joint, Charleston, South Carolina
Rob Roy, Seattle, Washington
Rockford Cocktail Den, Edmond, Oklahoma
Mockingbird Hill, Washington D.C.
Westbound, Los Angeles, California
Tapa Tapa, Atlanta, Georgia
Fox Bar at Soho House, Chicago, Illinois
Rye, Louisville, Kentucky
---
Give the gift of Imbibe this holiday season. Gift subscriptions are only $19.95 each after your first $21.95 gift subscription purchase, plus you'll receive a free download of our Holiday Punch Guide, AND through 12/31, $1 of every online subscription order goes to the Red Cross! Click here for details.