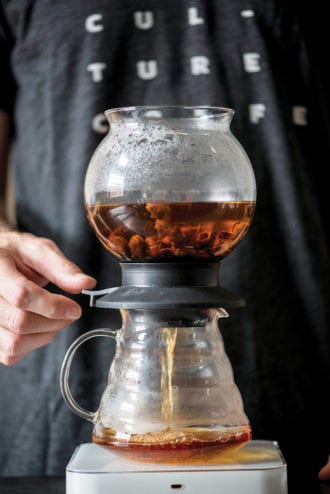 Once you know where to buy cascara—one of our flavors to watch from 2016 and the subject of one of our feature stories in the November/December 2018 issue—it's time to learn what to do with these dried skins of coffee cherries.
One of the most common uses of cascara is brewing a hot "tea." Verve Coffee recommends using about 18 grams of tea per 250 grams of hot water (not boiling), and allowing the husks to steep for about 4 minutes before straining. If you prefer a cold-brew, try 35 grams of cascara to the same amount of water and let steep overnight in the fridge.
The fruity flavors and dry, tannic finish of cascara play well with a variety of ingredients. Add seltzer to a cold-brew concentrate to make a fizzy soda, or try Onyx Coffee Lab's refreshing Cascara Dark & Stormy mocktail, where the dark date-like sweetness of the cascara mimics the molasses found in blackstrap rum.
Whiskey, brandy, rum and vodka all complement the flavors of cascara. At Blacksmith Mona Vale in Australia, a cascara-ginger syrup adds spicy depth to coconut water and vodka, while 44 North Coffee mixes a cascara tea with a dollop of orange marmalade and 1½ oz. of spiced rum for a breakfast toddy. Meanwhile, Josh Conley from Memphis combines cascara with gin and vermouth in his Cascara No. 1 cocktail, which he says combines "gin for brilliance, sweet vermouth for depth, a grapefruit cordial for some sweetness, bitters for spice, and a cold-brewed cascara for a vegetal punchiness."
Cascara and Juniper Mocktail
10 juniper berries
3 oz. cascara tea
¼ tsp. (or about 5 drops) fresh ginger juice
⅛ oz. fresh lemon juice
½ oz. simple syrup
Muddle the juniper berries in a cocktail shaker. Combine remaining ingredients, and stir before adding ice. Fill shaker with large ice cubes. Shake rigorously for 10-15 seconds. Serve over ice.
44 North Coffee, Deer Isle, Maine
Cascara No. 1
1 oz. gin
1 oz. cold-brew cascara tea
½ oz. sweet vermouth
1 oz. grapefruit cordial*
3 dashes Angostura
Tools: mixing glass
Glass: rocks
Garnish: microgreens (or a grapefruit twist)
Combine the first 5 ingredients in a mixing glass with ice and stir to chill. Serve over fresh ice in a rocks glass and garnish.
Grapefruit Cordial
1 cup fresh grapefruit juice
¼ cup honey
2 sprigs fresh rosemary
2 whole cloves
2 ounces vodka
Add first four ingredients to a sauce pan and bring to a low simmer. Simmer for 2-3 minutes. Remove from heat and allow the liquid to cool, leaving the rosemary and cloves in to steep. Once cooled, remove the rosemary and cloves, stir in vodka, and bottle.
Josh Conley, Memphis