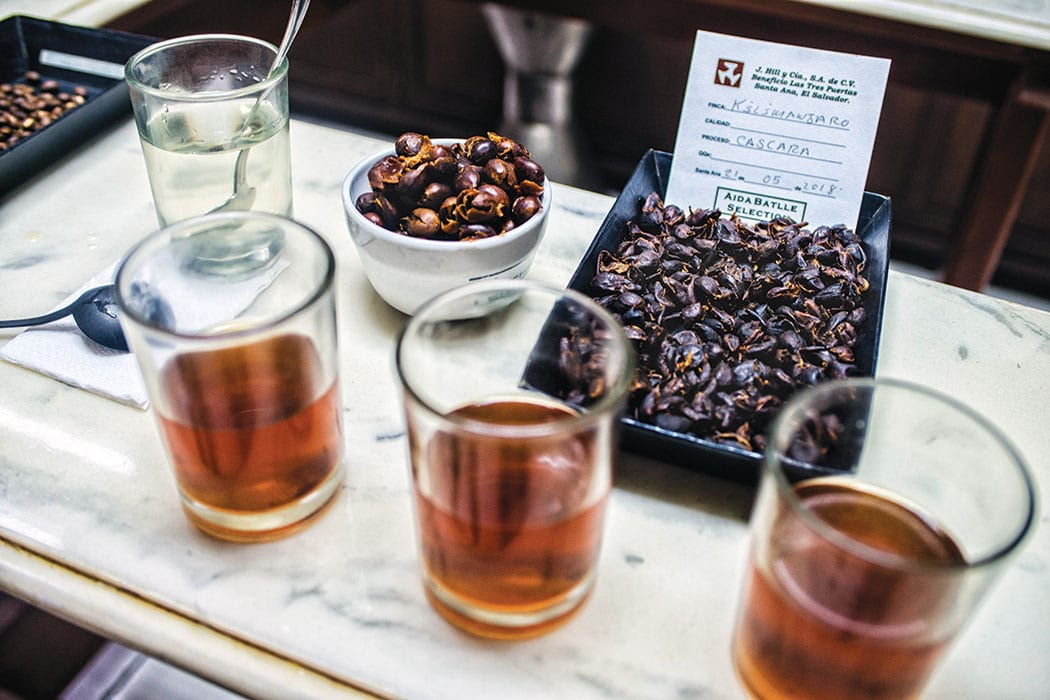 Cascara—the dried skin of coffee cherries—is typically discarded during the coffee production process, but as baristas and roasters recognize its tart, tea-like flavor, they're finding creative ways of working it into drinks, like this Cascara Dark & Stormy. Even though it's not commonly found in retail shops for purchasing, a growing number of coffee roasters are making it available online. While you're waiting for your shipment, be sure to read more about cascara in the November/December 2018 issue.
44 North Coffee
Finca Las Delicias, $9 for 8 oz.
Hailing from one of the nine farms owned or managed by the Menéndez family in El Salvador. Flavors include rose hips, tamarind and hibiscus. 44 North also has some suggestions for mixing cascara into cocktails.
De La Gente Coffee
Café Artesanal San Miguel, $13.50
Only available for sale in the United States, this earthy tea comes from the Café Artesanal San Miguel cooperative, the first co-op De La Gente teamed up with, located in Guatemala.
Detour Coffee Roasters
Helsar de Zacero Costa Rica, $7.50 for 50 grams
Husks sourced from trees grown by producer Ricardo Perez on the Helper de Zarcero micro-mill in Costa Rica. Detour claims it's one of the best they've ever tasted.
Onyx Coffee Lab
El Cadejo Cascara, $14 for ⅛ kilogram (125 grams)
Onyx sourced this cascara from the El Cadejo farm, located just outside of Antigua, Guatemala. Each bag—a mix of Bourbon, Caturra and Catimor cascara—contains ⅛ kilogram of tea.
Nossa Familia
Guatemala Geisha, $6.50 for 4 oz.
Sourced from Finca San Jerónimo Miramar in Guatemala, this cascara is heavily dried and has lovely aromatics. They sell in packages of 4 oz., 8 oz., or 12 oz., the latter for $18.
Slingshot Coffee
If you want to skip the hassle of brewing your own cascara tea, you can order a 3-pack of cold-brew cascara for $12 (plus shipping). It's so delicious that we dubbed it a Drink of the Week.
Verve Coffee
Costa Rica Cascara, $15 for 90 grams
Like Detour, Verve also sources from Helsar de Zarcero in Costa Rica. Look for notes of raisin and rosehip.