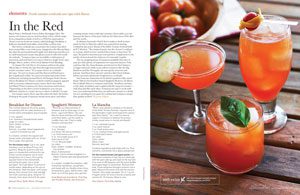 Black Prince. Beefsteak. Green Zebra. Mortgage Lifter. The names of tomatoes are as varied as their colors, which range from a hazardous shade of red to a 1970s hot-pants green. There's even an heirloom variety called Kellogg's Breakfast, a bulbous, baseball-sized affair colored like a yellow taxi.
But where cocktails are concerned, the tomato has often been treated like a one-trick pony, relegated to the Bloody Mary. Not that the perennial brunch tipple isn't delicious, but the not-so-mild-mannered tomato has plenty more to offer the world of cocktails. "Tomatoes have an incredible combination of sweetness and acid that's not easy to find in a single food," says Bridget Albert, author of the book Market Fresh Mixology.
To impart the rich flavor of tomatoes without the pulp, Albert likes to strain the ripe fruit through cheesecloth to render a tomato water. "It's a smart choice in cocktails," she says. "It's not too heavy and [the flavor] will hold up to gin, tequila and vodka." It's a process many bartenders have embraced, including Samuel Short of Chicago's Boiler Room, whose Breakfast for Dinner cocktail combines peppery aquavit with a rosemary-infused tomato water. Short uses dark, rich Black Prince tomatoes for their sweetness and texture. "Depending on the flavor you're looking for, you can use different varieties to create savory or sweet cocktails," he says.
For tomato water, Short says the softer the fruit, the better. Picking at the peak of ripeness means more juice, and when creating tomato water with ripe varieties, Short adds, you can harness the flavor of the juice without the bitterness of the skin and the seeds.
In Atlanta, bartender Paul Calvert makes a fresh tomato purée for his La Mancha, which was named best-tasting cocktail at last year's Attack of the Killer Tomato Festival held at JCT Kitchen. "The strained purée was the closest I could get to a syrup, which is how I wanted the tomato to function," he says. The purée's sweetness proved a perfect complement to the smoke of mezcal and the richness of a reposado tequila.
The eye-popping array of tomatoes available this time of year provides plenty of inspiration for experimentation. Pink varieties, like the Anna Russian, are known for their balance of sugar and acid, while some yellow tomatoes, like the Big Rainbow and the Pineapple, are among the sweetest and juiciest. And then there are tart varieties, like Green Zebras, which can lend a distinctive brightness to cocktails.
San Francisco bartender Scott Baird is partial to bite-sized Sweet 100s for his bourbon-based Spaghetti Western. He likens the cocktail's flavor to tomatoes and steak. "Bourbon can have a rich, fatty mouthfeel, and coupled with the tang of a tomato—well, they just like each other. Tomatoes are easy to work with once you understand that they can add some umami to a drink. I'm not reaching for soy sauce for a drink, but tomatoes can get that quality in there."