No. 77 January/February 2019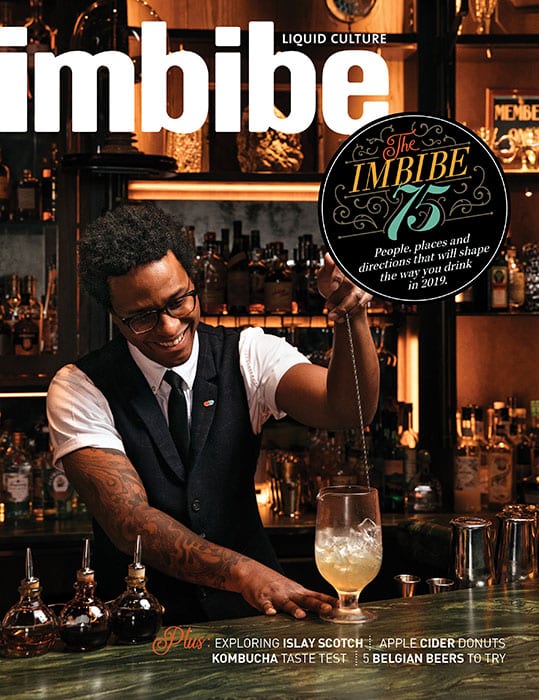 Recipes

Drinks

The Hot Toddy, Postcards From Afar, Pomelo Paloma, A Better Blood & Sand, Ichor and Glass, Uncharted Seas, Parasol, Clean Slate, The Best Mexican Coffee You Will Ever Drink, Victim of Circumstance

Food

Apple Cider Donuts
Features

The Imbibe 75

People, places and directions that will shape the way you drink in 2019. Read More »
Departments

Uncorked

A new bottled-in-bond whiskey, five Belgian beers to try, pomelo cocktails, three improvements on the classic Blood and Sand, the anatomy of the Hot Toddy, a day trip with Wolves & People brewer Christian DeBenedetti, and food-and-drinks writer Kat Kinsman on her barbecue parties, self-care and her love of the French 75.

Mixopedia

What makes an ordinary cocktail extra special?

Taste Test

From fringe to phenom, kombucha has gone fully mainstream.

Gear

French press essentials for your daily coffee.

Drinks Atlas

A trip to Islay, Scotland.

Cravings

A New England favorite from the heart of Los Angeles.

Quench

A 21st-century bartender's plans for restoring a 19th-century icon.
Bonus Articles

Bartender of the Year: Ashtin Berry

How Berry is spreading a message of diversity, inclusiveness and intersectionality. Read More »

Cocktail Bar of the Year: Raised by Wolves

An opulent, European-inspired bar from the Polite Provisions team. Read More »

Wine Bar of the Year: Nathálie, Boston

The second bar from Haley Fortier hits a home run with natural wine. Read More »

Coffee Bar of the Year: Smith Canteen, Brooklyn

The Brooklyn café aims to eliminate single-use plastic by January 2019. Read More »

How Caroline Rosen is Ushering in Change for Tales of the Cocktail

A conversation with one of our Imbibe 75 People to Watch. Read More »

Jack McGarry is on a Mission to Advocate for Mental Health in Bartending

The acclaimed bartender is using his platform to launch the nonprofit Restaurant Recovery. Read More »

Booze-Free Drink Recipes

A few ways to skip the alcohol but not the flavor. Read More »

Perfect Day: Oklahoma City

Bar Arbolada owner Riley Marshall shares the best of his hometown. Read More »

Beer Person of the Year: Hollie Stephenson

As head brewer at Guinness' first U.S. brewery since 1954, she's bringing the Irish icon beyond the stout. Read More »

Wine Person of the Year: Amy Bess Cook

How the Sonoma wine pro is helping more women succeed in the wine world. Read More »

Coffee People of the Year: Sean and Paul Henry of Houndstooth Coffee

The brothers built one of the most progressive coffee companies in Texas. Read More »

At Rebel Rebel, Lauren Friel Has Built a Dream Wine List

Talking wine with one of our 2019 Imbibe 75 People to Watch. Read More »