No. 71 Jan/Feb 2018: The Imbibe 75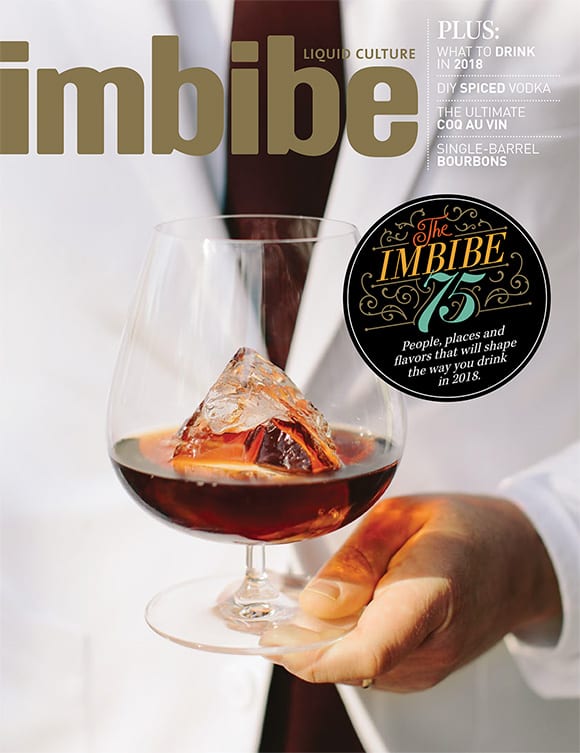 Recipes

Cocktails

Moscow Margarita, Pink Lady, Old #10, Purple Haze, Final Ward, Honeyed CG&T, Champagne on Mars, Dark as Night, Smoother an a Horse on Skates, Tall Boxes, El Morocco, The Chadburn, Chervona Wine

DIY

Hunter's Vodka

Food

Coq au Vin
Features

Imbibe 75

People, places and directions that will shape the way you drink in 2018. Read More »
Departments

Uncorked

Colombian coffees, beet cocktails, anatomy of the Pink Lady, an inside look at Portland Growler Company, three plays on the Last Word, and Alba Huerta of Julep in Houston on Texas bartending, her new book and drinking culture in the South.

Mixopedia

Celebrating 175 years of sweetness, cubed.

Taste Test

Single-barrel bourbons highlight whiskey's distinctive flavors.

Gear

Settle into winter with these rousing boozy games.

Mix It Up

This spice-filled infusion captures Mother Nature in a bottle.

Cravings

A rustic French classic that offers the ultimate winter comfort.

Quench

A cocktail education begins at home.
Bonus Articles

Meet Charleston's Cocktail Bandits

Johnny Caldwell and Taneka Reaves bring Charleston's cocktail culture into the spotlight. Read More »

The Quick Rise of Sudden Coffee

How an ambitious team of entrepreneurs reinvented instant coffee. Read More »

Below-The-Radar Sparkling Wine Picks from Ariel Arce

Ring the New Year (and any day thereafter) with these special bottles. Read More »

Inside Look: Brewery Bhavana

Discover Raleigh's genre-defying beer destination. Read More »

Tokyo Record Bar's Perfect Playlists

Ariel Arce on why a bar's music is as important at the drinks. Read More »