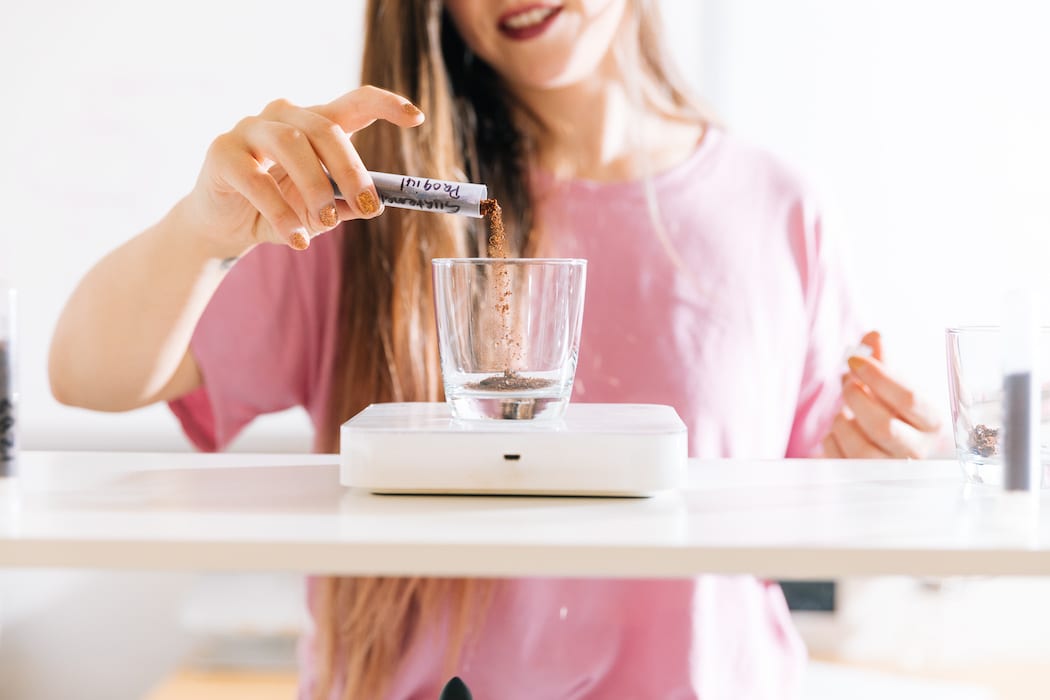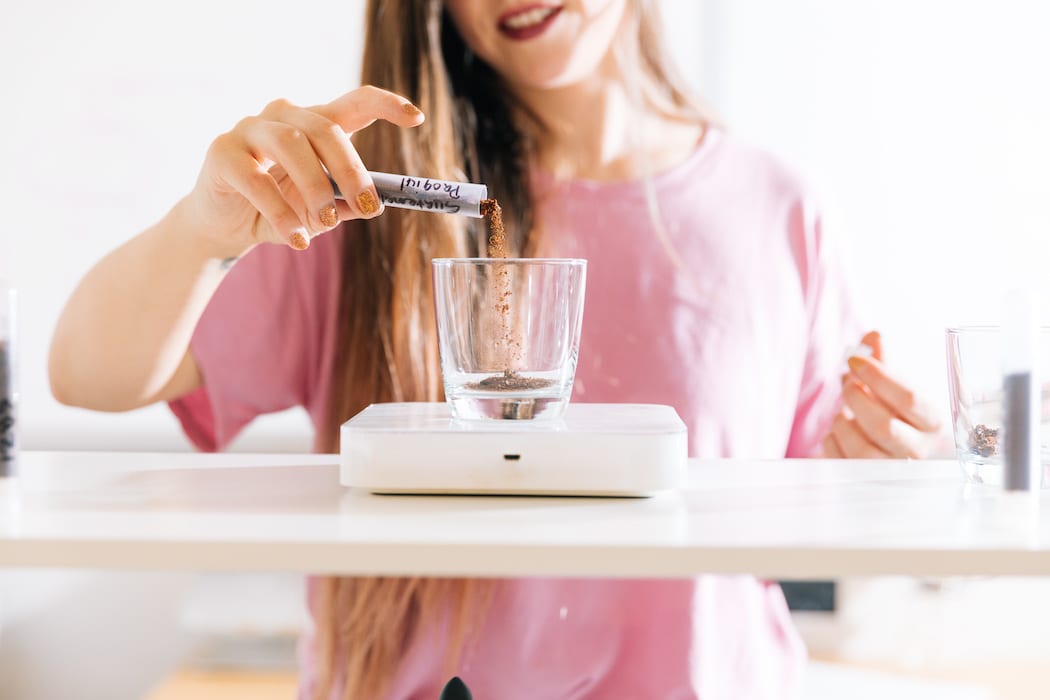 A new day in instant coffee has dawned, thanks to Sudden Coffee. Founded in 2015 by Joshua Zloof, a food-loving techie turned CEO, and Kalle Freese, an award-winning Finnish barista, Sudden delivers a quality cup of coffee, instantly. Like many inventions, necessity was the inspiration for Sudden. "I grew up in a suburb of San Francisco where we originally had a Peet's Coffee and later a Starbucks in our town, which was still a 15-minute drive away," says 31-year-old Zloof, who saw an opportunity to bring quality coffee to people living outside of major metropolitan areas.
In 2015, Freese was already a familiar face on the coffee scene—a two-time Finnish Barista Champion and founder of Helsinki's now-shuttered Freese Coffee. But a chance conversation with a former Nestlé flavor scientist-turned-chemistry professor led to an idea: transportable, freeze-dried, instant specialty coffee. Freese was determined to develop a formula, and he set to work in the summer of 2015, shut away in a rented lab stocked with beans and a La Marzocco espresso machine.
By the season's end, he had found success. Pulling individual shots of espresso, leaving them to cool and then freeze-drying them provided the makings of the instant cup Freese sought. Soon, he connected with Bay Area investors, such as Flickr's co-founder Caterina Fake, and Sudden Coffee officially came to life in October of 2015, with Zloof, a restaurant-technology pro at Groupon, climbing aboard that November. Just a month later, Sudden rolled out its first capsules in time for the holidays followed by the launch of their subscription-based services in March of 2016.
After a year, Zloof and Freese were ready to turn up the pressure, eager to expand Sudden's reach. "Getting from zero cups of coffee to 1,000 cups took a lot of work in and of itself," says Zloof. "But then, going from 5,000 cups of coffee to 50,000, was an entirely different process that everything changed."
Enter Umeko Motoyoshi, who took over as the head of coffee in the fall of 2016 as Freese prepared his return to Finland to pursue other projects. Motoyoshi, who formerly worked at Four Barrel and Blue Bottle, perfected the proprietary process that Sudden relies on today. Sparing no expense, Sudden sources high-quality arabica coffees (they are currently working with Equator Coffees & Teas) with characteristics that are enhanced through their proprietary process. "We look for coffees that are naturally very sweet, and that sweetness is balanced with a pleasant acidity," say Motoyoshi and Zloof. The freeze drying happens in small batches, with Motoyoshi supervising every step. "It's an exhilarating experience because we get to continually innovate and invent and improve on something that's brand new," she says.
This past June, the company hit the 100,000-cup milestone and shortly after introduced compostable capsules, and Zloof and Motoyoshi are working on expanding their rotating coffee menu for subscribers. "We're really lucky that we make a product that people like," says Motoyoshi. "We don't have to try hard to convince people."
---
Like what you see? Get more of the best of liquid culture when you sign up for our bi-monthly magazine. Subscribe now and save up to 59%—it's just $21.95 for one year or $32.95 for two years. Click here for details.