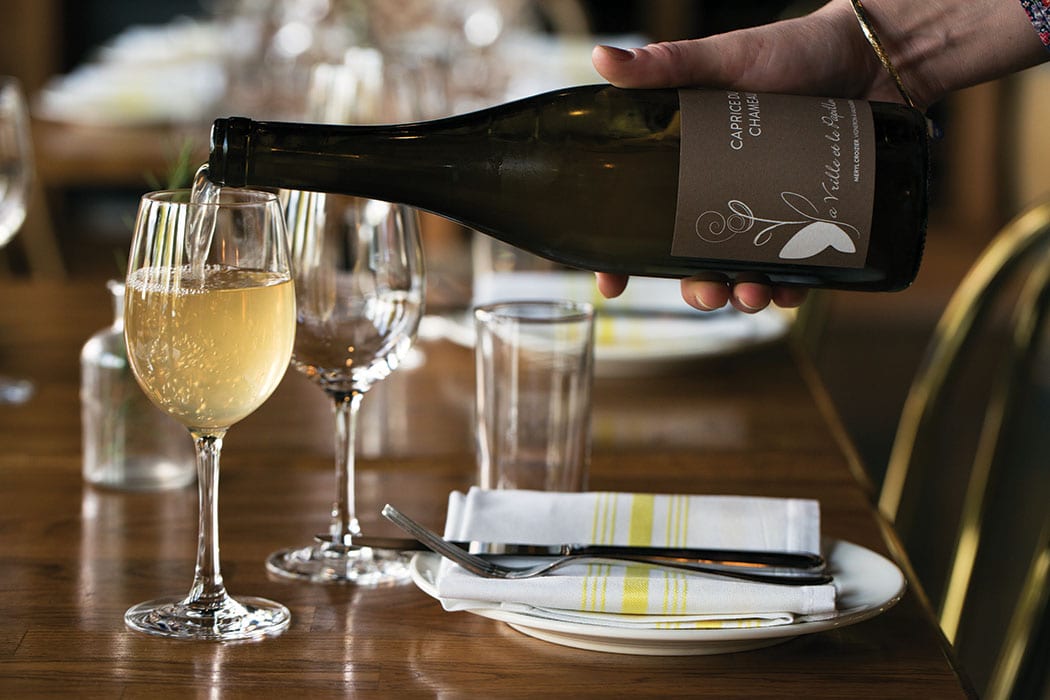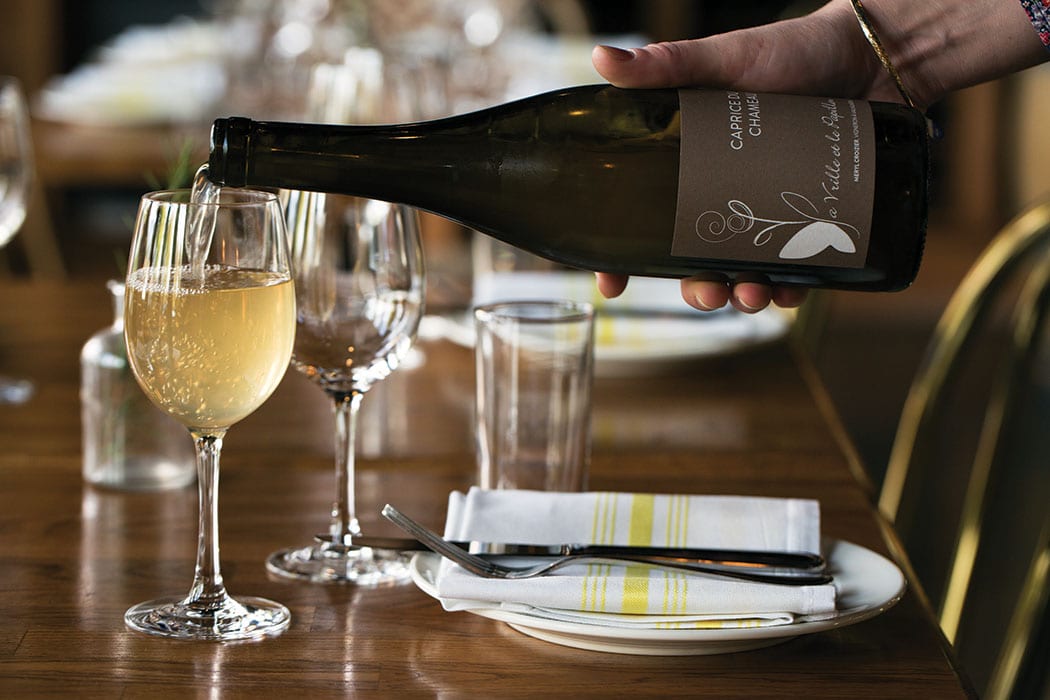 Winter months often beg for big, bold reds to match hearty fare, but there are plenty of white varieties that also stand up to the flavors of the season. At L'Oursin (our Imbibe 75 Wine Bar of the Year), co-owner Zac Overman looks for texture when choosing winter whites. "I want weight and body. Something to stand up to cold weather and rich dishes," he says. Wine director Kathyrn Olson agrees, adding that fuller-bodied white wines gain depth and complexity in myriad ways. "Sometimes they can see extended contact with the grape skins, or a longer maceration in early stages of fermentation or aging on the lees—techniques such as these impart body and tannin to the wine but also pull additional flavors from the grapes presenting a deeper expression of terroir." Here, Olson and Overman share some of their favorite wines of the season.
Domaine Leon Boesch Les Pierres Rouges
Sylvaner, Alsace, France
Some might consider Sylvaner a lesser blending grape, but the loving touch of the 11 generations-strong Boesch vignerons proves those naysayers wrong. This wine has twice the heart of any decent Alsatian Riesling you'll find stateside, and at half the price. With warm fatness, clean minerality and brisk acidity. The yin to choucroute garnie's yang. $15, linerandelsen.com
Champalou Vouvray Les Fondraux
Chenin Blanc, Vouvray, France
A classic for a reason. Slowly fermented in 500 liter wooden barrels and then aged on the lees for 11 months, this has everything we want from Chenin Blanc—spicy, hay-like aromas, silky texture, and a mineral backbone. Is there a hint of sweetness? Sure. All the better to drink with anything briny (oysters are best this time of year, after all), or luxuriate in pairing this pale golden nectar with a classic beurre blanc. It would also not be out of place in a ski lodge hot tub. $20, klwines.com
Domaine Bru-Bache Jurancon-Sec
Gros Manseng, Jurancon, France
Claude Loustalot tends to this genetic cousin of Spanish Albariño on steep slopes in view of the Basque mountains, letting the thick skin of the grapes protect the fruit from rot while they hang late on the vine. Full bodied and rustic, it's a wine for comfort food; A friend to anything braised, smoked, stewed, confited, or encased. $17, artisanwinedepot.com
Jean-Yves Peron Cotillon des Dames
Jacquere/Altesse, Savoie, France
Peron does all vineyard work by hand in the village of Chevaline in the French Alps—a necessity due to the slope and altitude of his schist-covered parcels. This Jacquere/Altesse blend spends one year under a veil of yeast in barrel, giving it a slight nuttiness not unlike the Jura's famed vin jaune. It drinks almost like a cider—rich, chewy, honeyed, with baking spices and plenty of acid, all while glowing gold in the glass like the suitcase in Pulp Fiction. Drink it with nothing. Drink it with everything! $42, discoverywines.com
Sono Montenidoli Carato
Vernaccia, San Gimignano, Italy
The Etruscans were the first to plant vines in Montenidoli, a cluster of vineyards surrounded by woodlands in Tuscany. They were followed by the Romans, then the Knights Templar, and in 1965, Elisabetta Fagiuoli and Sergio Muratori. Vernaccia like this is viewed as the red wine of white wines in Chianti. All things in one—honey and wildflowers, birch and five spice, grapefruit zest and makrut lime. Cheese wine, nightcap wine, chairlift wine.
Smockshop Band "Spring Ephemeral" White Zinfandel
Zinfandel, Columbia Valley, Washington
We know, not exactly a white wine. But we have to give props to anyone willing to put out White Zin with a straight face AND have it come out this delicious. The fruit is from pre-prohibition cuttings in the Scorched Earth vineyard, a blend of direct press and two- to four-day skin contact juice, fermented and aged in older barrels for six months. We were skeptical, then we tasted it. It's fresh, lively, and delicious, but has enough weight to stand up to heartier stews and braises. If they sold it in dusty four-liter jugs on the bottom shelves of supermarket wine departments, we'd all be better off for it. $30, smockshopband.com
---
Like what you see? Get more of the best of liquid culture when you sign up for our bi-monthly magazine. Subscribe now and save up to 59%—it's just $21.95 for one year or $32.95 for two years. Click here for details.