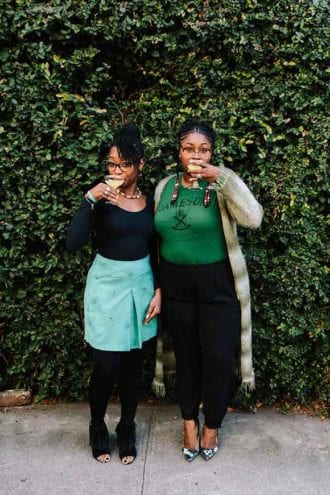 Many faces make up today's cocktail culture—bartenders and cocktail enthusiasts, historians and bloggers. Johnny Caldwell and Taneka Reaves saw that booming culture making its way to Charleston, and in 2013 the duo (who met while students at the College of Charleston) stepped out as the Cocktail Bandits on Instagram, followed by a website and blog. Now, with a book coming out in January (Holy Spirits, an exploration of Charleston's history and culture as seen through what the city drinks) and a schedule filled with seminars and speaking gigs at culinary events, Caldwell and Reaves are helping spread the word of Charleston's drinking culture, and bringing the knowledge of quality cocktails to new and long-overlooked audiences.
"We started because we were making cocktails, and making our own renditions at home with syrups and tinctures, and our followers said they wanted to see more of what we were doing," Caldwell says. "We started going to events around town, and we became kind of unofficial Charleston ambassadors." Reaves notes that their timing was good. "We noticed the change around 2012, with the whole Upper King Street area having restaurants and bars, and we started seeing a wave of new concepts coming to Charleston," Reaves says.
But as in most cities around the country, Charleston's cocktail scene seemed largely homogenous, directed at and populated by an overwhelmingly white audience. Caldwell and Reaves aimed to change that. "There was no one talking about drinks and culture through our lens," Reaves says. "We decided to be those faces, and it's amazing—we get perspectives from all sides, and we can be a bridge for things that have been segregated for a long time."
A story about the Cocktail Bandits in Charleston's City Paper led to an encounter with two of the city's culinary heroes, Matt and Ted Lee, who invited them to speak at Atlanta Food & Wine in 2015. Other speaking events followed—at Charleston Food & Wine, the Black Southern Belle Conference and the African American Tourism Conference, among others—which enabled Reaves and Caldwell to reach a bigger audience, as well as to talk about the larger role that people of color have played in cocktail history, and can play in today's drinks culture. "Until we got into food and beverage, we didn't even know these events existed," Reaves says. "We expose a lot of our friends and family to drinks culture—to learning about what you're drinking, and what goes into it. People of color and slave culture factored a lot into brewing and distilling [history], and when you went to restaurants and bars, a lot of the front of house help were people of color. These were service jobs, but you can be empowered by serving—it can be elegant and beautiful, you don't have to feel less than for serving people."
"And we practice what we preach," Caldwell says, noting the home-bartending classes the duo organize. "We teach our base how to drink better, how to make these things at home, and it can be empowering. You don't have to wait for people to offer you a job [to learn these skills]—you can take control of this. We have to empower ourselves, and we try to show people they can do it on their own, and really make a way for themselves."
What started as a fun way to learn about cocktails and Charleston's bar culture has grown into much more—an opportunity to showcase their city's history and culinary character, as well as to empower an audience still new to today's cocktail culture. It started with cocktails; now, it's a mission. "There's a story behind everything that's going on in booze culture, food and foodways, and we want people to be more conscious and more active about what they're drinking," Reaves says. "We haven't had anyone in our community talking like this, and we want to be those people."
---
Like what you see? Get more of the best of liquid culture when you sign up for our bi-monthly magazine. Subscribe now and save up to 59%—it's just $21.95 for one year or $32.95 for two years. Click here for details.