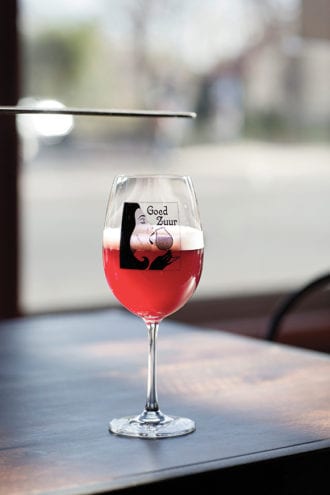 Hops have long dominated the craft beer scene, but sour ales have quickly been finding their own fame. With roots that go far back to Belgium and Germany, the sour category is now one of the most popular in the beer world; in fact, our 2018 Beer Bar of the Year, Goed Zuur, is dedicated entirely to the style. "Americans have been moving towards quality products when it comes to all of the things in their lives, and making these types of beer requires an immense amount of craft," says Goed Zuur owner John Fayman.
After a chance encounter with a bottle of Cantillon in the late 1990s, Fayman fell in love with lambic-style sours, and after decades of collecting bottles, he opened Goed Zuur in Denver last spring. With 26 sours on tap and a cellar that houses about another 80 bottles, the menu typically features around 80% American-made sour beer. Opening a concept with such a specific focus could be a gamble, but for Fayman it was a measured decision thanks to Denver's mature beer culture. "I've always said that the front range needed a more European beer experience, and I had been throwing around the charcuterie/cheese/sour beer idea for some time, as my favorite places to drink in Belgium have similar concepts. Given the amount of breweries making competitive sour beers in the market, I decided to take the plunge."
As sour beers have gained traction in the U.S., craft brewers have increasingly drawn inspiration from Belgium's traditional benchmarks, but new kinds of creativity are taking root. "You have breweries that specialize in foraged beers, several American producers that are honing in on Lambic styles (calling them Lambic-style or methode gueuze), and lots of micro-producers with small programs that are carefully curated where the beers are limited and expensive," Fayman says. "Every one of these producers has a different culture and different terroir, and with the craft segment expanding you will see better liquid and more innovation."
Because the range of sour beers is so varied, to decide who gets tap handles at Goed Zuur, Fayman first considers how seriously a brewery takes the sour category. "Is the brewery starting a sour program because it's popular or because they're excited about it? In general, if the brewery is focused on sour and wild ales only, their sours are going to be better on the whole," he says, citing New Belgium, Russian River, Cascade Brewing and Jolly Pumpkin as stateside pioneers, and he points to Casey Brewing and Blending, Jester King Brewery, Black Project Spontaneous & Wild Ales, Crooked Stave and Almanac as other breweries that are advancing the category. "Sour ales have an amazingly bright future in the U.S.," Fayman says. "I don't see this as a fad."
For beer drinkers who aren't familiar with the history and nuance of sour ales, Fayman and general manager Cody Boll have a few tips for finding the best flavor match.
Wine drinkers: "When people say they love wine, you almost always have a sour lover," Boll says. "I usually like to suggest Lambic and Gueuze for white wine drinkers and Kriek and Framboise for red lovers. A well-made Berliner Weisse can also be great for white-wine drinkers."
Whiskey drinkers: Look towards the Oud Bruin style and whiskey barrel-aged sours, as many have the same depth and complexity, often featuring similar flavors of vanilla and oak. "L'Abbaye de Saint Bon-Chien is an 11% ABV sour aged in a variety of different barrels that is almost always a success," Boll says. For those who prefer a peaty Scotch, try Birrificio Del Ducato's Brett Peat Daydream, a blend of three beers—a peated, Barleywine-style ale; a smoked Märzen with a percentage blended in Scotch barrels; and an ale made with Brettanomyces and matured in steel for six months.
Beer drinkers: Yes, sours are beers, but because their flavors are so strikingly different from most other beer styles, Boll usually asks about a drinker's favorite kind of beer first to find the best match. "Like Stouts? Try a sour stout. IPAs? Dry-hopped sours, sours with citrus, and fruited sours. Malty beers? Oude Bruin, Flanders Reds and sours with a higher ABV.  Lighter beer? Berliner Weisse and Gose that are not too tart are great starter sours for people who like really easy-drinking beers."
Coffee drinkers: Try a sour stout. "You're going to get the roasted malt flavor that is similar to coffee in a sour stout like Crooked Stave Nightmare on Brett and Bruery Terreux Tart of Darkness. True coffee drinkers appreciate a great product, so I feel like talking to them about the breweries and the brewing process of different styles would help them appreciate a variety of different sours," Boll says.
Cider drinkers:  "People who haven't had a sour before can get used to some of the flavors associated with sours by starting with a wildly fermented cider," Boll says, citing the work of Etienne DuPont out of France as one to seek out. "That's where a lot of traditional unpasteurized, unfiltered ciders come from, and they can develop funky and wild flavors and will also be more dry and less sweet."  Otherwise, he says Lambic and Gueuze can be the closest to cider because they can be a little sweet, a little dry and mildly tart.
---
Like what you see? Get more of the best of liquid culture when you sign up for our bi-monthly magazine. Subscribe now and save up to 59%—it's just $21.95 for one year or $32.95 for two years. Click here for details.