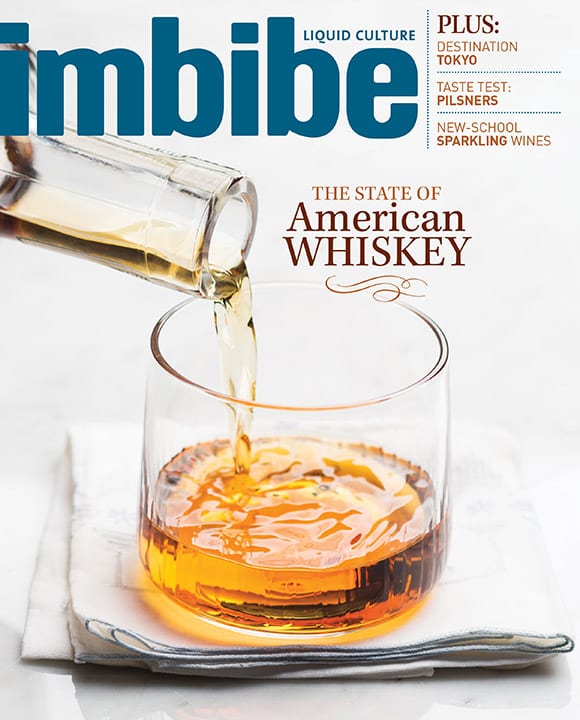 Recipes

Drinks

Strong Suit, Guava Agricole Daiquiri, Bamboo Rickyshaw, The Cartel Rickey, Allspice & Everything Nice, The Roycroft Cocktail.

DIY

Coffee Lollipops, Coffee Syrup.

Food

Buttered-Pecan French Toast with Bourbon Maple Syrup. Read More »
Features

The State of American Whiskey

Interesting things are afoot for the country's signature spirit.

Second Acts

As the beer industry matures, veteran brewers ponder their next steps. Read More »

New Fizz on the Block

Wine lists are increasingly awash with sparkling alternatives. Read More »

Next Stop: Tokyo

A photo tour of the city's finest coffee bars.
Departments

Uncorked

Nigori sakés, guava cocktails, an inside look at Nell & Mary and three plays on the Rickey cocktail.

Mixopedia

The rise and fall and rise again of the julep strainer.

Taste Test

Long neglected, pilsner reclaims its rightful place.

Gear

Decanters give wine a little breathing room.

Elements

Cola cocktails are growing up. Read More »

Characters

Boston cocktail mentor Brother Cleve is a difficult man to define.

Mix It Up

These lollipops provide a sweet coffee kick on a stick.

Scene Scout

The Bobcat Room's beverage director Patrick Reynolds on where to drink in Santa Barbara, California. Read More »

Cravings

Bourbon meets breakfast in this Southern-inspired French toast. Read More »

Quench

Heading to the local enoteca for insight into Italian wine.
Bonus Articles

Elevating Your Brunch Game

From Hefeweizen French Toast to Coffee Cardamom Walnut Cakes and more. Read More »

Inside Look: Industrial Arts Brewing Company

Take a tour of the brewery's pre-Civil War building. Read More »

Brother Cleve on Music and Cocktails

One of Boston's most influential cocktail figures shares his story. Read More »

Whiskey's New Frontier: American Single Malts

Bourbon and rye still dominate the U.S. market, but single malts are on the rise. Read More »

History Lesson: The Bloody Mary

Who invented the Bloody Mary? A few theories. Read More »

Boozy Candy Basics with Jami Curl

Candy grows up in the hands of the Quin Candy owner and author. Read More »

American Distillers Search For Whiskey's Sense of Place

How American distillers are looking to their own backyards to create whiskey with local character. Read More »

Riffs: The Old Fashioned

We love the classic recipe, but we're also for the occasional variation. Read More »

Handlebar Coffee Roasters Goes Full Cycle

Meet the coffee shop blending the cultures of coffee and cycling in the heart of Santa Barbara. Read More »

Whiskey in the Family Tree

Paul Clarke on what happens when legacy whiskey distillers dig into their heritage and get back into the business. Read More »