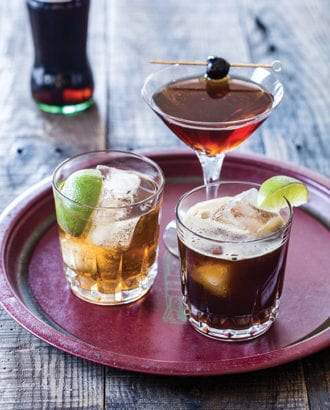 The year: 1886. The Statue of Liberty, having recently arrived from France, is fitted with its final rivet in New York Harbor during a dedication by President Cleveland. In Chicago, a workers' strike escalates into the Haymarket affair and ultimately results in the eight-hour workday. And in Atlanta, pharmacist John Pemberton introduces Coca-Cola to the world. In the 131 years since, Pemberton's "brain tonic" (as his cola was originally marketed) has ascended from soda-fountain favorite to highball helper to cocktail essential.
What makes cola such a mighty mixer? Soda historian, author and chemist Darcy O'Neil says cola's unique taste comes from its distinctive combination of ingredients and flavors. "Cola recipes often contain both cinnamon and citrus flavors, which on the surface don't seem to be a good combination," he says. "But it works in cola, because our taste buds find the uniqueness amusing." Ingredients like neroli, nutmeg, coriander, lime and vanilla heighten the complexity, O'Neil says. Add alcohol to the mix and those flavors expand even more.
Long a simple highball staple, cola is increasingly making an appearance in creative cocktails. "In some respects, cola presents a blank cocktail canvas," says Greg Majors, beverage director for Stake Chophouse in San Diego. "It has a fair amount of sweetness, so it [works well with] bitter agents and amaros." At Stake, cola is simmered into a dark spiced syrup for the bourbon-based Allspice & Everything Nice (recipe below). "When you think about reducing a stock in a kitchen, you get a more concentrated flavor," says Majors. "Here, the cola reduction enhances both sweetness and texture."
Jason Eisner of Gracias Madre in Los Angeles swaps cola in place of basic syrups. "Cola adds a depth of character you don't get with more traditional sweeteners," he says. "Some of cola's ingredients are almost medicinal, giving it a near amaro-like quality." His Joaquin & Coke plays off the yin and yang of bitter and sweet, while also paying homage to Argentinian cocktail culture.
In San Francisco, Jennifer Colliau, beverage director for The Interval at Long Now and owner of syrups company Small Hand Foods, has been tinkering with colas for years. "Cola is sweet, but the addition of phosphoric acid gives it a unique tang that's different from citrus acidities," she says. "That tang has a depth and richness that hits the mouth in a different place."
Interval bartenders temper that bite with Haitian rum, falernum and citrus in their Cuba Libre à la Haiti. Colliau adds that cola has a way of balancing mixed drinks. "In cocktails, it can have a unifying effect on other ingredients."
Allspice & Everything Nice
1½ oz. bourbon
½ oz. cola dram syrup
½ oz. Byrrh Grand Quinquina
¼ oz. Bénédictine
2 dashes wormwood bitters (or substitute Angostura bitters)
Tools: mixing glass, barspoon, strainer
Glass: coupe
Garnish: cherry
Combine all the ingredients and stir with ice. Strain into a chilled coupe and garnish.
Housemade Cola Dram Syrup
12 oz. cola
1 cinnamon stick
3 cloves
2 allspice berries
2 cardamom pods
Combine all the ingredients in a saucepan over medium heat. Let it simmer for 15 minutes, cool to room temperature, then strain into a clean bottle. Keep refrigerated for up to 2 weeks.
Kris Rizzato, Stake Chophouse & Bar, San Diego
---
Get more great cocktail recipes when you sign up for our bi-monthly magazine. Subscribe now and save up to 59%—it's just $21.95 for one year or $32.95 for two years. Click here for details.