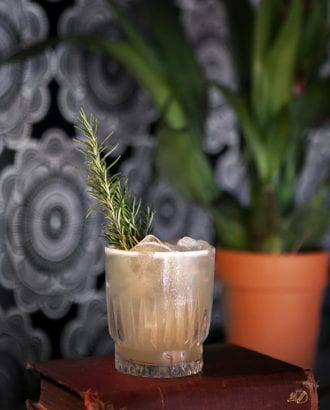 One of the first drinks on the menu at Santa Barbara's The Good Lion (and still its bestseller), the Rosemary Clooney cocktail is Brandon Ristaino's homage to good vodka and its versatility when paired with fresh ingredients. "I [invented the drink at] the beginning of the era of bartenders not thumbing their noses up at vodka," he says. "Lemons from our friends at Mud Creek Ranch led the way with local honey, rosemary, vodka and absinthe. It is a simple and fun cocktail."
1½ oz. rosemary-infused vodka
½ oz. dry orange curaçao
⅓ oz. honey syrup (1:1)
¾  oz. fresh lemon juice
3 dashes absinthe
Tools: shaker, strainer
Glass: double Old Fashioned
Garnish: rosemary sprig
Add all the ingredients to a shaker, and shake with ice. Strain into a glass and garnish.
Rosemary-Infused Vodka: Infuse 750 mL of grain-based vodka with 5 rosemary sprigs for 72 hours. Taste and continue infusing if the rosemary flavor is not prominent enough. Strain out the rosemary, then store indefinitely.
Brandon Ristaino, The Good Lion, Santa Barbara
---
Get more great cocktail recipes when you sign up for our bi-monthly magazine. Subscribe now and save up to 59%—it's just $21.95 for one year or $32.95 for two years. Click here for details.