On the shores of Lake Ontario in northwestern New York, Rochester has long been home to companies like Kodak, Genesee Brewing Company and the family-owned Fee Brothers, operating in the city since 1864. The city's hospitality industry has also benefitted from proximity to Boston, Toronto and New York City, with pros like Luc Thiers cutting their teeth in big cities before returning home to Rochester. Thiers worked in New Orleans and Boston and is now a co-owner of cocktail bar The Spirit Room. "The beverage scene in Rochester has grown in the last 10 years, from the typical beer-and-shots places into a diverse scene with creative cocktails, craft beer and wine," he says. "With Fee Brothers based here, the idea of craft cocktails was always lurking, but it's really come into focus over the last few years." Here, he shares a drinking tour of his hometown.
Solera Wine Bar/Cheshire
A two-level operation, Solera is the first-floor wine bar pouring a diverse selection from smaller producers like Saxum Vineyards in Paso Robles. Upstairs, Cheshire is co-owners Evvy and John Fanning's ode to classic cocktails in an elegant, comfortable space. "The vibe on both floors is very warm and romantic," says Thiers, who recommends the Cheshire Club cocktail with vodka, lemon, ginger ale, Latvian amaro and scotch.
The Revelry
The aptly named restaurant and bar from Rochester restaurateur Josh Miles pays homage to his South Carolina upbringing, serving oysters, fried chicken and shrimp and grits alongside a menu of playful cocktails—like the Blue Velvet, a mix of aquavit, lime, egg white and blueberry—and a rotating selection of bartenders' favorites. "Revelry is a raucous and entertaining cocktail bar with seating for the restaurant upstairs," says Thiers. "This is where one goes for well-made and elaborately garnished tiki drinks, and maybe just one too many shots of Fernet."
Leaf Tea Bar
As the brick-and-mortar representation of online tea seller Happy Earth Tea Company, run since 2011 by husband-and-wife team Niraj Lama and Mary Boland, Leaf Tea Bar offers everything from traditionally whisked matcha to pu-erh and oolong. "You can't talk about the amazing progress the beverage scene in Rochester has made without talking about Leaf," says Thiers. "Niraj is a master tea connoisseur, and Leaf is a world-class tea bar."
Apogee Wine Bar
Opened by Rochester native Simone Boone, Apogee is a cozy nook of a wine bar in the historic Park Avenue neighborhood serving diverse pours alongside decadent slices of layer cake from neighboring Scratch Bakery. "I love their wine on tap or, if it's summer, a wine slushie," says Thiers.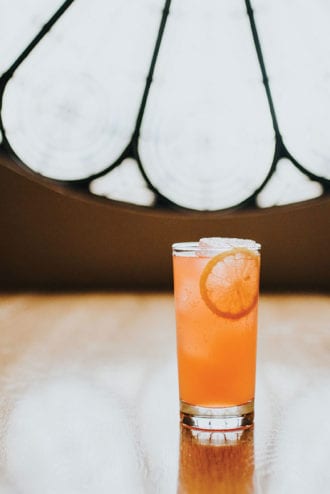 The Playhouse
With the stained glass still intact, The Playhouse was built out in an old church and now houses more than two dozen classic arcade games and pinball machines. A creative cocktail list features seasonal recipes and classic riffs like the Rusty Pail, which adds dry vermouth to the drink's standard scotch and Drambuie. A rotating selection of 18 taps keeps the beer list largely local, with brews from spots like Three Heads and Naked Dove, along with draft cocktails.
Cure
Located inside the Rochester Public Market, Cure is a restaurant and bar serving up seasonal, French-inflected farm cuisine and inventive, rotating cocktails like the Velvet Collar with aged Jamaican rums, Campari, Borsci amaro and pineapple syrup. "This is my favorite bar in the city to just have whatever the bartender is making," says Thiers. "It's always something interesting and balanced."
Ugly Duck Coffee
Beginning as a pop-up in 2015, Ugly Duck found its brick-and-mortar home in the summer of 2016 when owner Rory Van Grol opened in an old bakery. The multiroaster shop features beans from local Fifth Frame Brewing Co. and Ithaca's Gimme! Coffee, as well as rotating selections from guest roasters like Madcap, Methodical and Máquina. The shop also serves seasonal specialty drinks inspired by the flavors in their featured beans, such as the Sage Advice, with espresso, brown sugar and sage syrup, cardamom bitters and steamed milk.
The Spirit Room
Opened last fall, The Spirit Room pays homage to Rochester's spiritualist movement that was started by the infamous Fox sisters in the late 19th century, with cocktails, poetry readings and mediums often on hand. "People initially seem confused as to the nature of the business when they enter for the first time," says Thiers. "Is it an antique store? A bar? Concert venue? Tarot and palm readers? We're sort of all of those things, but I like to think of it as a community space with a strong eye toward inclusiveness, hospitality and good food. Plus, we make a hell of a cocktail." Try the Apparation cocktail at home.
---
Like what you see? Get more of the best of liquid culture when you sign up for our bi-monthly magazine. Subscribe now and save up to 59%—it's just $21.95 for one year or $32.95 for two years. Click here for details.