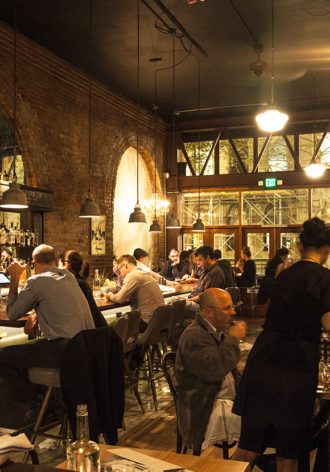 Much of the brick-and-stone architecture in Seattle's original downtown district dates to the mid-19th century, lending the tree-lined streets and storefronts of Pioneer Square a sense of history. And while this historic part of the Emerald City has at times been worse for wear, in recent years Pioneer Square has become a home to some of Seattle's most noteworthy bars, restaurants and coffee shops. Here's where to drink in the neighborhood right now.
Good Bar
Housed in a century-old former bank, this modestly named bar from husband-and-wife team Josh and Nancy Kelly has been open for barely eight months and is already a Seattle staple. High ceilings and a spacious, natural light–flooded interior make a dramatic first impression, and drinks—created by bar manager Adam Kachman— carry an uplifting, entrancing vibe. Kick things off light with one of the on-point glass pours like a sparkling rosé of Zweigelt or settle in for the night with a Fernet Swizzle. Coordinates: 240 2nd Ave. S. / 206-624-2337
Elm Coffee Roasters
Seattle has no dearth of good coffee, but until Elm Coffee Roasters opened last December, there were few solid cups to be found in Pioneer Square. Owner Brendan Mullally spent nearly eight years working in the coffee world in New York City before heading west to open a shop of his own. His goal? "To build a simple, clean space, with amazing, lightly roasted, seasonal coffee and friendly, non-snobby service." Head roaster Drew Fitchette— formerly of Stumptown—helps bring Mullally's vision to life, as does a sleek, 8-seat, marble- topped bar that is a hub of
the bustling café. Don't miss the house-made hazelnut milk latte, which highlights the seasonal espresso blend (currently a mix of Colombian and Ethiopian beans). Coordinates: 240 2nd Ave. S. #103 / 206-445-7808
Bar Sajor
Paying homage to the sipping-and- snacking culture of Spain and Portugal, Bar Sajor is a food-focused bar. Or is it a drinks-focused restaurant? Regardless, it's wonderful. Nearly everything on the food menu is touched with smoke from the wood-fired oven, and the drinks selection is curated to complement it. Smoked yogurt with rye crisps and sunflower seed verde pairs perfectly with crisp, tart Basque cider, while a cocktail of tequila, Ancho Reyes and blanc vermouth stands up to a dish of roasted carrots topped with chimichurri and a fried duck egg. Coordinates: 323 Occidental Ave. S. / 206-682-1117
E. Smith Mercantile
Inspired by the original establishments in the small mining town of Atlanta, Idaho, where the shop's namesake raised his family, Jessie Poole with mom Kate and sister Sara opened this shop-bar hybrid that's defining the genre for a new generation. Browse Poole's selection of American-made jeans, smoked salt and bespoke jewelry on your way to the tiny, inviting cocktail bar in the back of the store, where you can order one of the flora-inspired drinks, such as the Fir-Get-Me- Not, with rye whiskey, fir-tip infusion and grapefruit bitters. Coordinates: 208 1st Ave. S. / 206-641-7250
Damn the Weather (pictured)
Bryn Lumsden has put in his time behind the stick at some of Seattle's most beloved bars (including Rob Roy, Vessel and Vito's), so the expectations were high last summer when he struck out on his own with Damn the Weather. The comfortable, airy space quickly became a bar-industry favorite, with the kitchen turning out dishes such as a Caesar salad sandwich and beef-heart tartare with mustard oil and tea leaves, served alongside simple yet brilliant drinks—many prepared by Jay Kuehner, another celebrated local bartender—such as the Agricultural Punch, with rhum agricole, sugarcane juice and lime, and the irresistible Calvados and tonic. Coordinates: 116 1st Ave. S. / 206-946-1283
This story originally appeared in the July/August 2015 issue.