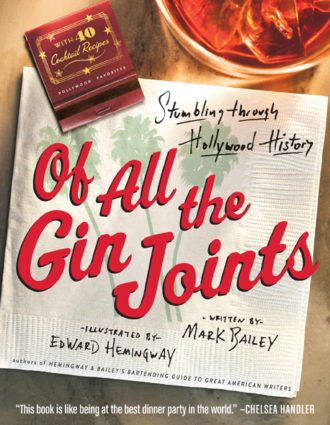 Mark Bailey—author of Of All the Gin Joints, which chronicles Hollywood's glamorous (and often humorous) drinking history—talks to us about Hollywood's most storied watering holes. Though many are lost to history, a few gems remain, so it's still possible to saddle up to some of the very same bars where screen icons of old did their LA imbibing.
Imbibe: You want a taste of old Hollywood glamour, and you want to sit at a bar and pretend it's 1950. Where do you go in LA, and what's in your glass?
Mark Bailey: I would go to the Chateau Marmont. To me, the Chateau Marmont is the best place in Los Angeles to get a drink, and it's also the most connected to Hollywood history and the golden era of Hollywood, and all those bygone days of drinking and carousing. For me, what is remarkable about the Chateau is that for almost 90 years, the place has continuously been cool. It's more than just the space and the decor, but the vibe and the clientele for nearly 90 years. It really tracks all the way through Hollywood history, and all the way through the book. If you go back through my book, and to directors like Lloyd Bacon, who directed the first sound film, The Jazz Singer, and early actors like John Barrymore, they hung out at the Chateau. Going forward into the studio era, Clark Gable and Carole Lombard and Humphrey Bogart. And Eroll Flynn, who bridged those periods. All of them went there. It kind of kept rolling, into the '40s and '50s. Actors like William Holden and Glenn Ford. The famous quip about the Chateau by Columbia studio president Harry Cone was "if you must get into trouble, do it at the Marmont." And Columbia actually had a bungalow—it was bungalow 54—that they kept and paid for, where their stars could crash out, or go live for a while if they were in a rough patch. So it has this amazing history. It's where Montgomery Clift went to recuperate after his car accident. The history continues, on into the '60s and '70s—it goes through a music phase, with Jim Morrison and the Doors and Led Zepplin and even onward to the Red Hot Chili Peppers in the 90s. And now, it's more popular than ever, and still has that glamorous vibe. It's a place that has history, but it's alive—it's still living today.
Imbibe: And what would you drink there?
Well, in the book, I look at old Hollywood haunts, and a lot of them had their signature drink. The Brown Derby has the Brown Derby cocktail—though it's origins are a bit murky, and some say it wasn't actually created there. There's the Coconut Grove cocktail from the Coconut Grove, and the Vendome Special Sling from the Vendome. The tiki craze started in Hollywood, too, so you've got Don the Beachcomber, the home of the Zombie. But the Chateau doesn't have a signature drink, per se, so I suppose I'd be left to my own devices. I like a lot of different cocktails. It depends on the mood and the time of year. In summer, I'd love to have a Negroni; if it's winter—as much as there is winter in LA—I'd like to have a Manhattan.
A lot of the great bars of Hollywood's golden age have come and gone. If you could travel back in time and have a drink at one of them, where would you go?
Some of them are bars, and some of them are just places—magical places that existed in a particular moment, and that were filled with the people of that time. The Garden of Allah was sort of like a bungalow hotel. In the book I describe it as the original Melrose Place, but instead of the residents being knuckleheads, they were the world's greatest actors and writers. With the coming of sounds, a whole lot of writers from New York—a lot of them from the Algonquin set—moved out to Los Angeles and a lot of them hung out at the Garden of Allah. It had a pool and bungalows, and it was kind of a rolling party across decades. So you had the Dorothy Parkers and the Fitzgeralds out there, and then also the actors who came and stayed. And when I say "stayed" I mean for a month at a time or longer. Bogart and Chaplin and the Marx Brothers and Greta Garbo—they all lived and partied there. It closed in 1959, so a long time ago, but I think that would have been really special. Musso and Frank's was another place like that. It is, I think, the oldest restaurant in Hollywood. It was opened in 1919, and it's still around. It's still really cool. It's more of a steak joint. There's a bar there, but it's not a big bar scene, and they're famous for a super bone-dry Martini and that was always the drink that they were known for. They have a bartender there whose name is Manny Agere, and he has been a bartender working in Hollywood for 59 years. He makes their Martini. What's so fun about Musso and Frank's is that it's right across the street from the writers guild, and it was next door to another hangout called the Stanley Rose bookstore. The Stanley Rose had a back room, and all the writers who had come out from the East Coast and wanted a place to, more or less, come and complain about the movie business, hung out in the back of the bookstore and drank this orange wine. It would be Nathanael West and William Faulkner and John O'Hara, and really amazing guys. They would bounce back and forth between the back room at the Stanley Rose and the back room at Musso and Frank's. That became a big writers hangout. I feel like it's not really a "night on the town" place, but starting there with a meal is a really fun thing to do, with one of their Martinis to get you going. It has the feel of old Hollywood.
How did you get interested in this? How did you research it?
My creative partner on this project was Ed Hemingway, and Ed has been a pal for a long time. We met in New York 15 years ago at a bar called Finelli's, which is down in SoHo. Ed is the grandson of Ernest Hemingway, so he knows a little bit about writing and drinking. He came up with the idea of doing a cocktail book of hard-drinking American writers. So we did that book and he illustrated it and I wrote the cocktail recipes, anecdotes and stories. That was about Hemingway and Eugene O'Neal and Fitzgerald, and Faulkner and so on, and what I realized is that the writers' lives intersected in certain cities—New York and LA and Paris—and in certain places in those cities, like the 21 Club or the Ritz. And I loved that. So that book came out and people seemed to enjoy it so the publisher wanted another. I'm a screenwriter, so by that point I had moved out to LA, and Ed still lives in Brooklyn and we were thinking of another idea and we landed on the idea of Hollywood. It was a little different, because it really is about a place—an industry and a place, and the people who helped build it over time. Actors, directors and writers, but also bars and restaurants and nightclubs.
You must have run across some pretty great anecdotes along the way, not to mention quotes like the many great ones that speckle your book. Any favorites that didn't make it into the book?
I love the Ava Gardner quote that "A party's not a party without a drunken bitch lying in a pool of tears." They just don't make broads like that anymore. Another quote I love is Tallulah Bankhead's: "My father warned me about men and alcohol, but he never said anything about women and cocaine." There are a lot of stories that I think are really fun. The story about Bogart walking into the bar with two stuffed panda bears. The story is that Bogart is out drinking in New York, and he's out drinking with an old buddy of his, and Bogart's wife, Lauren Bacall. The three of them are out pretty late and they're getting pretty loaded, and then around midnight Bacall decides that she's going to call it quits and heads back to the hotel. This is 1949, and Bogart is the biggest movie star in the world, and he wants to press on, but he feels like he and his buddy need to find some kind of stand in—since they don't have Bacall there, they need some sort of buffer to put between themselves and like any kind of crazed female fans, or would-be home-wreckers. So they stumble into this delicatessen, and the deli happens to be selling stuffed panda bears. And they're about 25 pounds each. So they buy two pandas and the hop a cap to El Morocco and ask for a table for four—two seats for them and two for their "dates." So they're seated and that was supposed to be the end of it. But they keep drinking, and later in the night a model named Robin Roberts was coming by the table, and by then Bogart was well into his cups. She walks by the table and picks up his panda bear, and Bogart is feeling very protective, so he yanks it back. And he asks her to leave him alone. And then she falls over—he said that she stumbled and fell, and she said that he pushed her. It became this big tabloid incident and went to court. What I like, though, is that one of the reporters asked him during the trial if he was drunk at the time of the incident, to which Bogart replied, "Isn't everybody at 4 a.m.?"
Where do you like to go for a drink these days in LA, other than the Chateau Marmont?
I live in Malibu, so I end up staying local. There's a place right off of Zuma Beach called Sunset, and that's a fun little beach bar, and it's actually where I tested the drinks in the book. There's another spot in Malibu called Duck & Dive, and I'll go there. In LA itself, the Polo Lounge is a great old spot, and I really love having lunches there—it has a great vibe.
What's your favorite LA cocktail?
From this book, the cocktail for me that was the most fun discovery and that I absolutely love is the Brown Derby—just bourbon, grapefruit juice and honey syrup. It's really easy to make—just shake it and serve it up in a cocktail glass. I really like the Moscow Mule, too. It's light and easy. Almost too light—you could really go through a bunch of them fast.