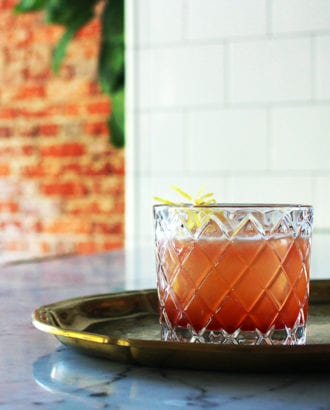 To deepen the flavors of a classic Whiskey Sour, Blake Pope adds Barolo Chinato to the mix.
2 oz. rye whiskey
¾ oz. fresh lemon juice
½ oz. honey syrup (1:1)
¾ oz. Barolo Chinato
Tools: shaker, strainer
Glass: Old Fashioned
Garnish: lemon peel
Combine the whiskey, lemon and syrup in a shaker. Add ice and shake vigorously. Strain over fresh ice into an Old Fashioned glass. Pour the Barolo Chinato into the drink and stir. Garnish.
Blake Pope, Kindred, Davidson, North Carolina