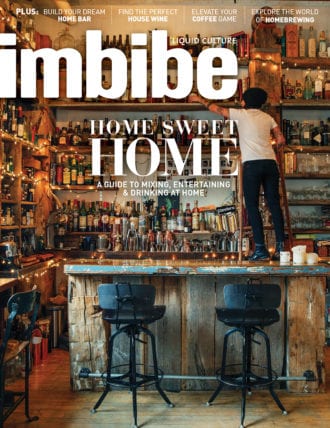 Dorothy and Toto were right. I love visiting bars and restaurants, but whether I need a comforting cup of coffee to start my day, or a simple cocktail to close the evening, there's no place like home.
Just as home cooks graduate from zapping microwave dinners to preparing multicourse meals from scratch, home bartenders, brewers and baristas have been steadily improving their game, so we're focusing this issue of Imbibe on the spaces we call home. Homebrewers helped drive craft beer's boom in recent decades, with many perfecting recipes and beer styles in the garage before going pro; Joshua Bernstein visits some of today's top homebrewers to find out what keeps them brewing at a time when every imaginable beer style is readily available. The 21st century has also seen the cocktail revolution take hold in bars around the world—but as Wayne Curtis reveals, home bartenders and hosts are also driving the demand for impressive cocktails, and great places in which to drink them.
Our editors recently went searching for some of the country's best home bars, and when we came across Adrian Eustaquio and his Desert Oasis Room in Southern California, we knew we'd struck home-bar gold. Check out the tiki bar Eustaquio built in his spare room, and read his tips on crafting a similar space in your own home here. DIY plays a big role in cocktail culture; Carrie Allan suggests ways to give your cocktails a ruby hue with homemade hibiscus syrups and infusions, and we tell you how to make your own hibiscus tea, too. And if you're into home projects, join us as we check in with coffee pros on ways to improve your morning brew, and tag along with Sarah Karnasiewicz as she asks sommeliers and wine importers for their tips on selecting your own house wine.
Adam Kolesar turned his love of home bartending and tiki drinks into a growing business, and Robert Simonson visits Tiki Adam in his Brooklyn home bar. And do you sometimes skip dessert at dinner parties? You won't if it's whiskey—Pableaux Johnson fills us in on why he breaks out the bourbon at the end of the weekly dinners he's hosted for the past 16 years.
Pick up a copy of the print edition to get all these great stories. In the meantime, satiate your thirst for knowledge with these web extras: